If you're thinking about finishing your basement, you've come to the right place. With the help of the friendly and experienced team at Georgia Home Remodeling, a unique project such as this can open a world of possibilities.
Are you done staring down at the dark, dusty, and cluttered basement taking up valuable space in your home? If so, it's time to get the ball rolling.
Read on to find out how to get started with finishing your basement and learn what Georgia Home Remodeling can do to help. What's more, we provide you with some of the most creative ways to use your new space and further inspire your basement transformation dreams.
Why Should You Consider Finishing Your Basement?
There may be a million reasons why you should finish your basement. However, there are two that most people agree with- Maximizing space and increasing property value.
Maximize Space
In our fast-moving modern world, it's all about maximization. Maximize time with double tasking and strategic planning. Maximize money with budgeting and smart investments. And in our case, maximize space by finishing your basement.
Take full advantage of this added room by transforming it into something entirely new.
The space can be catered to you and your family's needs. Whether you decide to create an exciting game room or rent it out as a studio apartment, you'll be glad you are finally finishing your basement.
Increase Property Value
Putting in the hard work truly pays off. Finishing your basement can potentially increase the value of your property. That is, especially if you commit the time and thought it takes to create a comfortable and incredible new space.
However you decide to renew your basement, you can expect to see an increase in property value in the following ways:
More Bedrooms and Bathrooms: With a finished basement, you can increase the size of your home. Rather than describing your home as a two-bedroom and one bath, you can add another bedroom and bathroom- or maybe even two.
Return on Investment: On average, finishing your basement may give you a return of about 70%. In other words, if you spent $2,000 on the project, you could expect to see $1,400 added to your property value.
Adding Space without Breaking Zoning Codes: If you're searching for ways to add space to your home but are limited by zoning codes, finishing your basement is the perfect solution. For many properties, expanding outward is restricted because of neighboring homes. Or perhaps you cannot add another story to your home because it is already two levels.
Finishing the basement solves your issue by creating new functional space without running into zoning restrictions.
Attractive Selling Point: Even if you aren't planning on it now, you may sell your home one day. And in this case, a finished basement can go a long way.
First, picture potential buyers descending the stairs and getting their first look at your current basement space. They're probably unimpressed or even disgusted. Now, imagine potential buyers stepping into your renewed and modernized basement. Their eyes are wide with wonder, and their minds are racing with thoughts of enjoying the hidden oasis.
There's a big difference here, proving that finishing your basement will certainly be worth the time and money.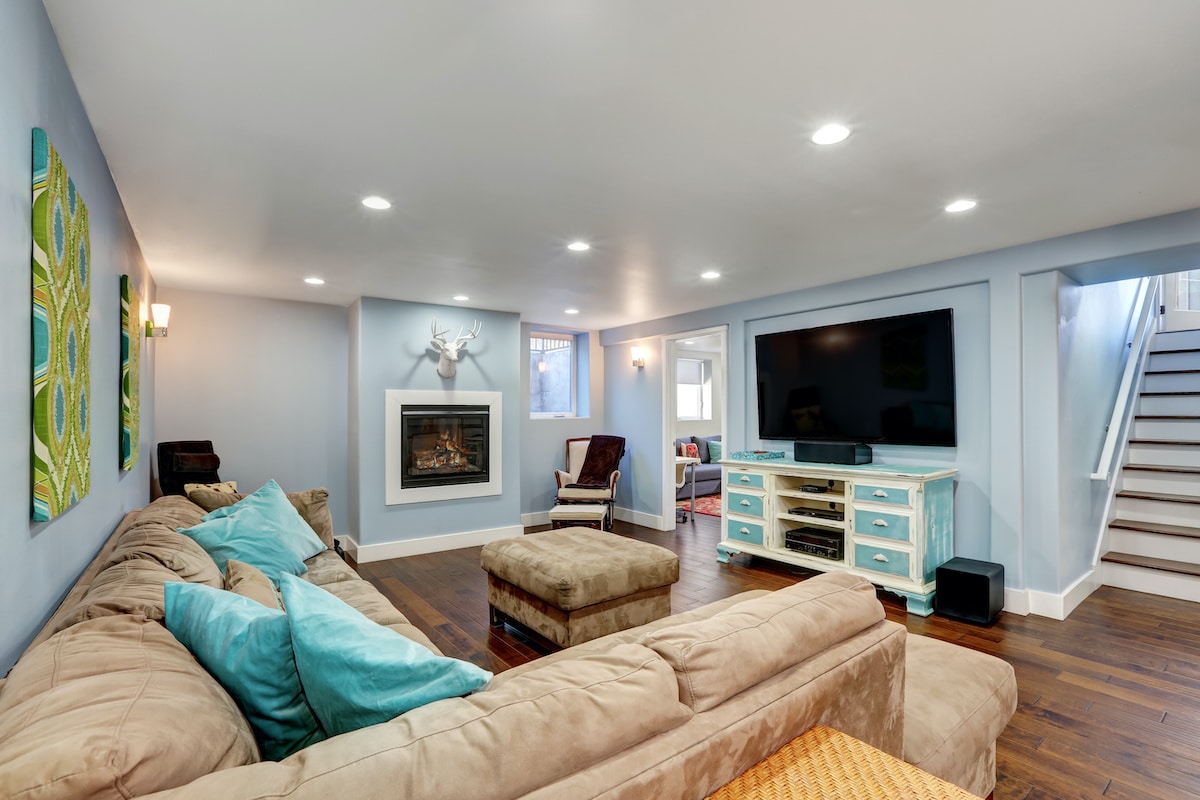 Getting Creative with Finishing Your Basement
With a finished basement comes endless potential. Aside from adding some extra square footage and value to your home, finishing your basement opens the door to a new room-designing adventure.
Here are seven ideas to inspire your dream basement plans.
1 | Charming Studio Apartment
Make some cash on the side by renting out your newly finished basement. Design a sweet and welcoming living space equipped with a living room, small dining nook, mini kitchen, bathroom, and sleeping area. Think outside the box by adding dividers that separate the space, making it feel like a proper home.
2 | Secret Basement Bar
Impress your neighbors, family, and friends with a custom-made and modern basement bar. Be inspired by the art deco, Gatsby, and speakeasy vibes. These styles complement the underground bar idea quite well and highlight its most unique traits. You'll surely be the talk of the town and likely will be hosting a little more often.
3 | Cozy Added Living Space
Keep it simple by transforming your basement into a low-key and comfy living room. This basement transformation will create a built-in getaway in the comfort of your home, perfect for a big and bustling family.
Think about including some of the following elements:
A plush sofa
Soft lighting
A big fluffy rug
4 | Make a Statement with Storage
Let's face it. Most of us can use the extra storage. However, it's time to ditch your old ways and build a space that will provide proper and effective storage.
For a sleek and seamless design, use built-in shelving and cabinets. Additionally, investing in sturdy matching storage bins brings the organization to another level.
5 | Guest Bedroom for Traveling Loved Ones
If you often host traveling family and friends, creating a guest bedroom by finishing your basement is a perfect match. Give your guests the ultimate private space to retreat to during their stay. For this project, think of a hotel room and what it offers. You'll want a cozy queen-sized bed with a warm comforter and plenty of space for travelers to store their clothes and belongings.
To further amaze your loved ones, include a small coffee station equipped with a coffee maker, mugs, creams, and sweeteners. This extra convenience can make your guests feel extra appreciated and welcomed in your home, even if they are staying in the basement.
6 | The Ultimate Family Game Room
By far, the most exciting and fun way to recreate your basement space is to turn it into a family game and recreation room. With this, the possibilities are endless. Check out the following unique and fascinating ideas on how to make your basement the ultimate hangout:
Set up games like pool, foosball, or ping-pong.
Design a gaming center with a big TV and video gaming gear.
Create a comfy corner with bean bags for your kids to kick up their feet.
Pack a minifridge with snacks and beverages.
7 | Secluded Home Office or Studio
Increase your productivity by designing a space for work or creativity. With finishing your basement, you can create a room dedicated to your remote job or hobby like painting, carpentry, or sewing. With a separate and secluded space, you can expect your focus to be at its best as you take on the next creative endeavor or get through the workday.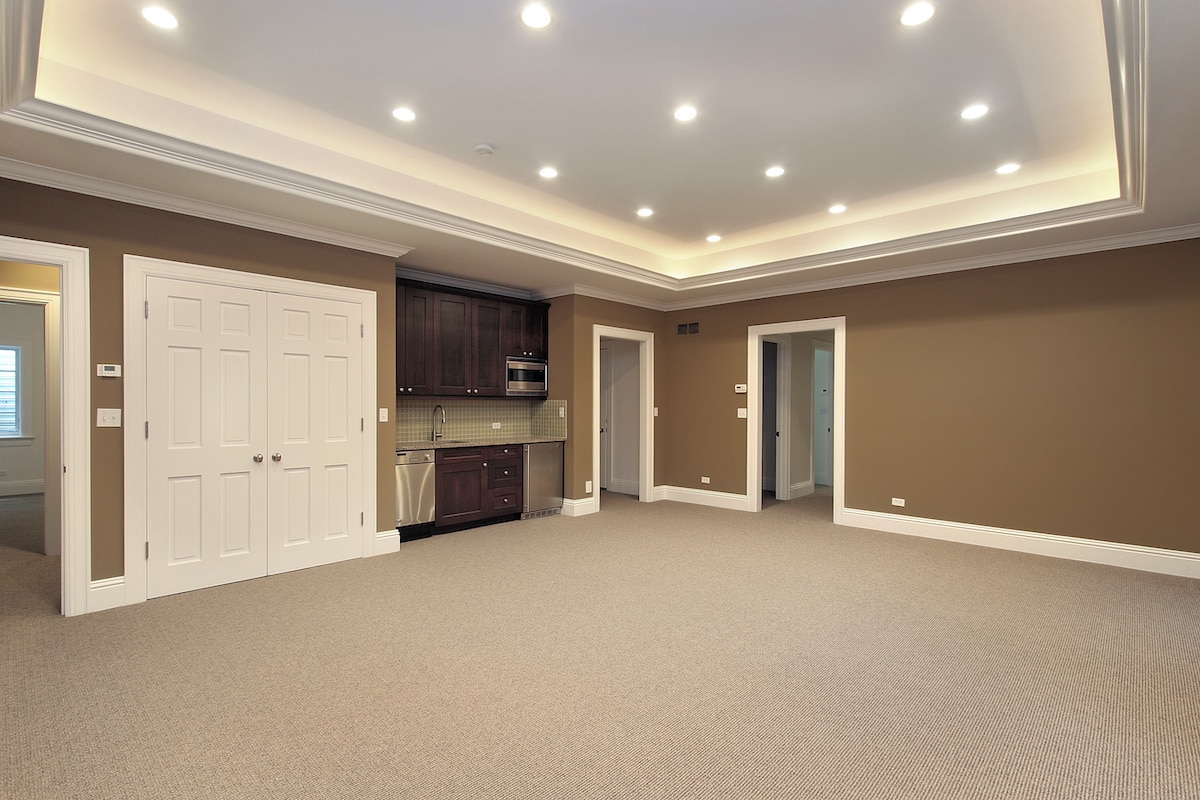 Things to Think About Before Finishing Your Basement
Now that you know how exciting it can be to finally finish your basement, you may be eager to dive right in. But keep in mind, there's a lot that goes into completing a unique project such as this one. The following are some of the most important things to consider before finishing your basement:
Check the radon levels.
Assess the moisture in your basement.
Ensure the space is well ventilated.
Establish an escape route in case of an emergency.
Install proper lighting or consider windows, if possible.
Decide on a practical and suitable flooring option.
And the list goes on and on.
Nevertheless, there's no need to get overwhelmed by the many tasks at hand. In fact, Georgia Home Remodeling takes care of it all.
If you have further questions on how we help you finish your basement, pick up the phone and give us a call today. We have the answers and are more than happy to talk with you.
Count on Georgia Home Remodeling to Finish Your Basement
If you're tired of staring at the concrete floors and blank walls, it's time to finish your basement. However, a unique project like this one may require some outside assistance.
Luckily, Georgia Home Remodeling is here to help.
We have refinished the basements of homes large and small. Basement refinishing updates and enhances your home by giving you more usable space
Ready to get started? Give Georgia Home Remodeling a call today.