Congratulations! You have found some extra room in your home to add a recreational room for the family. That is great. We all deserve time to let our hair down, laugh, and play no matter the family members' ages. And if you have time to play with your family, it will be stronger for it.
Now that you have made this excellent decision, do you know what you want the room to be? For instance, does the wife need some crafting space? Or maybe someone needs room to practice their killer karate moves. But what if that room could serve multi-purposes?
Honestly, the sky's the limit when you have room to spare. Think about how the family would benefit from using the space and determine the best way to make those thoughts come to life. When you are dreaming and planning, be sure to keep the following things in mind.
SPACE: How much space will the room provide? Measure and draw it out on graph paper if you are the visual type. Do you have room for the daughter to practice her ballet routine? Is there room for the entire band to practice? Perhaps you only have room for a nice cozy reading space for the whole family.
BUDGET: What is the budget you can set for the room? Perhaps you have the budget to create a home gym with all the top-of-the-line equipment. Or maybe you are going to surprise the kids with an all-new TV and gaming system.
LOCATION: Where is the room located in the home? If it is directly over the baby's room, you may not want to put in a clogging platform. Just saying.
PERMITTING: Does any of the work need permitting or a professional remodeler to assist in making the room a reality? If so, Georgia Home Remodeling may be able to help. You sure wouldn't want to do anything you regret if you ever need to sell the home. Make sure it is done correctly and up to code.
Now let's consider some options that may appeal to you and your family.
14 Recreational Room Ideas for You and Your Family
Georgia Home Remodeling is a Northeast Georgia-based company of home renovation contractors. And our diverse and experienced crews include carpenters, painters, electricians, plumbers, flooring specialists, and HVAC professionals. So, suppose you are looking for the perfect ideas for your recreational room remodel or buildout. In that case, we have you covered from start to finish.
Let's start dreaming of how to use the space. Sometimes it takes some creativity to turn that room into a dream room. Here are a few of the ideas we have seen over the years.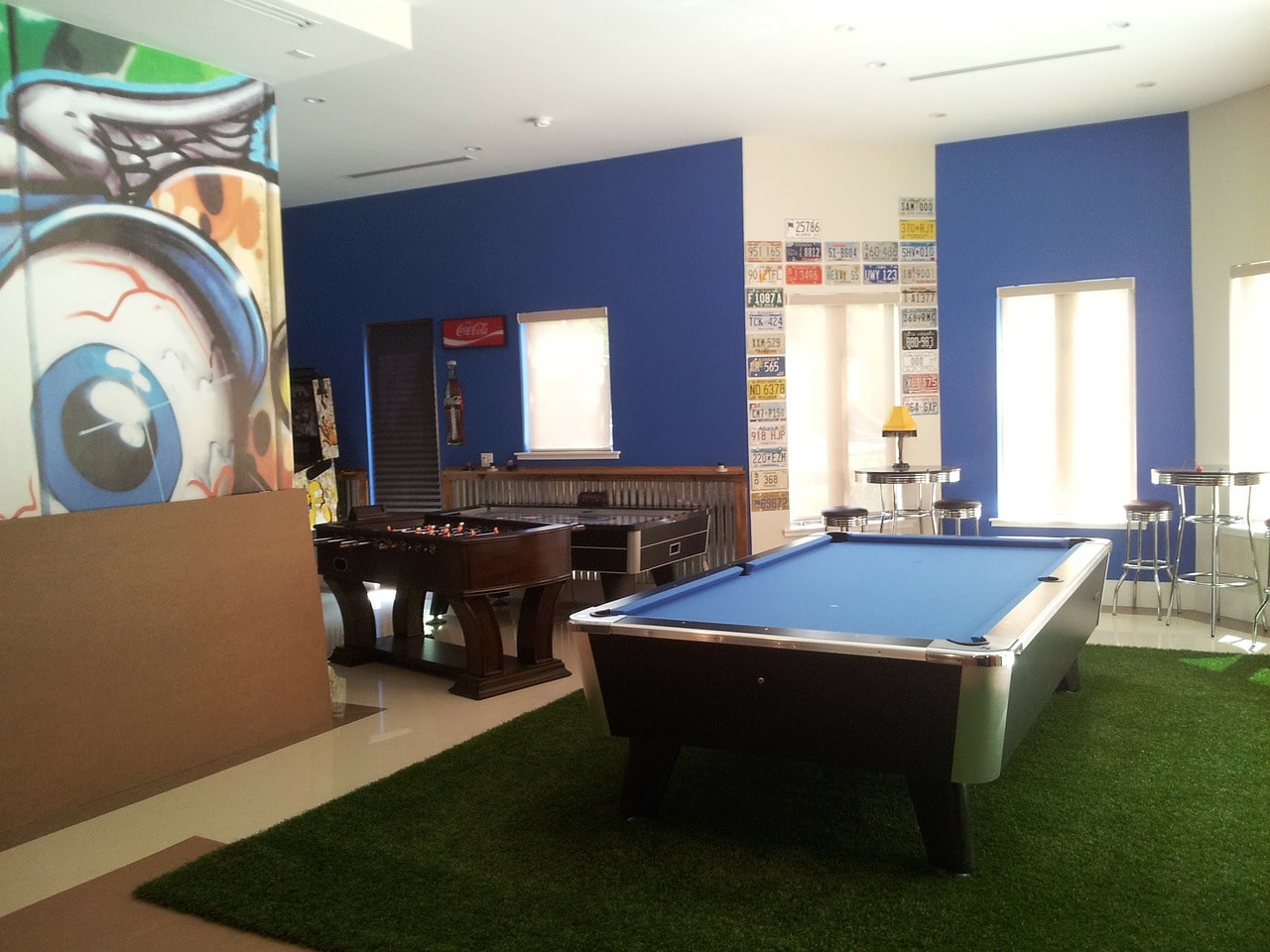 The Obvious Family Game Room
Possibly the most popular of the uses for additional space is the family game room. Whether that involves a big screen TV and gaming consoles or tables for ping-pong and puzzles, playing together is essential. The good news is, you can adjust the theme of the room as the kids grow. While it may have floor toys and forts when the kids are young, it will grow with them. Then the room will become games and video games. Then eventually, a hangout spot for the teens is a great idea. Make the space work for your ever-changing family.
A Home Gym
Installing a large mirror and some gym floor padding makes any space look like it was designed to be a gym. Then when you add the equipment and a TV across from the treadmill, you have a place the whole neighborhood will want to enjoy. In fact, if you add some chairs and a mini-fridge stocked with water bottles, they may even stay awhile after the workout to cool down and refresh. For a spa-like feel, add a music source and a diffuser to the room. Roll white towels for use, and you have your own luxury spa gym.
Second Living Room
Ever have the problem where Jimmy wants to watch Turtles and Sarah wants to watch Princesses? Perhaps there is an age gap, and the older kids are tired of baby programming. Maybe one half of the family wants a quiet night, and the other feels like a party. That is okay. Sometimes we all need to get our way. When you have a second living room, the kids can watch one thing and the adults another. Or even split into girls and boys if you want. Just be sure there are times you all agree to come together for the sake of the family.
Homeschooling Room
Since the global pandemic of 2020, homeschooling has become more popular by leaps and bounds. Many students are choosing to stay home to continue their education. And if you have that additional space, it may be perfect or a study room. With sturdy vinyl plank flooring, some desks, built-in shelving, and computers, that can be a sinch. Don't keep the books piled on the dining room table if you don't have to. The room can even be used for other things when not during school hours.
An All-New Office Space
Another thing that transpired after 2020 is the ability to work from home for so many individuals. And working in the area the family plays in does not always work so well. Suppose you need a space to get serious and get your work done. Why not use the area for an all-new office inspiring creativity and tranquility. Make sure to use paint colors that make you feel inspired and energized. Add texture to the décor, and have a zoom area ready and set up for conference calls.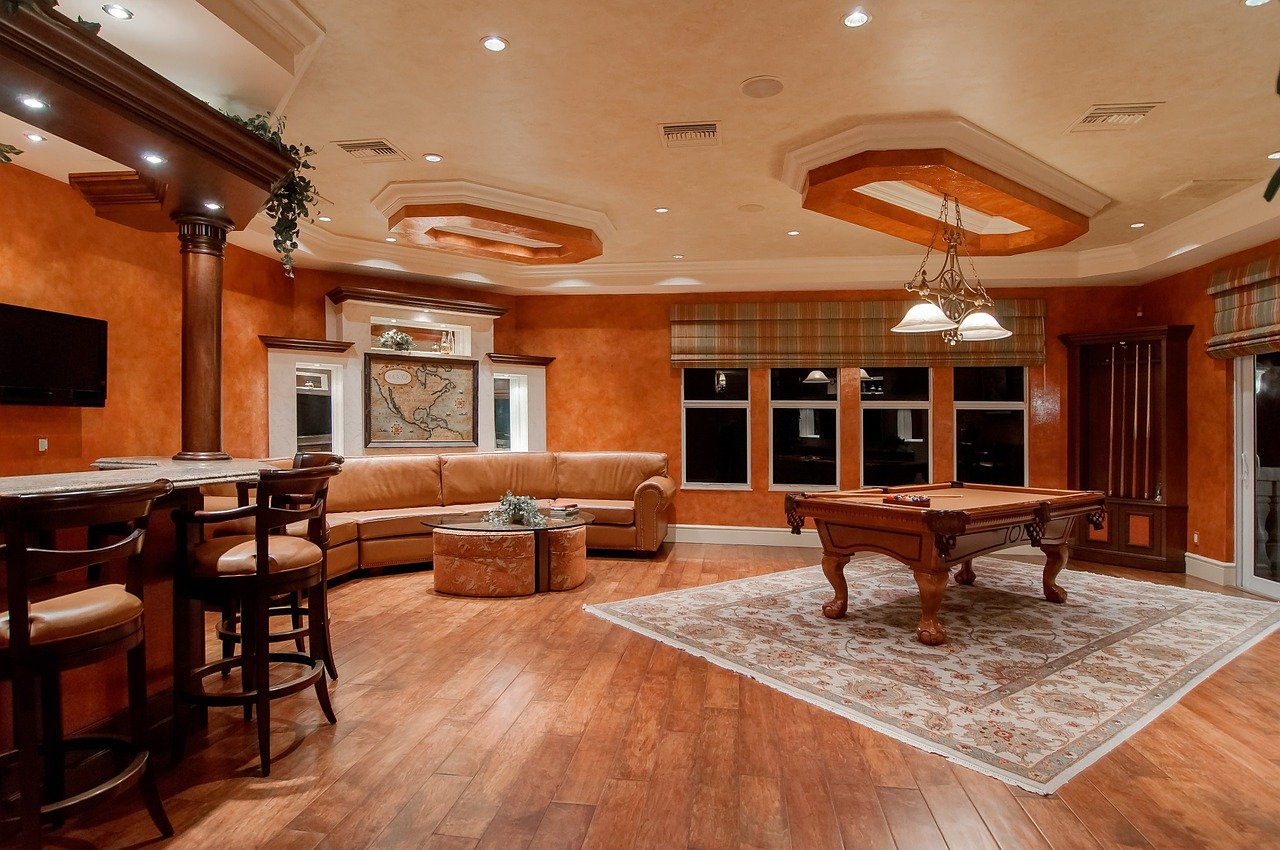 Pool Hall & Bar for "Older Kids"
Need an adult space? We know just what you mean. A game room for adults can include a pool table, poker table, stocked bar, and more. Place a TV and a sofa in the area, and you have a place to watch sports with the family, as well.
Hangout Room For the Kids
Bean bag chairs, soft carpeting, and overstuffed pillows can make the perfect playroom for the kids. Add organized shelving for games and the like, and you have the ideal room to send the kids to while you have adult time.
A Reading Room
The same kind of décor goes well in a reading room. Oversized and overstuffed chairs, carpeting to absorb sound, and good lighting will make the perfect place for the family to grab a good book. Add some soft classical music in the background, and you may just grow some reading geniuses out of those crazy kids.
A Yoga Sanctuary
For meditation and stretches, a yoga studio in the home may be just what you need. Put in wood-look flooring, yoga mat storage, pipe in music, and an excellent natural light source.
The Home Theater
A home theater is a great way to get the whole family to sit and watch a movie. With recliners, a big red velvet curtain framing the TV, and perhaps a little stage area, you can do more than watch movies. You may even invest in a great sound system for your movie experience. Add a popcorn machine and a mini-fridge with soda, and you are ready for the whole experience. You can even add a karaoke machine for those fun-filled nights with friends.
A Craft Room
Do you have a house full of creatives? Maybe they need some spill-proof flooring, tales, and easels to spread their creative wings. Use a closet space to organize all the supplies, and you have the perfect place to get messy and creative without taking over the home.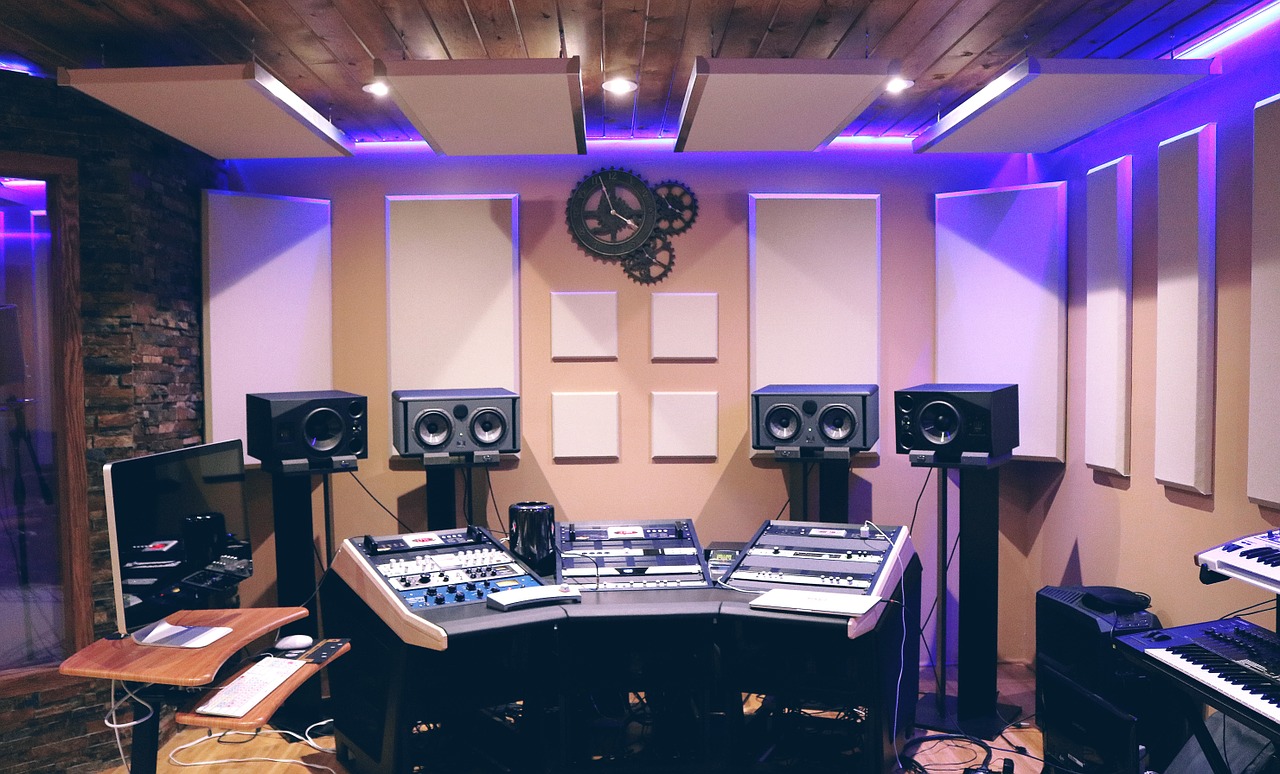 The Music Studio
Maybe your family is the musical type. Lucky you! Foster that creativity and place soundproof walls and flooring in the room. Add seating for spectators and let them perform. Then, decorate the room with framed posters of their inspirations and change them out with the times.
A Guest Room for Friends and Family
Another obvious choice would be a gut room. And if you have visitors often, or wish you could accommodate, that would be a great idea. If you want them to feel welcome, add comfortable bedding, space for them to store their belongings, and a glass of water beside the bed. They will return again and again if they feel welcomed in your home.
A Multi-Purpose Recreational Room Room
Converting a room into a multi-purpose area is a great way to give everyone time in the space. You can set up a desk behind closed doors, with room for the kids to lounge on the sofa. And when the guests come a-knocking, the couch can pull out to a comfy guest bed. Hide the gaming equipment in the TV console, and the room will be neat and tidy for visitors.
Georgia Home Remodeling Has Your Recreational Room Ideas Designed
There is no right or wrong for your family. And if we are not mistaken, most rooms end up being more of the multi-purpose room for a larger family. Take all your ideas and put together a fantastic room the whole neighborhood will enjoy. And if you need help with the design, our team can help.
Georgia Home Remodeling is a full-service home remodeling and renovation company based in Bethlehem while serving Barrow, Walton & Gwinnett Counties. Our home renovation and restoration projects range from painting a room to building a home and everything in between.
Want a new recreational room? Just contact us today to get started dreaming!