Suppose your favorite book is The Great Gatsby, and you love a flapper dress and all that made the Roaring 20's glamorous. In that case, you may want to surround yourself with the feeling, drama, and design by incorporating Art Deco into the design of your home.
When choosing a design style for your home, there are several elements to take into consideration. Most essentially, you need the home to have all the things you love from room to room. So, choosing your style is a crucial decision to make. Does the house itself lend itself to your design thoughts? What are your favorite things? How do you want visitors to feel in your home?
In this installment of the Design Series by Georgia Home Remodeling, our design experts share how to incorporate Art Deco design into your home.
What is Art Deco?
First, let us settle in on a good definition for Art Deco as an interior design style.
Art Deco is defined as "a style of visual arts, architecture and design that first appeared in France just before World War I. It influenced the design of buildings, furniture, jewelry, fashion, cars, movie theatres, trains, ocean liners, and everyday objects such as radios and vacuum cleaners. It took its name, short for Arts Décoratifs, from the Exposition internationale des arts décoratifs et industriels modernes (International Exhibition of Modern Decorative and Industrial Arts) held in Paris in 1925."
As an interior design style, Art Deco "combined modern styles with fine craftsmanship and rich materials. During its heyday, it represented luxury, glamour, exuberance, and faith in social and technological progress."
That said, rich colors, bold geometrics, and decadent details all work together to form this specific design style and attitude.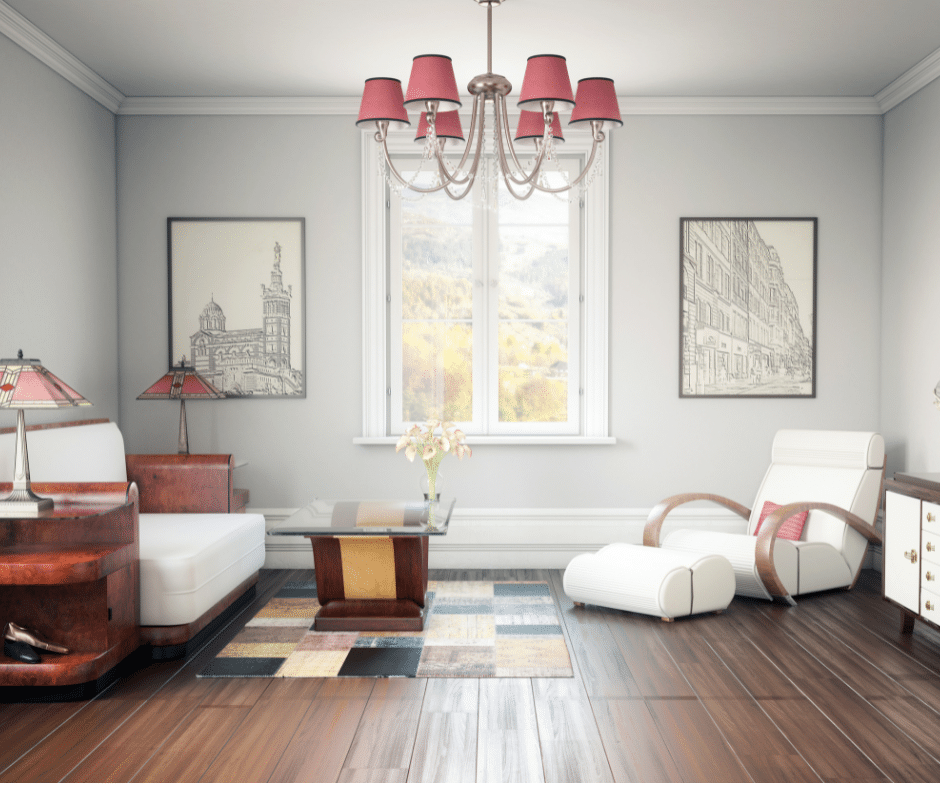 What are the Key Elements of Art Deco Design?
To really create the look that is Art Deco, you will need to embrace the elements of the interior design style. However, there are several to combine with precision and attention to detail. Here are the key elements of Art Deco design.
Streamlined Shapes
Furniture in Art Deco is streamlined, symmetrical, geometrical, aerodynamic, and modern. Angular armchairs and French barrel-backed bergeres are perfect examples. A low armchair with a round bottom cushion and curved backrest is perfectly paired with a black high lacquered side table and a geometric lamp.
Geometrics And Pattern
Patterns are strong, bold, and angular in Art Deco design. Add pattern everywhere, including rugs, throw pillows, wall art, and wallpaper. Add velvet for drama and texture with shine from brass feet.
Animal Prints
From pillow and rug design to entire animal hides on the wall or floor, animal prints heighten the glam in the room.
Glam Lighting
Illustrious chandeliers and geometric lighting brighten the area and provide additional space for expression.
Sunbursts and Mirrors
For more over-the-top glamour, sunbursts and mirrors add drama to any room.
Natural Motifs and Wood
Feathers, leaves, animal skins, and horns are all a part of the natural motif of Art Deco. Then the design style is anchored with rich woods like ebony, walnut, maple, and ash. The beauty of the rich wood grains shines through with a highly polished sheen.
Strong Materials
The materials used in the furnishings and accessories for Art Deco include silver, crystal, ivory, jade, and lacquer, glass, and skins. With high shine and luxurious style, aluminum, stainless steel, plastics, and wood veneers made the concept more affordable and readily available for anyone to place into the home.
The Colors
The colors of Art Deco are characterized as bright and deep, with yellow, red, blue, greens, and pinks taking the position of honor. And the basics or standards of the design are silver, black, and chrome. Art Deco used color to lift the palette and express a mood. And black and white lend to the drama.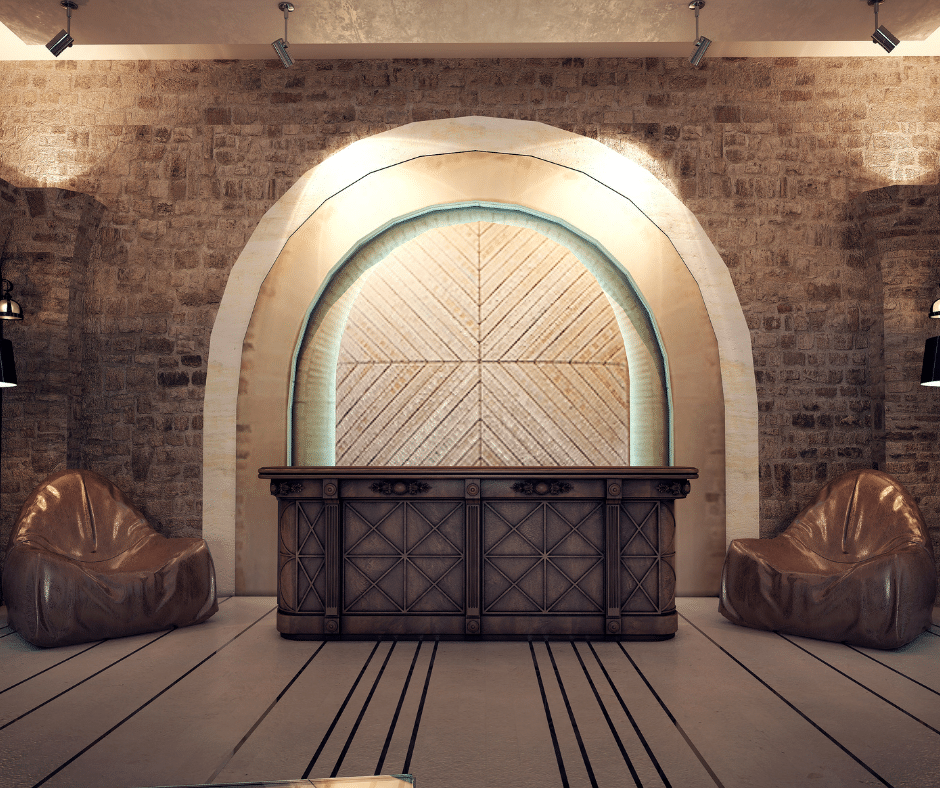 How You Can Create Art Deco Influences in Your Home
"To create an Art Deco feel in your interior, think bold and think opulent. Deco is elegant, functional and modern, and though it dates back to the 1920s, this is still the perfect combination for the contemporary home." –The Art of Bespoke.
Georgia Home Remodeling Can Help You Achieve That Art Deco Style
Art Deco design is linked to various trends depicted in Hollywood film studios the public could see and love many films. That made many homeowners desire the look in their own homes. The overall look is easy to achieve and affordable as well. The style is so forgiving that it is easy to create with just a few details added to a room.
If you want a home full of Art Deco pattern, glam, and luxury, contact the Georgia Home Remodeling team to help you achieve your goals. Here are some of the ways we can help you make your gorgeous dream come true.
Painting Services
Need those walls painted? Looking for a rich accent wall or perhaps a wallpapered wall? As one of the many services Georgia Home Remodeling offers, professional painting adds your design style, a clean feel, and value to your home.
Custom Design and Fabrication
Perhaps you cannot find the Art Deco piece of furniture to go in a particular home area. We can take care of that. If you need a custom design, or cabinetry fabrication, and more, we can take care of it and really give you that high design feel you are looking for.
Electrical Work
When you are hanging the perfect chandelier, don't go it alone. Allow us to come in and ensure it is hung right and wired correctly to avoid an electrical fire.
Furniture Refinishing
Don't have a high sheen piece of furniture? Can't seem to part with that dresser? We know the deal. But you can call us to refinish and paint the item to your satisfaction. Lacquer to your heart's desire or pull out that wood grain to perfection.
Renovation Planning and Consultation Services
Maybe you are ready for a complete renovation of the home. In that case, there is some extensive planning to be done. Our design team can stop by for a consultation and even help you plan the renovation step-by-step.
At Georgia Home Remodeling, we go to great lengths to keep up with current trends and the latest remodeling techniques. And, we have all the contractors you would need to complete any remodel you can think of, even an Art Deco design.
If you would like to update or remodel your Georgia home, contact us to begin the process. We are ready to discuss your vision and make a plan to make those dreams come true.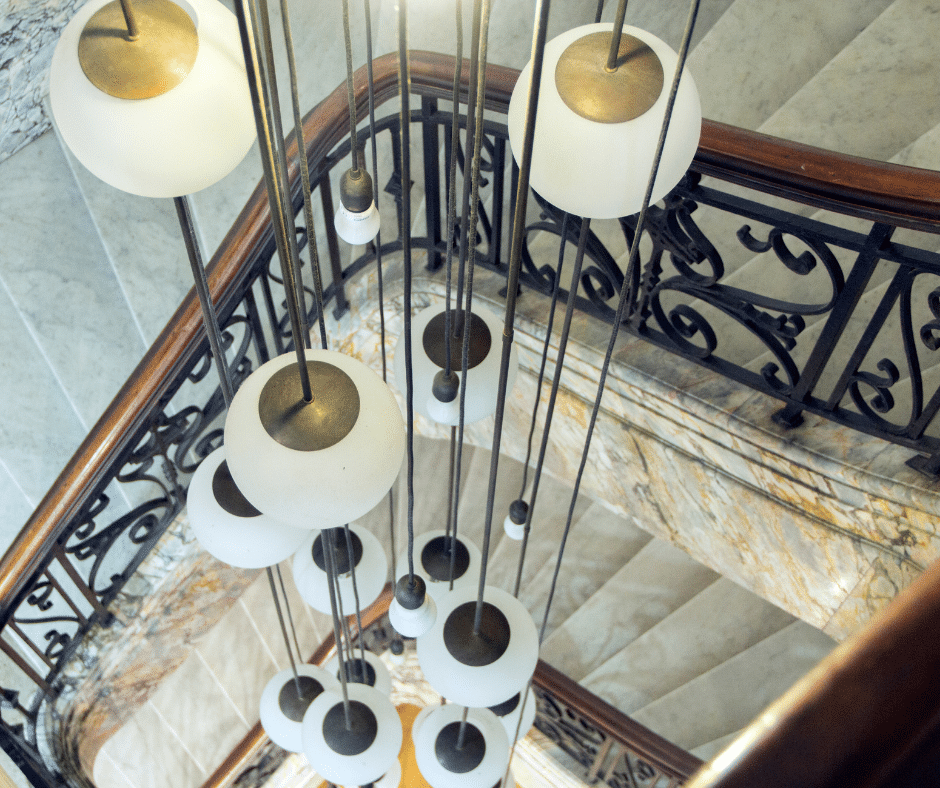 Georgia Home Remodeling and Your Art Deco Design
At Georgia Home Remodeling, we pride ourselves in choosing the best quality products and providing professional and friendly service, no matter the team or the job at hand. We offer free estimates and custom quotes for your Art Deco Design home project.
When you allow us to glam it up with you, you will be getting the best products, fair pricing, and an honest assessment of the needs you have for your home.
No matter the design concept or remodeling job, Georgia Home Remodeling has you covered. We are a team dedicated to quality work at a fair price. Your family will be glad they chose GHR to make the home feel more current- more you.
At Georgia Home Remodeling, we value our customers and their homes. Contact us anytime, and let us help you make your dreams for your Art Deco home remodel a gorgeous reality!