Home Additions: Media Room Design
It's a versatile space perfect for entertaining guests that adds value to your home and brings your family closer together—a media room is a no-brainer for homeowners looking for the next remodel to check off their list.
When it comes to your media room design, the options are virtually endless! Create a sleek, modern space or fill the room with nostalgia and eclectic conversation pieces. Whatever your style, a media room can be the perfect addition to your home.
We can make your dream media room come true at Georgia Home Remodeling. Continue reading to get ideas to inspire your unique and personal space.
What is a Media Room?
Media rooms are a space in the home dedicated to kicking up your feet and enjoying the many forms of media and entertainment. Traditionally, the room includes plenty of comfy seating, a large flat-screen TV, and an impressive sound system.
However, with today's various tech-based forms of entertainment, media rooms can be a multi-purpose space filled with everything you most enjoy.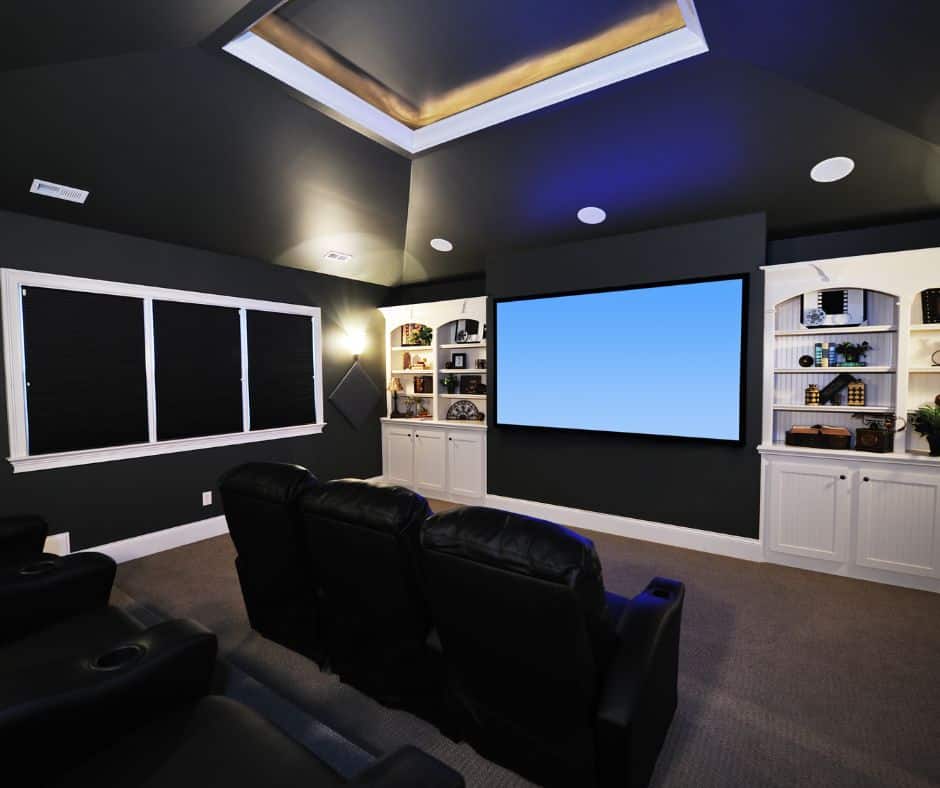 What to Consider When Designing a Media Room
Because the definition of "media room" is so broad, there's a lot to think about when designing this space. Here are some key features and considerations for your brand-new media room design:
The Perfect Space
Media rooms are excellent for filling a spare room with interest and activity, rather than dusty furniture and boxes of old clothes. Maybe you have a basement that you need to put to use. In that case, a media room is a creative way to utilize the extra space. The lack of windows is a fitting look for a home theater or any other media room design.
If you have a small loft space currently serving as a rarely visited reading corner, it's time to switch to an impressive and energetic media room.
However, not everyone has an empty room in need of a makeover. No problem! You can easily redesign your living room. Integrate your media room design into your home's current style and still enjoy the perks.
Get Cozy and Comfy
No matter your style, you'll want your media room to feel cozy and inviting. Consider including some of the following elements:
Silky and soft oversized blankets
A deep sofa to kick up your feet and spread out
Low seating
Large plush pillows for the floor
Giant bean bag chairs
A cozy area rug or carpet flooring
Bring on the Movie Munchies
Especially if you are going for an authentic movie theater appearance, plenty of snacks are a must! Bring in a mini fridge and create a snack bar stocked with your favorite movie-time munchies and beverages. Invest in a quality popcorn machine for fresh buttery popcorn. And as a treat for the adults, incorporate a classy cocktail bar or mobile bar cart.
Furthermore, you'll want to ensure there is adequate surface space to hold your many snacks and beverages. Consider trays and tables that can be moved around to keep the media room design flexible.
Accessorize
Media rooms are some of the most exciting spaces to get creative with accessories. Below are some fun ideas to incorporate, depending on the style you want to achieve.
Vinyl displayed in a grid on the wall
Posters of your favorite movies, shows, and musicians or bands
Small statues or figurines of famous actors and movie characters
Classy gold elements
Fascinating lighting fixtures
Displayed instruments, like electric guitars
Local and original art dressing the walls to complement your design theme
Consider Darker Paint on the Walls
The color of the walls will play a significant role in the overall media room design. Lighter tones reflect light and can be annoying when watching a movie or show. Although it's not necessary, choosing darker paint for the walls makes a massive difference.
Now, this doesn't mean you have to paint your walls a bold black. Instead, try colors like a deep navy or royal blue, burgundy, dark teal, emerald, or a stunning warm grey.
Mood Lighting
To achieve the movie theater vibes, ensure your lighting is appropriate. Think about incorporating dimmable lights, wall lights, and black-out curtains for the windows.
Never Enough Media
Maximize your media room design by involving all the elements of media that you and your family enjoy. These may be stacks of your favorite board games and a bookshelf with shelves packed with your most cherished reads. Or perhaps competitive games are more of your family's style, like foosball, pool, and darts.
Can't have enough technology? Invest in a high-quality surround system or create a laid-back gaming corner with the top gaming consoles.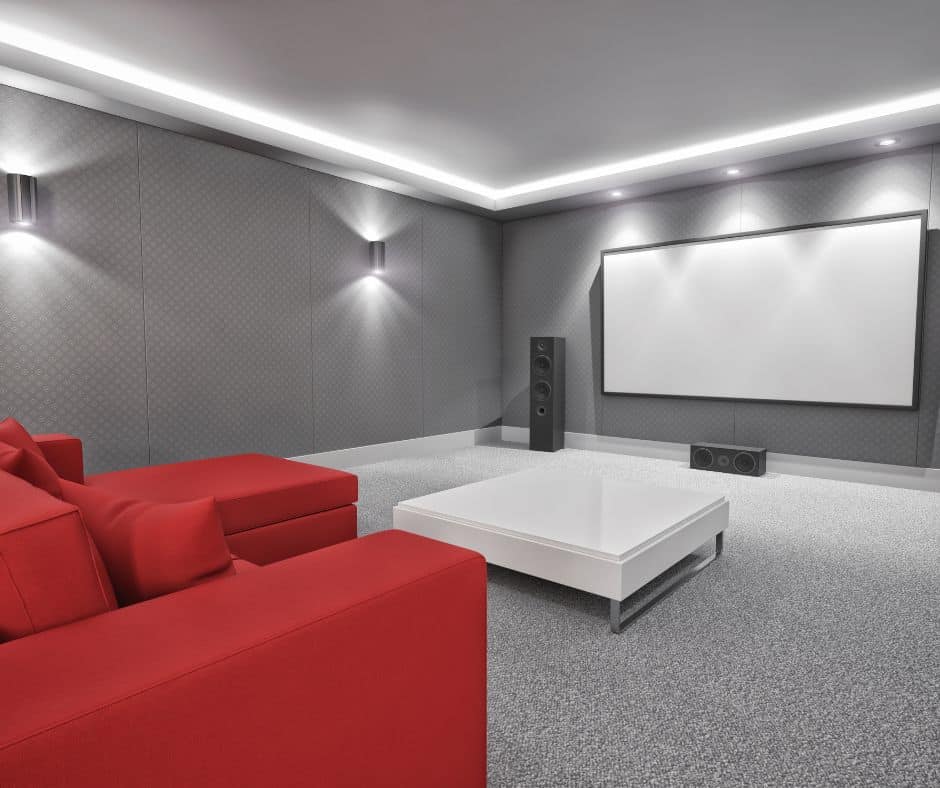 5 Unique Media Room Design Ideas
Media rooms are the perfect opportunity to get creative. So, what are you waiting for? Get inspired by the following five remarkable media room ideas and get to work!
1 | Retro
A nostalgic retro theme is a fantastic choice for a media room design. Suppose you already have valuable and fascinating old nick-nacks. In that case, you've got a head start on the decor and display pieces for the space. If not, stop by and explore your local second-hand stores and antique shops to find the perfect treasures for your retro theme.
A classic jukebox or stunning antique record player makes for show-stopping highlights in a media room. Display various retro art pieces on dusty rose, olive green, or scarlet red walls. Choose furniture with a funky flair. And top it all off with an antique minifridge and snack bar stocked with glass Coca-Cola bottles, Bottle Caps, and Gobstoppers.
2 | Hollywood Glam
Start by painting the walls in deep hues making the room feel luxurious and extravagant. Black and whites also work well for a Hollywood glam media room design.
Pick out some statement pieces for spot-light stealing side tables and seating. You can even sparingly use geometric patterns, animal prints, and other bold prints. For textures, think velvet and silk. Incorporate accessories and décor, like lacquered vases, small gold statues, and starburst mirrors.
A classy cocktail bar is perfect for a Hollywood media room. And don't forget to include a few black and white photographs of some of Hollywood's classic figures!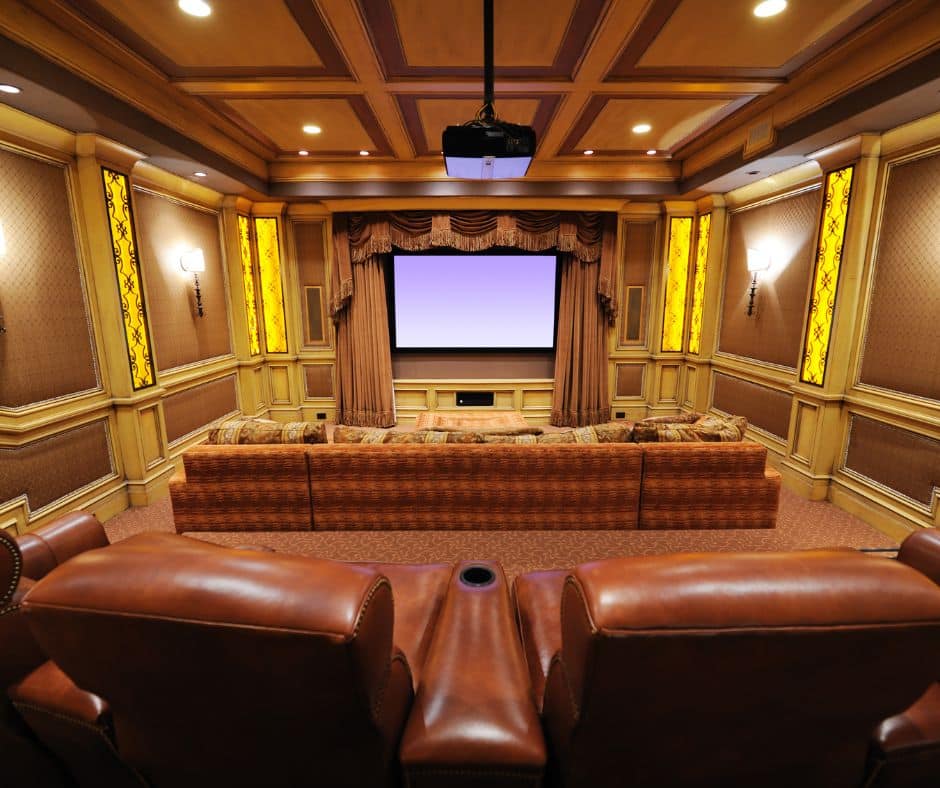 3 | A Gamer's Paradise
Do you have any dedicated gamers in the household? If so, a gaming room might be the way to go. A massive flat-screen TV is a must to create the ultimate gamer's paradise. Or, if computer games are more your style, you'll want a roomy and sleek-looking desk with a gaming keyboard and multiple high-quality monitors.
Choose a deep color of paint for the walls—you could even go with solid black. Neon and LED lights lining the walls are perfect for creating techy vibes. Fill the walls with framed posters of your favorite video games. And to top it all off, showcase your controllers on epic display stands.
4 | The Ultimate Movie Theater
Who wouldn't be ecstatic to have a home movie theater? Buy a projector to cast onto a pull-down screen to create this classic media room design. Any comfy and modern seating will do. However, authentic movie theater seats really tie together the home theater look.
You may even want to install a small, narrow stage at the foot of your massive theater screen. And a booming surround sound system will take your experience even further!
Finally, what is a movie theater without a popcorn machine and snack bar?
5 | Quiet and Cozy Retreat
Sometimes, after an exhausting week at the office, you just want to come home to a cozy couch and kick up your feet. This media room design idea is your snug and warm get-away at home.
Keep decor minimal and subtle. Choose neutral and soft colors for the walls, furniture, blankets, and pillows. Pick out comfy seating for spending your weekend days binge-watching your favorite TV shows. It can also be comforting to incorporate some potted plants to bring life to the simple yet relaxing space.
Stock a bookshelf with novels, poetry, and short stories you love to read, cuddled up with a plush blanket on the sofa. Consider throwing in some board games for when you entertain guests.
Ready to Create Your Dream Media Room?
It's time to bring your dream media room design to life. And with help from the skilled and experienced team at Georgia Home Remodeling, all things are possible.
Whatever style or theme you desire, we have the tools and professionals to get the job done. We'd love to get the chance to make your vision a reality—give us a call today to learn more!