Carefully and intentionally placed lighting is fundamental to the overall atmosphere and flow of a space. So, when it comes to your lovely home, you'll need all the lighting tips you can get to create an environment where you and your family will thrive.
Being strategic with your home's lighting doesn't need to be complicated. However, a few tricks will help you illuminate your spaces in thoughtful and functional ways. Georgia Home Remodeling guides you through expert advice on choosing and planning the lights throughout your house to promote a sense of well-being and order.
Read on to discover what to know about indoor lighting and the top tips for the most important rooms.
General Lighting Tips for Your Home
Whether you're starting with a clean slate or going back to the drawing board, there are several things you'll want to keep in mind when lighting your home.
Make a Plan:
It's best to create a lighting plan before jumping right in. Think of the lighting needs for each room. What are you trying to achieve? What are the purposes of the rooms- relax, play, work?
You want your lighting to be functional and complement the space. Remember to factor in the following:
Scale
Style
Color
Intensity
Additionally, there are a couple more things to incorporate into your plan. One of the essential lighting tips to follow is not to mix warm and cool lights in the same space. It can be off-putting and disorienting. Start with the larger lights, like ceiling fixtures in the living room or kitchen. From there, you can fill in the smaller accent lights where needed.
Layering Your Lights:
To maximize the lighting of your space, consider layering your sources. For instance, you can create depth and interest by hanging lights at different levels. Or cluster lights in the corner of the room, like a reading nook, to add a cozy quality.
Layering lights will guide your eye through the room. So, use your lighting to direct the viewer's eyes to the points you want your guests to admire.
In general, you can layer lights as so:
Ambient lighting– The primary sources, like recessed lights, chandeliers, ceiling fixtures, and floor lamps
Task lighting– Functional sources for reading, cooking, working, and more
Accent lighting– Mood lights to add drama or give a spotlight to special features, like plants or art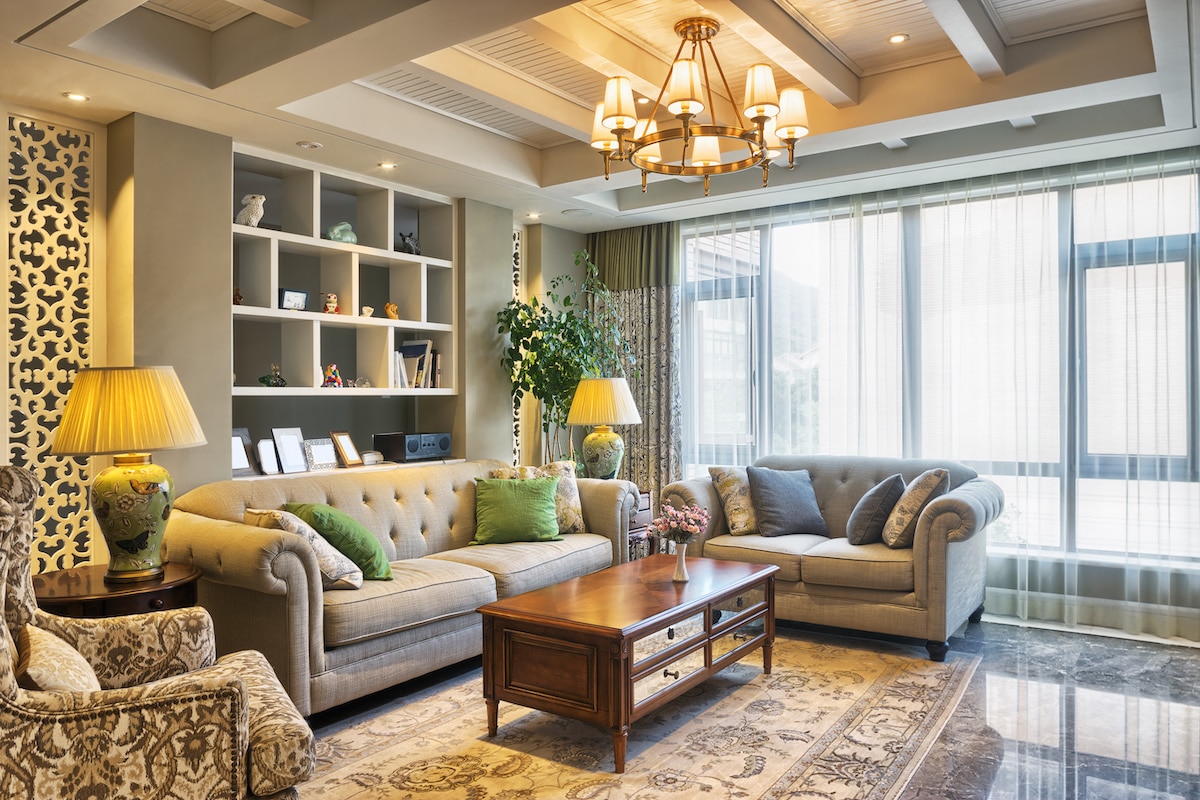 Functional Lighting:
You may want to put functionality first when designing the perfect lighting plan. For the bedroom, consider dimmable lights in the ceiling to cater to your mood and provide a relaxing environment for better sleep. You may also want to place a bright standing light near the bed if you enjoy reading early in the morning or before falling asleep.
Using Natural Light:
Natural lighting has a unique way of bringing life to a room. These sources are typically sunlight, candles, and fireplaces. You can use natural light to your advantage in the living room by strategically placing drapes and shades to control the sun's rays. During the day, allow your living room to be illuminated by organic sunlight. Light some thoughtfully placed candles or the fireplace in the evening to enjoy the nighttime ambiance.
Using natural sources will also reduce your energy bills. To maximize your resources, consider installing skylights throughout the home. Not only are they stunning and unique, but they will brighten a space without having to switch on artificial fixtures. You can even use mirrors and other reflective materials to guide the beams through your home.
Choosing the Right Color:
The color you pick will significantly impact the mood of the space in your house. Use white lights to promote productivity and energy in your home office, kitchen, or laundry room. Their brightness and cool tones tell your body to wake up and get to work!
Use warm tones, like yellow or amber, to induce relaxation and calming vibes. These hues work best for the bedroom, dining room, or T.V. room.
Lighting Tips for Your Home in the Most Important Rooms
To complete your lighting project, use the following tips and tricks for the primary rooms in your home.
Living Room
The Goal
Most people want their living room to be tranquil and calming. It's often where we end our long workdays and decompress from the stresses of life. It's a place where the family gathers to spend quality time playing games, watching movies, or getting into deep conversations. Create a warm space with your lighting to promote a sense of calm and well-being.
Lighting Tips
Use tabletop or floor lamps near the ends of the sofa or comfy armchairs.
For your ambient lights, install them to illuminate the ceiling and bounce off the walls. Doing this will make guests and family members feel at ease because it is human nature to look up and not down.
If you have a focal point in your living space, give it the spotlight it deserves. For example, you can carefully plan the lighting fixtures around the T.V. or fireplace to direct eyes to these centerpieces.
Do the same with other fascinating features in the living room, like charming indoor plants, works of story-telling art, and family heirlooms.
Bedroom
The Goal
Bedrooms are the most intimate locations in our homes. There, we wake up, dress, take afternoon naps, and rest our heads after a full day. While you may want your closet to be bright and inviting, your goal with the bedroom itself is to create a snug environment.
Lighting Tips
Layer warm lights and use natural lighting from windows.
A thoughtfully placed mirror can reflect light and fill the space.
Use wall-mounted fixtures that can swivel in different directions for multiple functions, like reading in bed or double-checking your outfit in the mirror.
Choose dimmable ceiling fixtures to adjust the mood according to the time of day. That way, you can enjoy a bright and energizing space to start the day and a soft, dimly lit room to ease you into sleep at night.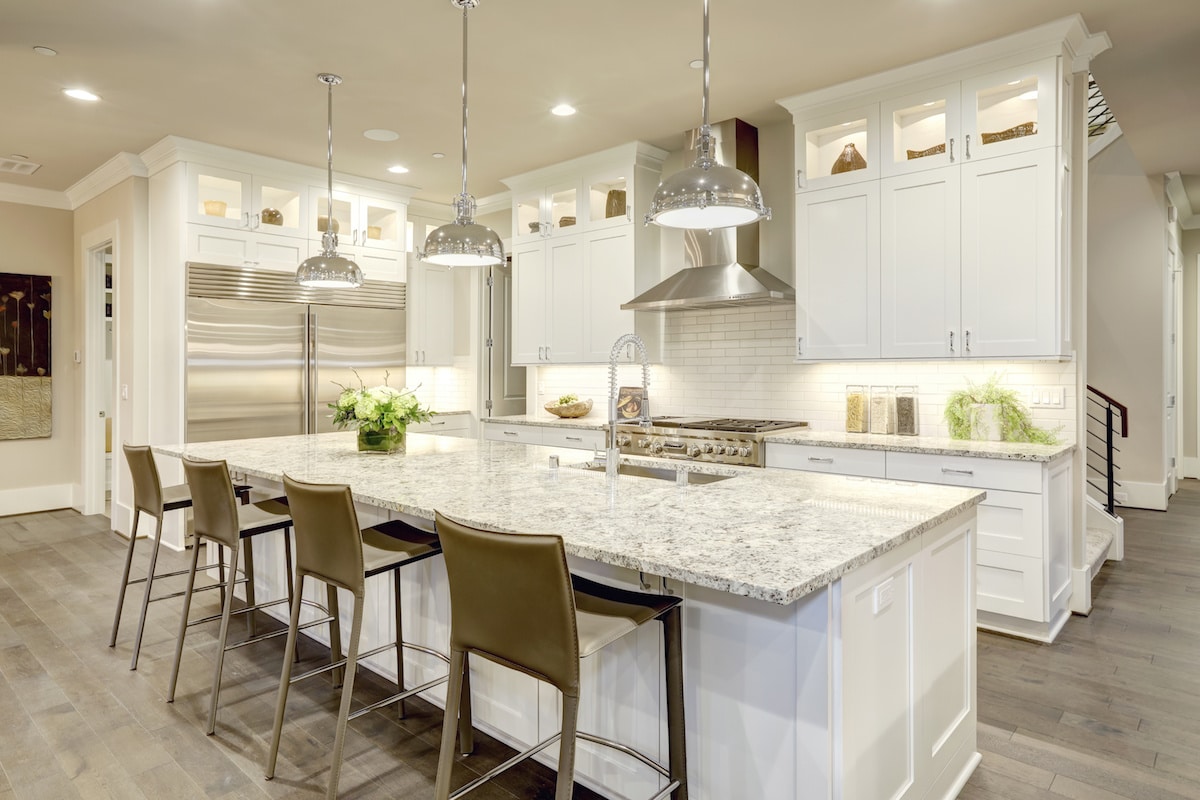 Kitchen
The Goal
You want your kitchen to be bright and functional. The countertops should be well illuminated for chopping vegetables, mixing batter, and dressing delicious dishes for your family and guests. For cleaning the dishes and planning a week of nutritious meals, you want to be alert to make the best decisions.
Lighting Tips
Keep ambient lighting bright enough to fill the space with active vibes.
Install lighting under the kitchen cabinets to brighten the countertops, so you can clearly see textures and details while preparing a meal.
If your sink is near the window, use the natural light to your advantage and keep the blinds and curtains open.
Highlight aesthetic features, like wall art, handcrafted dishes, or kitchen plants.
Dining Room
The Goal
Invite family and friends to gather at the dinner table with a thoughtful lighting design. Here is where you share a culinary creation made with care, surrounded by the people you love dearly. Make a space where family and guests feel welcomed, relaxed, and content.
Lighting Tips
Illuminate patterned walls and art pieces with carefully placed wall fixtures.
Install an eye-catching statement chandelier right above the center of the dining table. It's sure to start interesting conversations and keep your family gathered at the table for long after their plates are cleared.
Use dimmable fixtures to create mood lighting for romantic dinners or late-night parties.
Bathroom
The Goal
The bathroom is the prime grooming spot in the home. You spend ample time looking into the mirror as you shave, apply makeup, match jewelry to an important ensemble, check your pearly whites after brushing your teeth, and so much more. Therefore, it is crucial to place lighting not to cast misleading and unproductive shadows on your face as you prepare for a day at work or an exciting evening out on the town.
Lighting Tips
Skip the ceiling fixtures and install wall lights to illuminate your face in the mirror directly.
Install dimmable lights in the shower to adjust according to the time of day. Enjoy bright light to wake up in the morning. Or wind down in the evening with just enough illumination to see what you're doing.
Be sure to light the mirror evenly. If you have a long rectangular mirror across two sinks, place wall lights on either side.
Before you finalize your decisions, test your plan by standing in front of the mirror and looking for distracting shadows that may make grooming more of a challenge than necessary.
Light Up Your Life with Georgia Home Remodeling and Expert Lighting Tips for Your Home
Georgia Home Remodeling is a full-service home remodeling and renovation company, handling everything from custom outdoor areas and decks to full kitchen and bathroom renovations. If you want professional assistance to make the most of your home's lighting, look no further than our crew of excellent craftsmen!