7 Holiday Decorating Tips
It's that time of year again—soon, you'll be removing decoration boxes from storage and transforming your home into a winter wonderland! Holiday decorating is often overwhelming and stressful, but it certainly doesn't have to be. In fact, it shouldn't be! You and Your family should be able to enjoy the process of decorating your home for the holiday season. However, with everything else going on during this busy time of year, the cheer and joy are sometimes lost. That's why Georgia Home Remodeling presents these top seven holiday decorating tips. Stress less and enjoy the season with expert advice for surviving the holiday decorating.
1 | Start as Early as You'd Like.
When is the best time to start decorating for the holidays? Many people can say they've gotten into a silly argument over the appropriate time to decorate. Some like to decorate for Christmas as soon as Halloween is over. While others find it completely absurd to decorate until after Thanksgiving has come and gone.
Honestly, there is no right or wrong time to start putting up your holiday decorations. Follow your heart and bring down those dusty Christmas decoration boxes from storage as soon or as late as you'd like.
Whenever you decide to deck the halls, schedule your decorating time on the calendar. If you're like most of us, the holiday season is a busy one! It can reduce stress and give you peace of mind to mark out days, evenings, or small bits of time to decorate and enjoy it.
If marking days on the calendar doesn't usually work for you, take some time to create a list. Then, hang it in a well-seen spot in your home, like the refrigerator, the front door, or the home office. When you have some free time, refer to the list to see what task is appropriate for the time you have—EASY.
2 | Establish a Decorating Flow.
So, you've just begun unpacking your Christmas décor and quickly become paralyzed by everything in front of you. Where to begin? The answer to this question may be more straightforward than you think—start at the front door!
Begin the joyous season by hanging a wreath, festive sign, or something similar on your front door. That way, you instantly get into the holiday spirit before even stepping through the door. From there, move on to the entryway and work your way to the back of the home. A logical decorating flow will help you stay organized and feel more at ease through all the exciting chaos.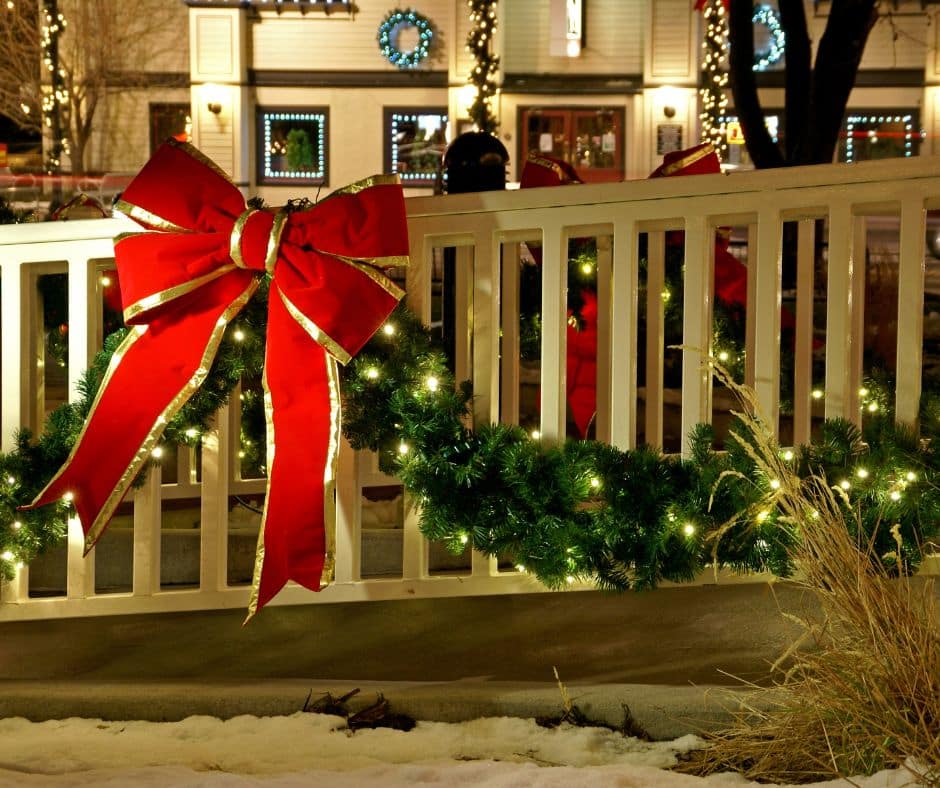 3 | Consider the Outdoor Décor.
Next, you'll want to consider the outdoor decorations. Will you be going all out this year? Is it better to keep it simple outside and focus on the interior? Everyone's answers will differ, depending on how they maximize this unique time of year.
Remember, you certainly don't have to go crazy with outside decorations. A little sprucing up can go a long way! On the other hand, if the exterior decorations are one of your favorite parts of holiday decorating, don't hold back!
Here are some ideas to think about for your outdoor holiday décor:
Fun Christmas inflatables

Yard stakes with your favorite holiday characters and symbols

Roof lights

Lights on the bushes and trees

Lights around the door frame or the columns of your

front porch

Mini Christmas trees with minimal ornaments

Poinsettias and other seasonal plants and flowers
4 | Involve ALL the Senses.
To truly immerse yourself in the holiday spirit, involve all the senses. Use the following ideas to help you include sight, touch, smell, sound, and even taste in your holiday décor:
Sight- Interior lighting has the power to set the mood. In fact, it may be one of the most critical elements of holiday decorating. So, try dimming the lights, using candles, and intentionally placing spotlights to create a cozy holiday atmosphere.
Touch- Silky throw blankets, soft pillows, and plush carpets are excellent elements to include in your holiday decorations to make it feel like Christmas. Think cozy, warm, and comfy to fully immerse yourself in the chilly season.
Smell- Smell is one of our most powerful senses. It can instantly bring back memories, remind you of a loved one or special place, and create an atmosphere to cater to your mood. Whether you diffuse essential oils, use plug-ins, spray air fresheners, or light scented candles, switch out the summer aromas for autumn and winter ones. Some popular holiday scents are pumpkin spice, cinnamon, vanilla, evergreen tree, and candy cane.
Sound- It's time to crank up the Christmas tunes! Play holiday instrumentals, modern-day Christmas hits, or classic Christmas oldies all season long. Having some festive music in the background can make you feel cheery and ready for the holidays.
Taste- Incorporate taste in your holiday décor by routinely making seasonal baked goods or setting out bowls of holiday candies. Create a December meal menu that maximizes all your favorite holiday treats and dishes, like baked honey ham, green bean casserole, warm and hearty stews, or steaming apple cider.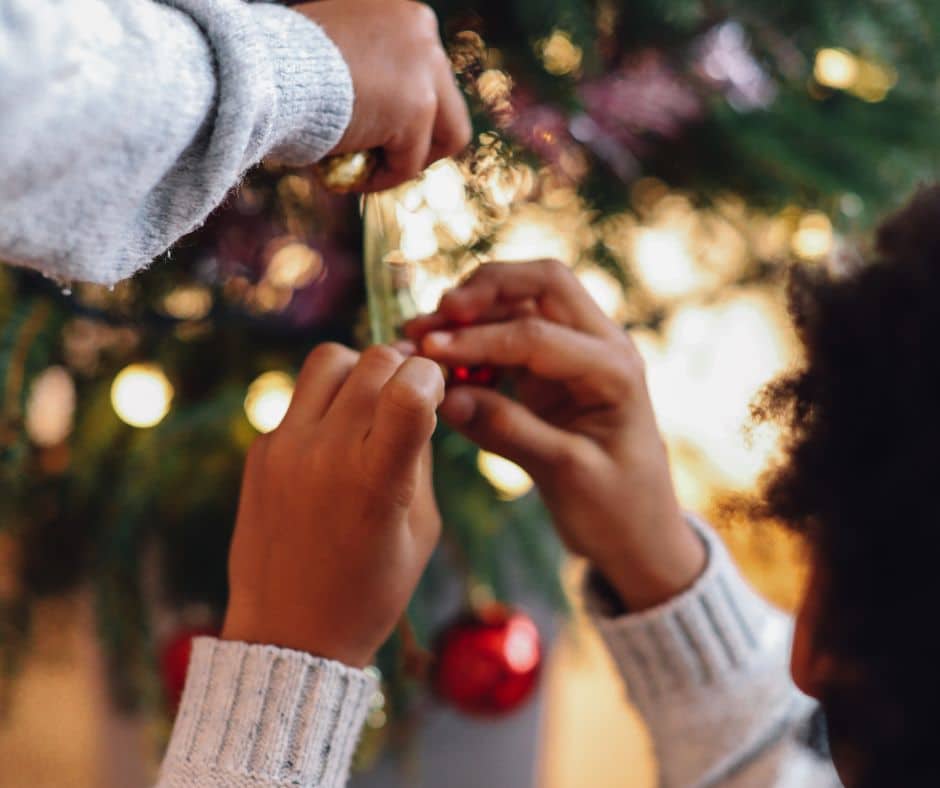 5 | Holiday Decorating Tips for Catering to the Kids.
Getting through the holidays is tough on its own. However, surviving this exciting time of year with little ones running around is another challenge. If you have children at home, you will probably agree—it can be fun and stressful at the same time. The best advice is not to take holiday decorating too seriously.
Many kids will want to get involved in holiday decorations and have a say in how the home is set up. Suppose you're hesitant to include your children in the bulk of interior decorating. In that case, you can allow them to have complete control of their bedroom or the playroom.
Here are some festive and exciting ways to cater to the kids this holiday season:
Make a DIY Christmas tree together for their bedroom. Create a cone shape from a sturdy craft material and help with handcrafted ornaments to hang on their DIY tree. Bring out the glitter, pompoms, and pipe cleaner, and tap into your inner artist with the little ones.

Buy mini Christmas trees for the kids' bedrooms and allow them to go to the store with you and pick out their own ornaments.

Plan to bake Christmas cookies and cakes through the season.

Limit fragile items and breakable ornaments to prevent messes and injury.

Choose a colorful theme that involves some of their favorite holiday characters or movies.

Establish unique family traditions to look forward to each year.

Collect their holiday-themed art pieces and school crafts over the years and display them for Christmas.
6 | Sometimes, Less is More.
If you love going out with your Christmas décor, go for it! You have every right to be as tacky and wacky as you'd like. But if you want a more modern and classier feel, remember that less is more. Keep your decorations minimal and cohesive. Choose a color palette and theme, and stick to it!
7 | Remember to Have a Good Time!
What's the point of holiday decorating if it drives you crazy? Keep tasks light and meaningful to leave plenty of room for enjoyment. Skip what you want to skip and complete what you want to complete—Don't feel limited by society's standards or what all your friends and neighbors do. Personalize the decorating to your needs and wants so you can have fun through the entire process.
Get Ready for the Holidays with Georgia Home Remodeling's Holiday Decorating Tips
Do you have last-minute renovations you'd like to complete to bring your holiday decor to the next level? Georgia Home Remodeling is excited to help make your Christmas dreams come true! 
Our team is full of specialists, like electricians, carpenters, professional painters, interior designers, and many more. Georgia Home Remodeling is your one-stop shop for everything involving home renovation, remodeling, and these holiday decorating tips.
Contact our friendly and passionate team to discover what we can do to prepare your home for the holidays!