Are you thinking about turning your outdoor space into the dream backyard you've always wanted? 
Why wouldn't you? That's the real question. 
Sure, it can be a daunting project to start. However, with help from the team at Georgia Home Remodeling, your worries melt away.
This blog will discuss some of the most popular ideas for your dream backyard plans. Plus, to get you going on the right path, we have provided the top advice on what to consider when making your designs. 
Read on to discover what your dream backyard plans will be. And soon, you'll be lounging by the poolside, surrounded by your carefully curated dream backyard. 
So, what are you waiting for? Let's get started.
Your Dream Backyard Inspiration and Ideas
With so many options of what to include in your dream backyard, homeowners can have a tough time narrowing down what will bring the most joy to their family. From color schemes to furniture choices, planning out your brand-new yard can be a lot of work. 
However, sometimes all you need is a little inspiration. Use the following ideas to inspire your very own dream backyard.
Create a Cozy Outdoor Seating Space
Bring indoor comfort to your dream backyard by arranging a comfy seating space. It's the perfect place to relax after a long day of work and kick back with your family and guests. Create an inviting area using plush outdoor seating and a soft outdoor rug.
Bring this space to the next level by adding a coffee table to hold refreshing beverages- an excellent addition to your cozy seating area. 
Light Up the Night with a Blazing Fire Pit
Nothing makes an outdoor evening feel more magical than gathering around a warm and bright fire. This addition is sure to be the highlight of your dream backyard. Enjoy singing campfire songs, roasting marshmallows, cooking hot dogs, and laughing through the night with your family and friends.
Don't forget to include plenty of chairs for your many guests. Furthermore, never hesitate to get creative with your fire pit space. Make it a family project and build a DIY fire pit with re-purposed bricks. Or go the luxurious route by creating a sunken fire pit surrounded by stunning stone or smooth concrete.
Bring Peace and Calm with a Backyard Pond
Can you hear it now? The trickling of water dripping into a peaceful backyard pond is oh-so calming. Be one with nature by building a pond into your dream backyard plans. Adding a pond will create a balance in your outdoor space you surely won't want to miss out on. 
Consider setting up a charming little bench at the pond's side to relax and enjoy its tranquility. And bring the water to life with koi fish, goldfish, and other animals that thrive in small backyard ponds.
Splash the Summer Day Away with a Swimming Pool
Install a refreshing swimming pool for the kids and the kids at heart. With a pool, your options are endless. Stick with the basics by building a swimming pool equipped with a diving board for the times your family is feeling adventurous. Or perhaps you want to bring the beach resort vibes to your dream backyard with a luxurious pool, including a sandy island at the center for sunbathing.
Truly, what you decide to do with your swimming pool will depend on the lifestyle of you and your household. So, be sure to consider the interests of everyone when designing the ultimate swimming pool for your dream backyard.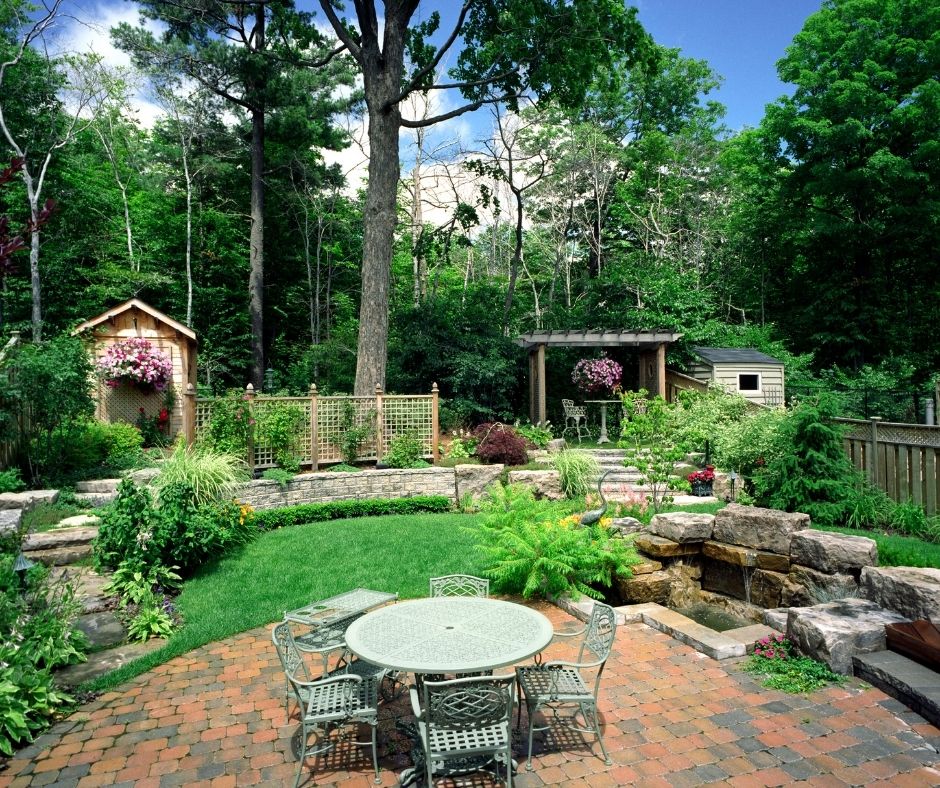 Cook Up a Delicious Meal with Your Outdoor Kitchen
Outdoor kitchens have been on the rise since the start of the global pandemic. And for a Georgia home, it is the perfect way to entertain many guests without worrying about health concerns. Thoroughly entertain outdoors with an outdoor kitchen space catered to your culinary interests. 
Install a grill for cooking burgers and hot dogs at your next neighborhood barbeque. Or build a custom pizza oven and impress guests with delicious homemade pizza. 
The best thing about adding a kitchen to your dream backyard is you never have to leave the excitement happening outdoors. You no longer must step inside to prepare the meal you'll share. 
Don't miss a moment of the memories being made in your brand-new dream backyard. 
Become the New Place to Hang with an Outdoor Bar
Make your dream backyard the new place to be by including an outdoor bar. Imagine inviting your friends over for a night of tropical cocktails in your very own backyard. You can make an add-on to your outdoor kitchen or give it a unique space by building a tiki hut stand.
Take this brilliant idea to the next level by including a TV, comfy lounge area, and local brews on tap.
Make an Exciting Space for the Kids 
Make the little ones feel at home in your dream backyard by providing them with an area of their own. There are so many ways to create a youthful space for the kids. So, to narrow down your options, consider your children's ages, interests, and hobbies. However, if you have kids of many different ages, there are plenty of ways to mix ideas and create a hangout for all to enjoy.
Check out some of the ideas below to get inspired:
Build a giant sandbox for younger children to build massive sandcastles.

Invest in a high-quality playground with areas that cater to kids of many skill levels.

Design a treehouse that holds your kids' favorite books, activities, etc.

Clear a space for a sports field with a shed or large storage bin to hold all their favorite sports equipment and gear.

For older kids and teenagers, provide some privacy with a jungle hangout by surrounding some cozy seating with tropical bushes and flowers.
4 Tips for Successfully Designing Your Dream Backyard
Now that your mind is racing with ideas and sweet memories soon to come, it's time to start planning your dream backyard. But, before you get carried away by the endless possibilities, use the following advice to ensure your vision becomes a reality.
1 | Choose Plants that Complement Your Space
What plants you choose will play a big part in the overall feel of your dream backyard. So, avoid creating a confusing space by picking out plants and flowers that compliment your ultimate design. For example, if you want to make your backyard a tropical get-away, choose vibrant flowers and lush plants that give island vibes. On the other hand, explore potted plant options with straight lines and defined shapes if you want a seamless and modern look.
2 | Add Some Color or Go Neutral
As you design your dream backyard, consider what colors you want to include. Either go with pops of color according to a chosen color pallet, or choose neutral tones like browns, blacks, and whites. Your color selections will come into play when selecting outdoor seating, plants, and more. So, put some thought into a color scheme to create a complete outdoor design.
3 | Use Outdoor Materials
This should be a no-brainer. Yet still, homeowners will get carried away with shopping and occasionally forget that the furniture and décor they choose will need to last in outdoor conditions. Avoid this simple mistake by shopping at outdoor stores and checking if the material is durable enough to survive all weather conditions.
4 | Decide on the Right Outdoor Lighting
No dream backyard is complete without the proper lighting. More likely than not, you'll be spending many evenings in your brand-new space, and the light from inside your home won't be enough to keep the yard adequately lit.
You'll have many options like string lights, ground lights, and built-in lighting. So, remember to choose lighting carefully to keep the party going all night long.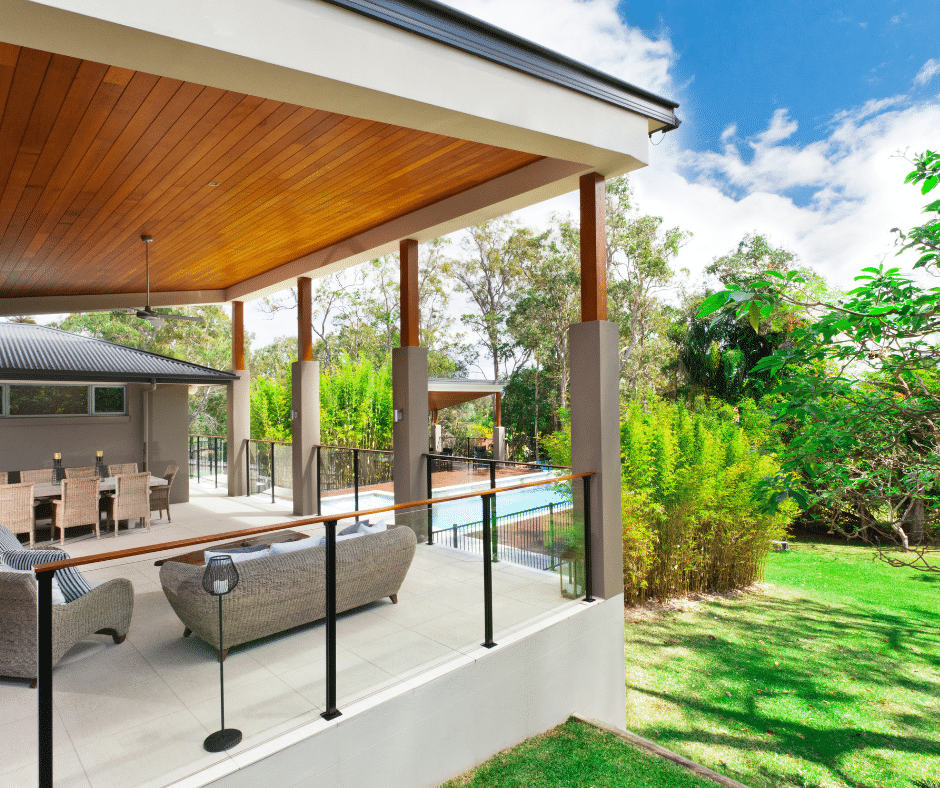 Design the Ultimate Dream Backyard with Georgia Home Remodeling
We know how badly you want to begin creating your dream backyard. But, we also know all the stress and worries that come with taking on such an extensive project. And that's why we do what we do.
If you hesitate to start your dream backyard plans because of the exhausting work it may require, count on Georgia Home Remodeling to be by your side the whole way through.
We are a company dedicated to providing you with the highest quality home renovation services possible. Plus, we've built many outdoor spaces for our happy and loyal customers.
Consider working with Georgia Home Remodeling to make your dreams a reality. Give us a call today to find out how we can help you achieve the ultimate backyard escape for you and your loved ones.