The holiday season is a joyous time full of festive celebrations. Nothing tops off the cheery atmosphere like holiday decorations! Unfortunately, holiday décor can be pretty pricey. And you certainly don't need more things to add to your financial stress over this hectic season. Plus, there are all the gadgets and gizmos to make everything possible. But it doesn't have to be that way. In this blog, Georgia Home Remodeling shares the top holiday hacks to make the season smoother. That way, you have more time to enjoy the festivities and less time worrying about the costs.
Check out the following eight holiday hacks for a more enjoyable season.
1 | Holiday Hacks to Never Tangle Your Christmas Lights Again
There's nothing more frustrating than having to untangle a messy bundle of Christmas lights while you're on a roll decorating your home for the holidays. It's even worse when you accidentally break your expensive lights in the untangling process.
Save yourself the hassle and irritation by properly storing away your Christmas lights this year. There are several ways to wind up your lights and prevent a chaotic mess. For example, use some of the cardboard boxes from your holiday shopping. First, cut out cardboard squares, then wrap the Christmas lights around the DIY cardboard holders. Place them in your Christmas decoration storage bin, and the problem is solved! Next December, they'll easily unwind, making holiday decorating a little less frustrating.
You can do the same thing with an ordinary clothes hanger. Wrap the Christmas lights around it and store them away for the following year. Furthermore, you could use the box the lights came in to wrap them up. Instead of tossing them back into the box, wrap them around it to make unraveling them much more manageable.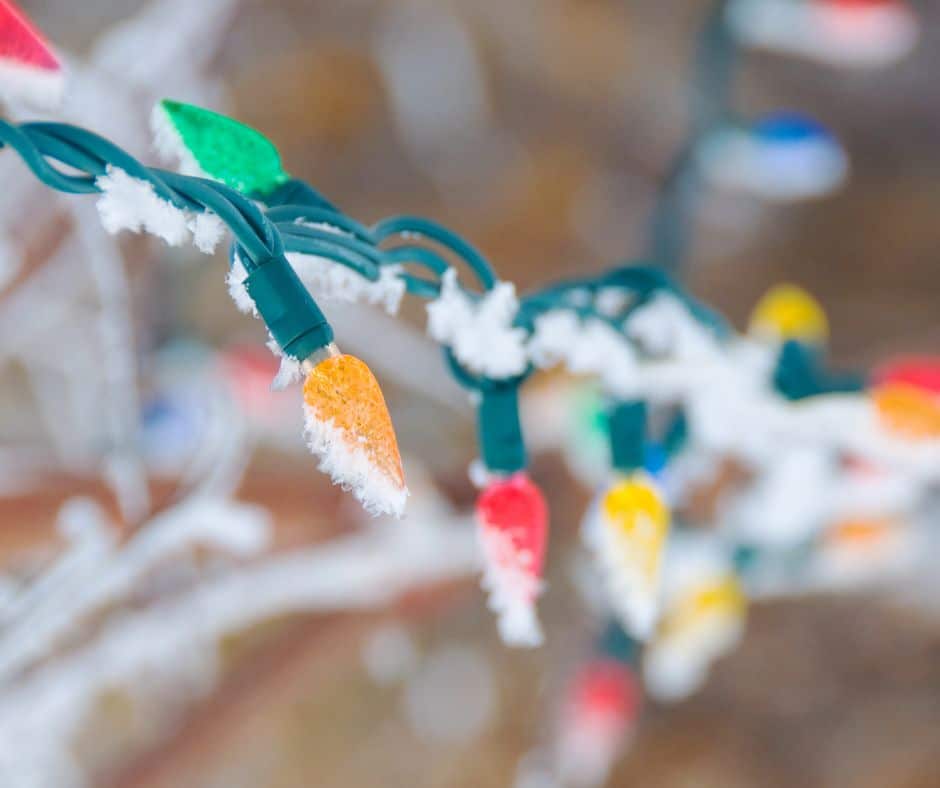 2 | DIY Décor
Save big bucks with this next holiday hack—make your own Christmas decorations! All you need to do is visit a store stocked with craft materials. When you return home with your haul of Christmas decoration supplies, unlock your inner artist, and get to work!
To make your job even easier, there are thousands of DIY décor ideas online. Check some of your favorite websites for crafty Christmas decorations that inspire your creative side!
Even better, make it a family activity! Crafting Christmas decorations is a great way to spend your free time over the holiday season. Here are some ideas to get you started:
Tiny Ornament Garland:

Hop on Amazon or take a trip to the local dollar store to find a cheap pack of mini tree ornaments. Then, string the ornaments onto a ribbon, small rope, or yarn. Finally, wind the garland around your Christmas tree or any other structure needing Christmas cheer.

Candy Cane Vases:

DIY candy cane vases are the perfect festive touch to your Christmas decorations this year. Grab a pack or two of candy canes from the store and gather cheap glass vases. Use hot glue to stick the candy canes onto the outside of the vase and fill it with festive flowers!

Re-Use Old Lights:

Rather than tossing out a string of burnt-out lights, use them as additional holiday décor! Hand-paint or spray-paint the bulbs in Christmas colors, like red and green or silver and gold. Then, hang the painted string of lights over the fireplace, along the stairs, or around a door frame.

DIY Gift Wrap:

Wrapping paper can be expensive, especially if you have many presents to prepare. Instead, use old paper grocery bags, or buy a roll of plain brown or white paper and decorate it yourself! Cut a potato in half and use a cookie cutter to create a stamp. Press the cookie cutter into the potato and cut around it to remove the surrounding potato. Then, apply paint to the surface of the potato and stamp up the plain paper to make an adorable gift wrap with a personal touch!
3 | Shop for Decorations in Your Backyard
One of the best holiday hacks is searching at your local park or in the backyard for natural things you can decorate to deck the halls!
Look for pinecones, pebbles, greenery, branches, acorns, fallen leaves, and much more. You can keep your finds as they are for an extra-natural look or paint them to match the occasion. With a quick google search, you'll discover all kinds of creative ways to use natural things for Christmas décor.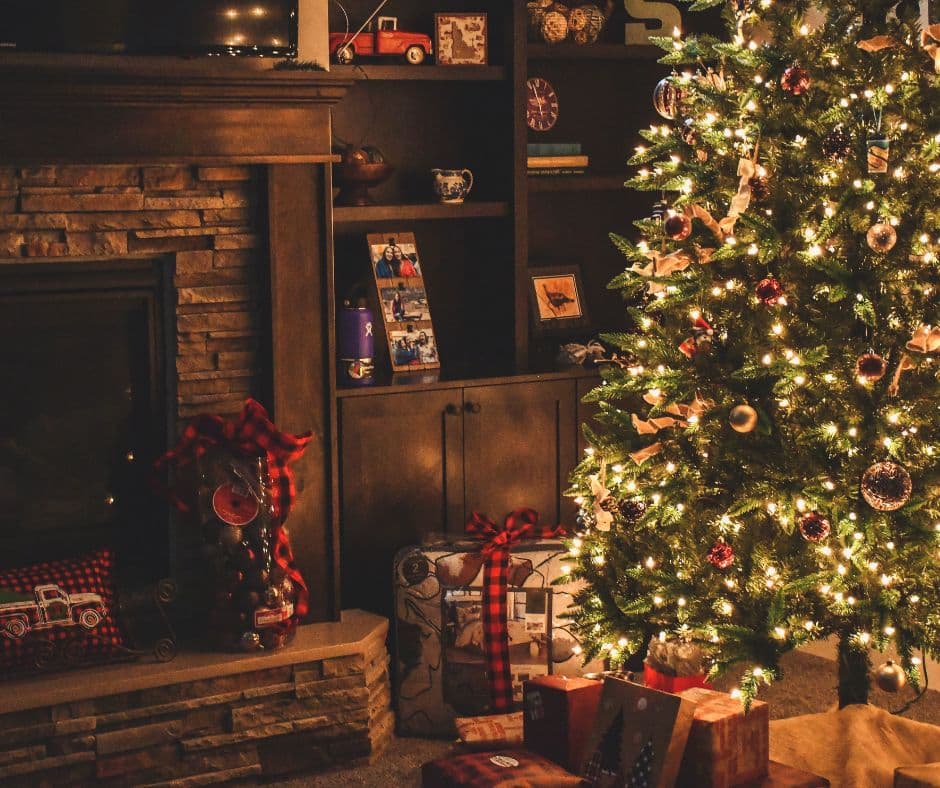 4 | Mess-Free Christmas Tree Removal Holiday Hack
Are you tired of the mess your Christmas tree leaves behind when dragging it out of your home at the end of the season? We have the perfect holiday hack to prevent a needle trail. All you need are some trash bags. Before removing it from your home, wrap the tree in trash bags. That way, the needles will be contained when you drag the tree to the street curb. Just remember to take the trash bags off once the tree is at the curb, so it is disposed of properly, rather than taken to the dump.
5 | Protect Your Outdoor Cords
Outdoor cords can be a little tricky to keep protected. After learning this holiday hack, you don't need to worry about losing power to your lights and outside decorations. Grab a small plastic container with a lid and cut holes on either side, so the wires and plugs can slip through. Then, replace the top, and that's it—EASY!
6 | Holiday Hacks to Keep the Ornaments from Falling Off the Tree
It's only a matter of time before your rambunctious kid or hyper puppy runs into the Christmas tree and knocks down all your beautiful ornaments. Keep your expensive and fragile ornaments safe by giving them some extra security. Use zip ties, green floral wire, or green pipe cleaners to tie the ornaments to the tree. That way, they won't easily fall off when knocked into or messed with.
7 | Skip the Expensive Candles and Air Fresheners
Filling your home with the sweet aroma of Christmas is one of the best ways to bring the holiday spirit to your space. It's so cozy to cuddle up on the sofa while watching your favorite Christmas classics and burning a festive candle scented with evergreen, cinnamon, cranberry, or apple pie.
But quality candles are often expensive. Instead, simmer a bag of Christmas tea on the stovetop. Your home will be filled with warm holiday fragrance in no time! Additionally, you can simmer spices, like cinnamon sticks, citrus, allspice, and more, to incorporate Christmas smells throughout your home. This holiday hack is perfect for hosting a Christmas dinner for your loved ones.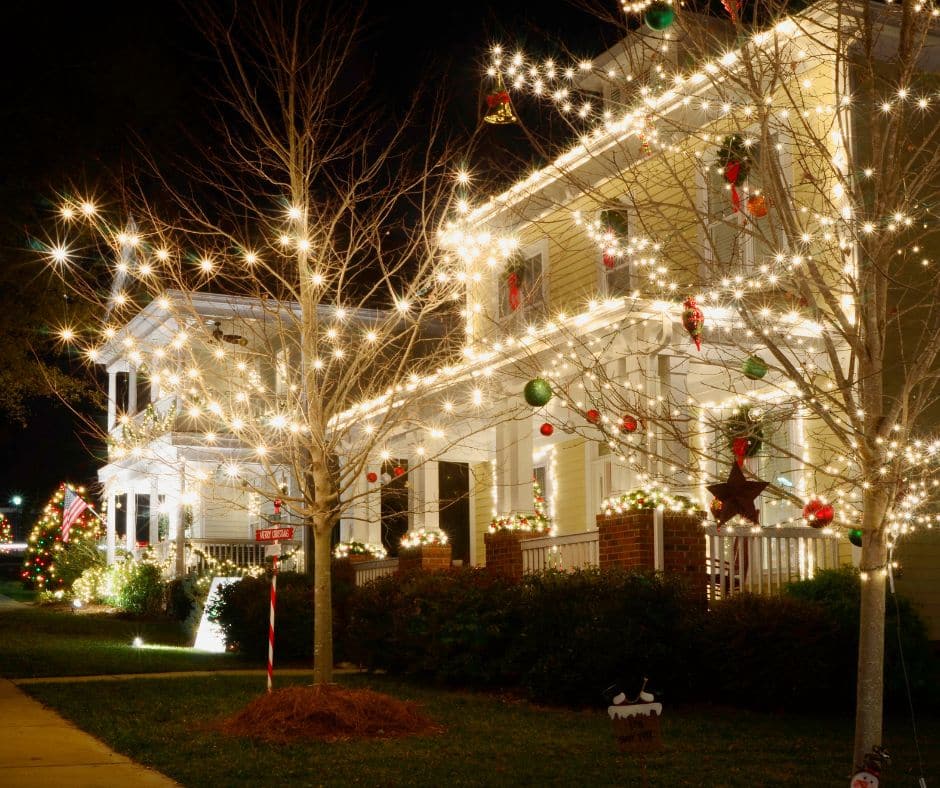 8 | Effortless Laser Lights
Dressing the roof and exterior walls with Christmas lights isn't for everyone. It can be pretty expensive, a big-time guzzler, and dangerous for those who have little experience. However, skipping out on the traditional outdoor lights doesn't mean your home can't be illuminated with Christmas cheer. Consider getting laser lights to project patterns and colors onto the house. Have a thrilling display without all the hassle.
Holiday Hacks to Getting Your Home Ready for the Holidays
Christmas is one of the most exciting seasons for the team at Georgia Home Remodeling. We love the opportunity to spruce up a home in preparation for this joyous holiday. If you need a little help getting your home ready for the holidays, call Georgia Home Remodeling. Our staff is stocked with electricians, professional painters, carpenters, and more!
Perhaps there's a special someone who you'd like to gift with a room remodel this year. Reach out to our team to make it happen!
Happy Holidays from everyone at Georgia Home Remodeling!