It's only human to build, tear down, start over, and build again. While not everyone craves a change in their environment, many of us do. There comes a time when you begin to want something a little different for your home, whether it be a more modern look or a theme that better expresses you and your family. If you desire a makeover for your home, it's time for a renovation! However, there are many things to consider before jumping right in. One of the often-missed steps for a home project is determining how you will get rid of all the renovation waste.
The easy way would be to toss it all into a dumpster and call it a day. But with the trash overflow our planet is experiencing, we all must do our part in responsibly removing waste. So, before diving into your remodeling project, have an earth-conscious plan of how to dispose of the junk properly.
In this blog from Georgia Home Remodeling, we will discuss how to sort renovation waste and determine the best ways to dispose of it.
Continue reading to get familiar with tackling the junk removal process that comes with a home renovation.
Why Should You Recycle Renovation Waste?
Renovation waste is the discarded materials a renovation, remodeling, or construction project produces. Most people don't realize just how much trash comes from home projects. And if you're using the DIY method, you won't have a renovation team responsible for removing the junk.
From the leftover debris, there's always a decent mix of unusable materials and things that can be recycled or donated. It's tempting to take a shortcut by tossing all the waste into a typical dumpster to be taken to the local landfill. However, this is a very irresponsible method of removing renovation waste.
With the overflowing landfills today, big construction companies and DIYers must prioritize responsibly eliminating construction debris. Otherwise, we will continue to contribute to an unhealthy planet and harm the communities and wildlife it affects.
Not only does recycling and donating waste help to address the current trash issue, but it also helps reduce the need for producing brand-new material, which uses tons of energy, water, and other limited resources.
Which Renovation Materials Can You Recycle?
A decent percentage of renovation waste is recyclable. However, some are not. Knowing which materials can be reused and which must be taken to the landfill is critical. Otherwise, you may disrupt the recycling process by including non-recyclable items too.
The following are the most common recyclable debris produced from renovation projects:
Concrete

Asphalt

Some metals

Cardboard

Rubble

Wood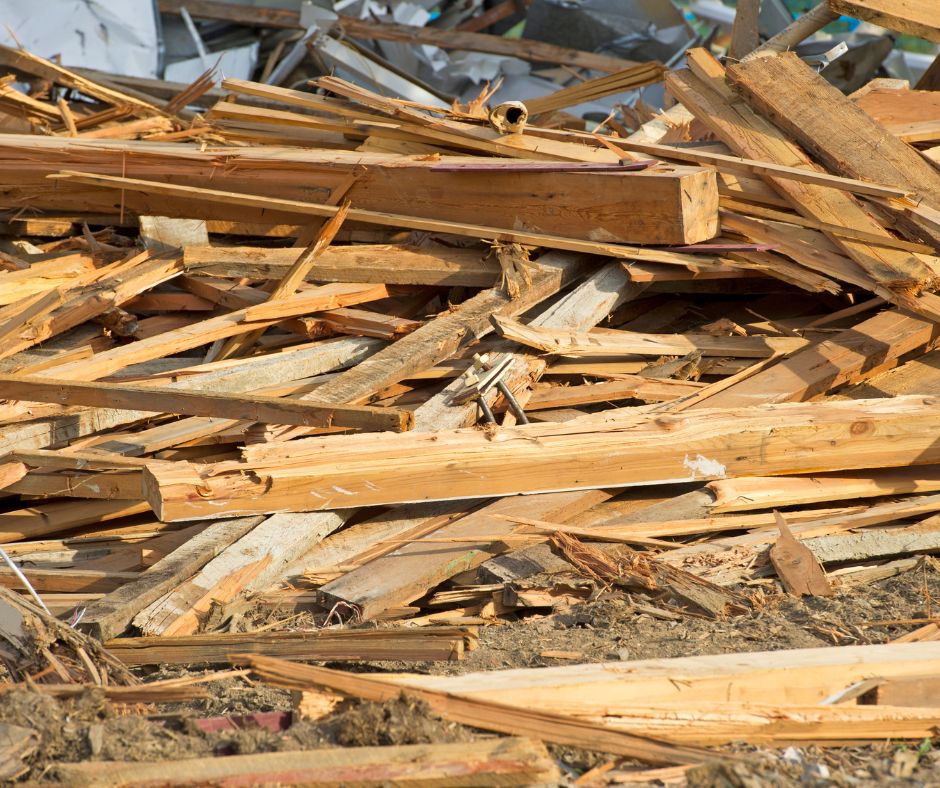 Sorting Renovation Waste
Sorting renovation waste sounds like it can be quite a hassle. Home projects are already exhausting and physically demanding. The last thing you want to do is add another task to the list. But sorting renovation waste doesn't have to be a challenge.
All you need to do is get familiar with what can be recycled, designate piles for the different materials, and sort as you go! If you save all the sorting for the end of your renovation, it will be even more difficult to find the motivation to do it. Instead, sort as you go. This will take only as much time as it would to dump all the trash into a single pile or dumpster.
So, what piles will you need while working through your home renovation? You can either make a pile or designate a waste bin for each of the following types of construction debris:
Concrete and rubble

Drywall and gypsum

Wood

Roofing material

Bricks

Metals

Plastics
You'll also need to consider the requirements for the recycling facility you'll transport the waste to. Some sites require further sorting of renovation waste, while others only need minimal sorting. For example, one facility may ask for metal parted into various kinds, like copper and steel. You don't want to work harder than you need to, so ensure you check with your local facility.
What Do You Do After Sorting Renovation Waste?
After sorting renovation waste, you're more than halfway through the process of responsibly disposing of your construction materials. There are several ways you can address the sorted piles. For instance, some debris may be in good enough condition for you to donate, while others require professional pickup.
1 | Decide How to Remove the Unusable Waste
Unfortunately, not all renovation materials are recyclable. So, you'll want to consider eliminating the unusable debris in the best way for your unique situation. There are a couple of options for homeowners completing their own remodeling projects:
Rent a roll-off bin

to be dropped off and picked up from the renovation site.

Hire a professional team for waste removal.

Transport the junk to the local dump and pay for dumping fees.
2 | Choose the Right Waste Removal Contractors
You can eliminate recyclable and general waste by hiring the right waste removal company. While it's not the protocol for all companies, many prioritize recycling and donating what they can. In fact, there are financial incentives to keep the business motivated to continue responsibly disposing of trash.
Don't be fooled— Some waste removal companies advertising recycling and donating do not keep their word. Instead, it is a way to attract clients that desire more earth-conscious disposal methods. In reality, they cut corners and dump most trash at the local landfill.
To avoid hiring one of these companies, ask the right questions and thoroughly check reviews. Just advertising their responsible junk removal service is not enough. Ask how and where they will take your waste, and do your research to ensure the company you hire aligns with your values.
Junk removal services can be pricey. But it's worth the cost when you compare it to other disposal methods, depending on your renovation waste needs. To be sure you are making the right decision, consider all your options for waste removal.
3 | Donate What You Can
Some waste materials from your renovation product can be donated and given new life by another. Donating your construction "trash" is one of the best ways to do your part in caring for our planet.
If you find some items or materials in decent condition, consider dropping them off at the nearest donation center or second-hand store. Suppose you are renovating your kitchen. You've decided it's time for some upgrades, but the current condition of your kitchen isn't so bad that everything should be tossed in the dumpster. Instead, do your best to carefully take apart the pieces to save and donate them to those in need. With a kitchen renovation, anything from cabinets and drawers to tiles and shelves can potentially be repurposed or reused by another. Even better, older appliances that still work well are likely in high demand at your local thrift shops or second-hand stores.
Likewise, if you're renovating the living room, there are shelves, mirrors, doors, and furniture you can donate. With just a little thought, you'll save tons of material from the landfill while helping those in need in your community.
You may already know someone who could use your junk, like a family member or friend. It's a good idea to ask around before tossing certain renovation waste. You never know what use your trash may have for others.
4 | Repurpose Renovation Waste
Like the donating method, you can reuse and repurpose renovation waste for your home. This is especially helpful for people who have difficulty parting ways with their possessions. Instead of dropping usable materials and items off at a donation center or hiring junk removal services, hold on to the debris or old furniture for a little longer to see if there is anything you can repurpose it for.
If you're renovating a space in your home, perhaps some waste can be reused for the upgrades. For example, maybe you're tired of the bathroom tile. So, you tear it up to replace it with something a little more modern. Use the old tile to make an end table with a tile mosaic. Or turn the tile into the perfect backsplash in your kitchen or bathroom. Honestly, the possibilities are endless.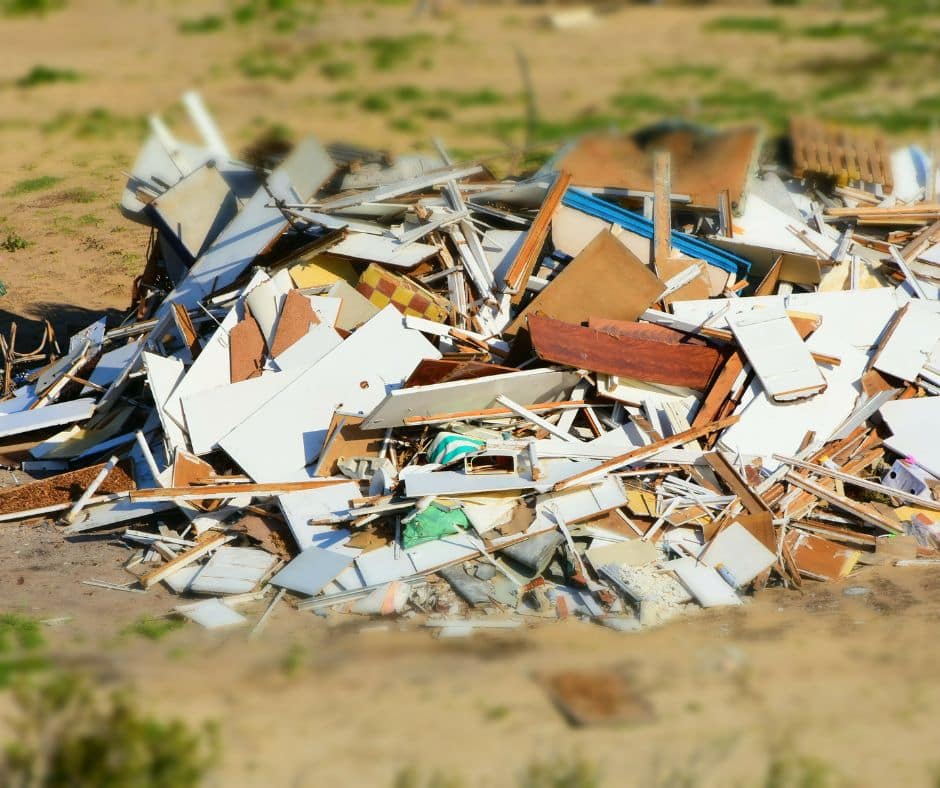 Hire Your Local Professional Renovators
Does tackling a renovation project on your own sound a little too challenging for you? DIY home projects aren't everyone's cup of tea. That's why Georgia Home Remodeling is here to help! Our extensive team of experts includes everything from electricians and painters to carpenters and designers.
Call Georgia Home Remodeling to see what we can do to make your renovation dreams a reality!