Some of the most common home improvement projects involve adding space to the home and creating new areas to enjoy. An excellent option for this is making room for a screened porch or sunroom. These two recreational spaces serve similar purposes of relaxing and soaking in the great outdoors. However, each has a unique atmosphere, one immersed in the outdoors and the other in an air-conditioned home's safety and comfort.
Furthermore, sunrooms and screened-in porches have pros and cons, including the price to make your vision a reality. In this blog, Georgia Home Remodeling will guide you through the challenging decision of building a porch or sunroom for your home. You'll learn what sets these two spaces apart, as well as the benefits and drawbacks. And finally, our knowledgeable team will assist you with this big decision by providing questions to ask yourself.
By the end of this helpful blog, you should better understand your needs and wants of adding a screened porch or sunroom to your home. That way, you can make the best choice for you and your family!
Screened Porch Vs. Sunroom
As mentioned, whether you're considering a screened porch or a sunroom, you'll enjoy more living space with the benefit of feeling closer to the outdoors. The biggest difference between the two additions is the walls. For a screened-in porch, typically, three "walls" are mesh screens, and one is the exterior structure of your home. There is also a roof to shelter from rain, snow, and sunlight. A screened porch allows fresh air to flow through the space, avoiding bugs and adverse weather.
On the other hand, a sunroom is more of an interior space than a screened porch. It includes the roof of the home and glass walls or standard walls with many large windows to let in abundant sunlight. When you relax in the sunroom, you enjoy the luxury of air conditioning and heating to combat the weather, no matter the season.
Choosing between the two additions is usually a matter of preference. Continue reading to discover what you desire for this exciting home improvement.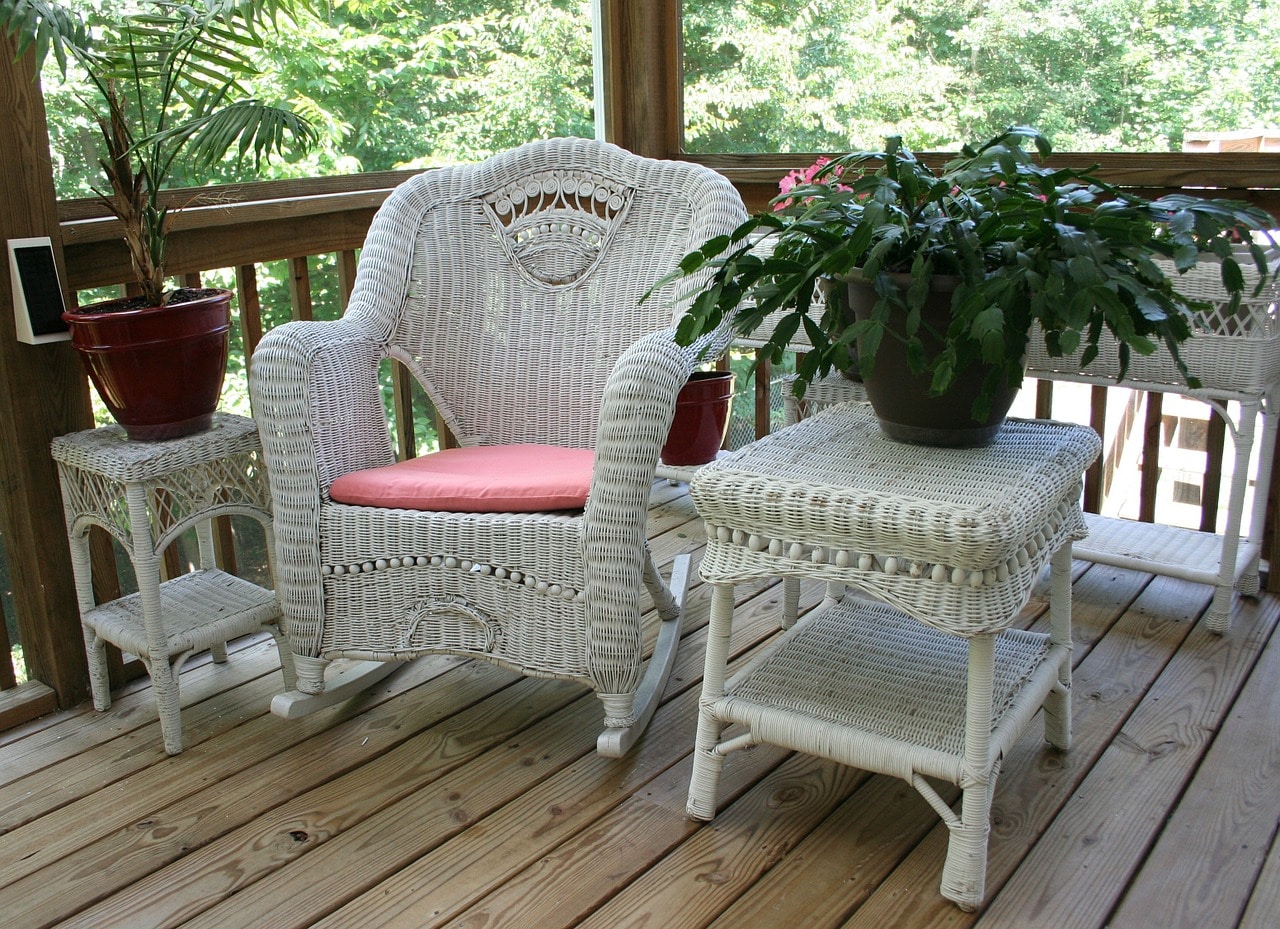 Pros and Cons of Sunrooms and Screened Porches
Before we dive into your family's particular needs and wants, let's look at the details. Below, we will discuss the pros and cons of both sunrooms and screened porches to give you a better understanding of what each offers to your home.
Screened Porches
Pro #1- Natural Air Circulation
Consider a screened porch to surround yourself with fresh and natural air. These home additions allow for air circulation and ventilation at zero cost. With an enclosed space, you'd need to pay for heating and cooling. However, a screened porch is open to the elements, aside from the mesh screen keeping out bugs and critters.
Pro #2- Boost Curb Appeal
Think about it—When you drive through local neighborhoods and see charming screened porches at the front of some houses, you instantly feel like the home is welcoming and well-enjoyed by those living there. There's just something about a few chairs on a porch in the front yard that makes a home feel inviting, cozy, and full of love.
As long as the screened porch is well maintained, it can significantly boost your curb appeal and increase the home's value.
Pro #3- Enjoy the Nice Weather
Screened porches are a comfortable, relaxing area to sit with friends and family as everyone enjoys the beautiful weather. While you could always sit in the yard, a screened porch has the added security of a barrier to keep the bugs and other outdoor annoyances away.
Pro #4- Lower Cost than a Sunroom
Screened porches are an excellent option for homeowners on a budget. It's not difficult to see why a screened porch would be cheaper to build than a sunroom with massive windows and air conditioning. You can convert a porch, patio, or outside deck to a screened porch, making it even more affordable!
Con #1- Seasonal Limitations
One of the downsides to choosing a screened porch over a sunroom is the seasonal limitations. Depending on where you live, there are certain times of the year when it may not be pleasant or comfortable to be outside. For example, Georgia summers can get pretty hot and humid. On a porch, you may keep the mosquitos out, but the heat and moisture in the air is still there. You might spend less time in this charming space in the middle of the hot summer.
Con #2- High-Maintenance
Cleaning and caring for a screened porch differs from caring for an enclosed space. The mesh walls become clogged with dust, dirt, and other debris over time. Even if this doesn't necessarily ruin your experience on the porch, it certainly pays a toll on your curb appeal and quickens the wear and tear of the screen. So, you'll need to power wash or scrub the mesh regularly to keep up with the build-up.
Sunrooms
Pro #1- Enjoyable All Year Long
All-year access is the number one perk to adding a sunroom to your home. No matter what season or weather you're facing, the sunroom will be a safe and cozy place to relax and still enjoy a connection to the outdoors. Chilly winters, muggy summers, and rainy days are all the same—The only thing that changes is the scenery you can observe outside the windows.
Pro #2- Customizable
With a sunroom, the possibilities are endless! You have more control over the space because it's enclosed and unaffected by unpredictable nature. Make the sunroom into a home office, plant nursery, dining room, or home gym—The choice is yours!
Pro #3- Increases Home Value
It's hard to beat a 50% return on investment. Sunrooms are sure to increase the value of your home, deciding to build one is even more practical and worth the effort. Expanding the livable square footage of your home is always a good idea.
Con #1- Higher Up-front Costs
As you may imagine, sunrooms are much more expensive to build than screened porches. Depending on your budget and financial situation, the high up-front costs may be worth it. However, this isn't the case for all households, so it's a factor that must be considered.
Con #2- Costly Monthly Bills
Adding another room to the house adds more to your AC and lighting costs, increasing your electricity bill. For a sunroom, sunlight will do the trick for a portion of the day. But you'll need lights for at night. Plus, sunrooms are notorious for getting warm quickly because of all the windows, boosting your cooling bill.

Choosing Between a Screened Porch or Sunroom
Now that you've explored the pros and cons of each, it's time to figure out what you want from this space. When building a screened porch or sunroom, ask yourself the following questions.
1 | How Will You Use the Space?
Imagine your family lounging in the home addition you're picturing. Are they on a cozy couch watching the big game? Or are they swaying on a swing bench and watching the birds? Clearly, these are two very different experiences. A sunroom will allow your family to be surrounded by natural light and outdoor views while relaxing on a comfy sofa, while the screened porch offers a more immersive outside atmosphere.
2 | When Will You Use the Screened Porch or Sunroom?
Are you looking for a space to enjoy all year round, no matter the weather? Or do you want to maximize the times of the year when the weather draws you outside? With a screened porch, you will be limited on days when the temperatures are extreme. However, you'll also get the most out of the days with beautiful outdoor conditions. In contrast, your family can enjoy the sunroom all year long.
3 | What's Your Budget?
Of course, your budget is one of the most important things to consider. Depending on the size and quality of the room, a screened porch may cost anywhere from $1,000 to $5,000, potentially less. But the total price of a sunroom will always be significantly more because it is much closer to a fully finished space than an outdoor porch.
Ready to Start Building?
When you choose Georgia Home Remodeling to make your dream a reality, you won't be disappointed! Screened porches are our most popular outdoor projects, and our clients are always pleased. We'll take care of it all—from start to finish.
Or if it's a sunroom you desire, we've got that covered too! At Georgia Home Remodeling, it's our pleasure to build you a new space that adds value to your home and makes life even more enjoyable.
Call our friendly and passionate team today to see what we can do for you!