So, you've decided to decorate your home with indoor plants! Or perhaps you have cared for houseplants for some time now, but you need tips to get to the next level. Welcome to the ultimate guide for first-time plant parents and experienced indoor plant owners looking to improve their skills!
In this blog from the experts at Georgia Home Remodeling, we will walk you through the essentials of adding greenery to your interior space. Continue reading to learn about the benefits of indoor plants and how to decorate with them like a pro!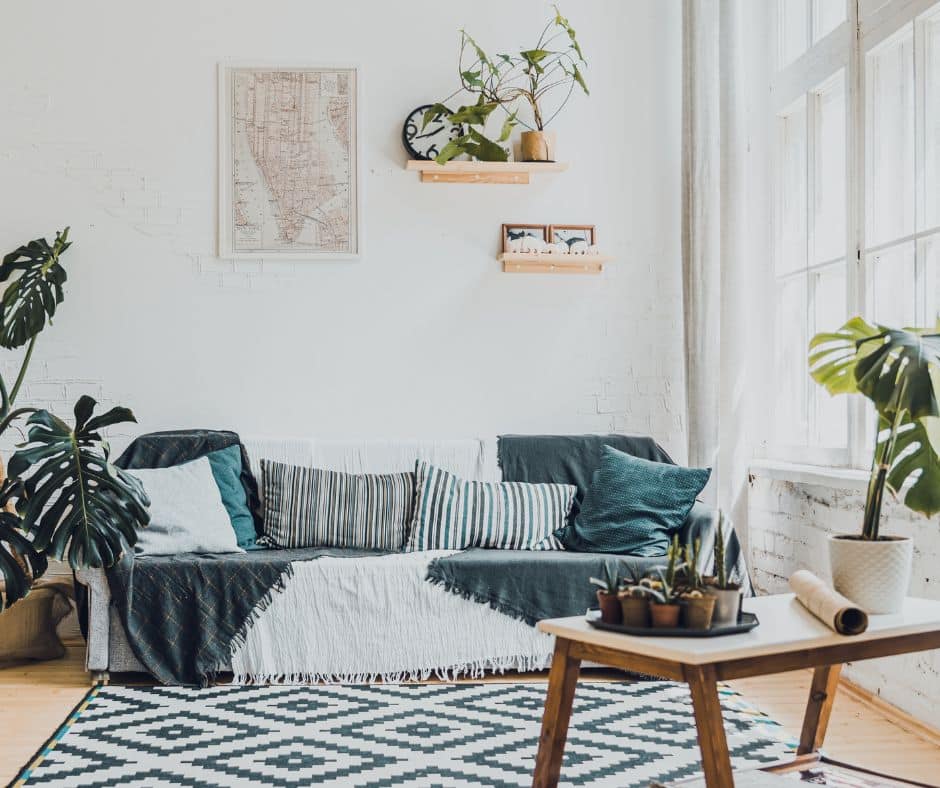 Why Should You Decorate with Indoor Plants?
Houseplants are a beautiful addition to a home. Even better, they come with many other benefits beyond simply looking pretty. Below are the top four perks of decorating with indoor plants.
1 | Bring Life to Any Room. 
Imagine redesigning the living room in the home you have lived in for many years. You rearrange the furniture, swap out the outdated wall art for more modern pieces, and place sparkling new decor on the coffee table and TV stand. But, for some reason, it still feels drab. What could be missing?
Take a look around—do you see any greenery? Are there vibrant indoor plants or colorful flowers in a vase? If not, I guarantee that's what is making your redesigned living room fall flat! Adding plants to any interior space instantly livens it up and pulls all the little details together. It's warm, welcoming, and a beautiful way to make a room feel complete.
2 | Improve Your Mental Health.
Decorate with indoor plants and experience the mental health benefits it provides! Having plants or flowers in indoor spaces has proven to boost your mood, balance your emotions, and work against depression symptoms. Not to mention, it's much cheaper than therapy!
Here are some examples of how adding greenery to your space will improve your mental health:
Combat depression

Increase productivity

Stimulate energy

Reduce anxiety and stress

Promote creativity and better problem solving
3 | Enjoy Better Indoor Air Quality.
Decorate your home with houseplants and clear the air! Plants naturally filter indoor air. They take in carbon dioxide and release oxygen while removing toxins and allergens. Certain plants do a better job of purifying the air than others. Ultimately, your indoor air quality will improve, relieving dry skin, itchy eyes, sinus issues, and other irritation and allergy symptoms.
4 | Indoor Plants: Feel Accomplished.
You never buy just one indoor plant—After the first one, you'll return for more! Being a plant mom or dad can be pretty addictive. And not in a negative way—caring for plants gives many people a sense of accomplishment and satisfies their human need to nurture another being.
Designing with Greenery
It's time to get started with your design plan! But where should you start? Don't worry—we have a few tips below to help you maximize your new journey of vamping up your home with greenery!
Choose Wisely.
First things first—You need to choose the right plants for your home. This depends on where you plan on putting the plants and what kind of care routine you'd like to be responsible for. Some plants need hours of full sunlight and lots of watering. In contrast, others require a shady location and plenty of fertilizer.
If your plant doesn't already have the information you need to care for it, research it online or ask a staff member at the store or nursery you purchased it from.
While choosing the plants you want to decorate your home, you must consider the plant's needs and determine if it will work with your lifestyle and home layout. Once this is figured out, you can decide if you want the plant-based more on aesthetics.
Spread Holiday Cheer with Indoor Plants.
One of my favorite things about houseplants is how you can change them according to the season! For example, during the chilly winter months, I like to wrap tiny Christmas lights around some of my sturdier plants and buy seasonal flower bouquets to split up and place in small vases throughout the home.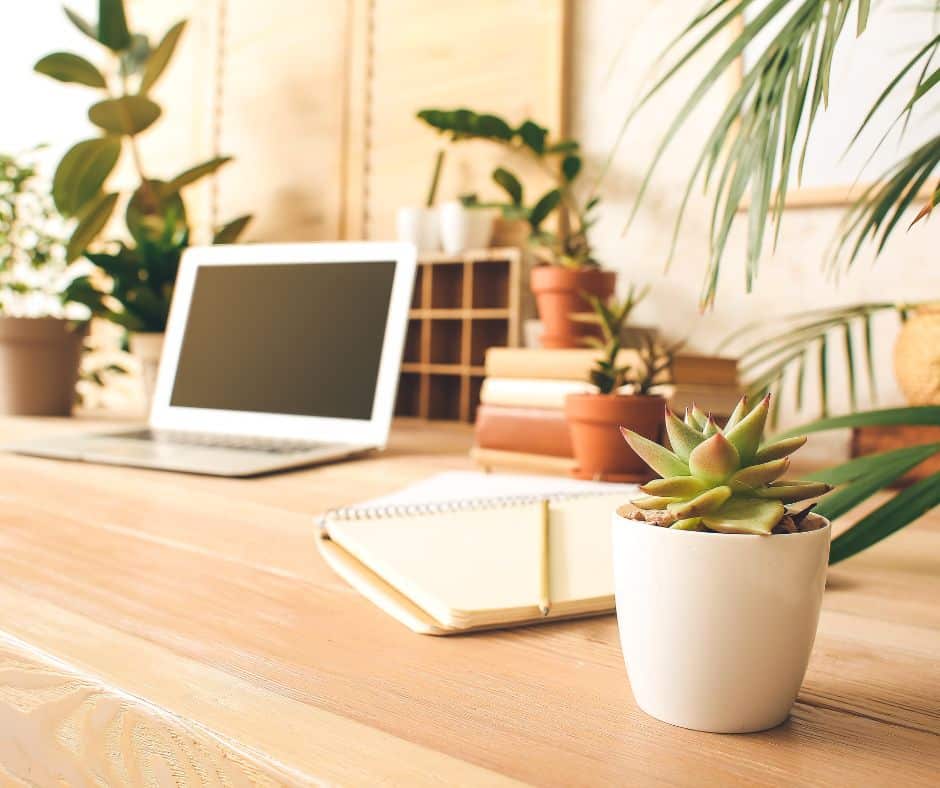 Alternate Heights to Fill the Space.
Place your houseplants at different heights for your design to really come together. You want some on tall stands or hanging from the ceiling and others on the countertops or even on the ground. This will make the space look complete and give a natural feel to the design.
When placing your indoor plants in their spots, take a step back every few minutes to look at the room as a whole. Do your eyes move up, down, and all around? If not, consider varying the heights of your plants and flowers.
Compliment Your Home's Style.
Just like ordinary decorations for your home, plants and flowers come in all kinds of styles. There are soft and cozy ones, bold and sophisticated ones, and ones with funky characteristics. You want your indoor plants to match your home's current style, so they seamlessly blend into the design.
For instance, if you have vibrant colors and patterns in your living room, choose plants with fascinating shapes and pops of color. Or you can contrast your light-colored walls and comfy seating with plants with darker leaves and heavier structures.
Make Bold Statements.
There are many opportunities to make big statements when you decorate with houseplants. It's an excellent way to express yourself and your family through nature. Consider using pots for your plants that reveal something about yourself or the people you live with. Think of what will catch people's eyes or prompt conversations. For example, if you and your family love to travel, bring a pot back from one of your favorite destinations or pick one out that reminds you of your best memories abroad. Or, if you love bright colors and unique one-of-a-kind patterns, look for less common indoor plants with hand-painted pots.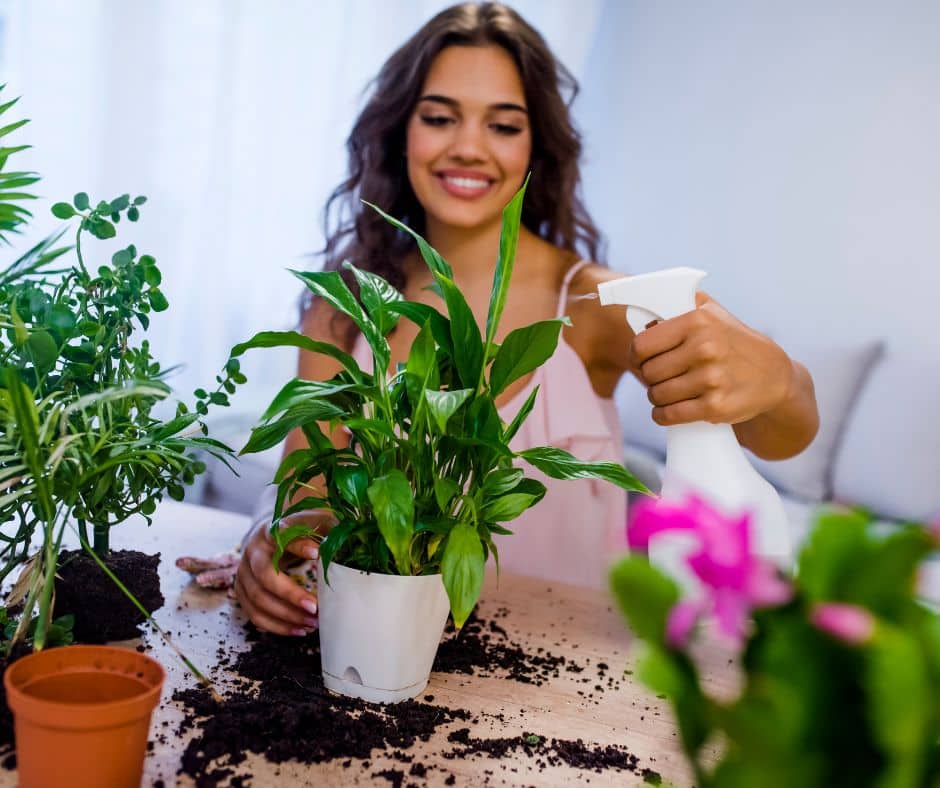 7 Tips for Caring for Your Indoor Plants
People are quickly discouraged when they fail to care for the new indoor plants. Of course, a room full of dying plants isn't the ideal atmosphere you were aiming for. However, properly caring for your plants may be easier than you think. Remember to choose the plants wisely and follow these seven tips:
Start simple and learn as you go.

If you buy a bunch of plants you know nothing about, you're only setting yourself up for failure. Instead, start with just one or two plants. Research all about them and establish a routine of caring for them properly. When you prove that you can keep them alive and thriving, you can consider purchasing more.

Consider your lifestyle.

You don't want to struggle to keep up with your houseplants. Think about your current daily routines. For instance, should you have plants that require less watering because you're

away from home

often, or you tend to be forgetful? 

Get familiar with your plants' needs.

Some plants require particular care, and others are resilient. Get to know your plants to take good care of them. Research online, watch videos, read books, and ask experienced friends and family. It may help to write down each plant's needs and place a card next to it until you've learned it well enough not to need a reference.

Don't forget to dust your indoor plants!

Yes, plants collect dust too! So they absorb as much sunlight as they need and continue to thrive, remember to dust them gently about once a week. 
Get Help from the Professionals!
At Georgia Home Remodeling, we do it all—If there's a home project you want to be done and done right, we are the team you can trust! We are staffed with all kinds of specialists, including skilled interior designers, carpenters, and professional painters.
If you want to bring your home to life with vibrant plants, we'd love to help you make it happen! Call Georgia Home Remodeling to get started and discover how we can make your home dreams come true.