An outdated electrical system isn't always just inconvenient. It may also pose a significant threat to your and your family's safety. As technology advances, your electrical work needs upgrades and fixes. Otherwise, electrical shocks, fires, and power surges are possible. So, when it comes to electrical remodeling, what do you need to know to keep your family safe and make wise choices that will work for future changes?
In this blog from the experts at Georgia Home Remodeling, you'll be introduced to a wide range of electrical remodeling tips, tricks, and ideas to consider when your home is ready for some updates. The changes you may want to make could be as simple as needing more outlets to as complex as rewiring for smart home features.
Continue reading to learn how to best improve your home's electrical systems and know what to prioritize so you can stay on budget.
Safety First
The very first thing you need to consider when starting an electrical remodeling project is your safety. This includes upgrading outdated and dangerous systems and taking the safety precautions necessary to work with electricity.
Before getting started, ensure you have the following tools and precautions to stay safe:
Equipment:

Have voltage detectors and clamp meters to avoid shocks and other dangers.

Power Needs:

Be sure the outlets can support the power your appliances need.

Inspections:

Consider scheduling an inspection to help decide the most important changes.

DIY Alternatives:

Only choose the DIY option when you have the knowledge, confidence, and experience to do the job safely and correctly.
7 Electrical Remodeling Tips and Tricks
Below are seven electrical remodeling tips, tricks, and ideas to help the average homeowner create the best plan for the upgrades and fixes of their home's electrical system and features.
1 | Incorporating Smart Home Technology
If you've decided your home needs a total electrical makeover, consider integrating smart home technology. When you're already doing extensive work to switch the outlets, renew the old appliances, upgrade the lighting fixtures, and more, it's wise to give the latest technology some thought.
Smart appliances, lighting, alarm systems, thermostats, and so many other features are the future of homes. So, if you want your house to have the best resale value one day, incorporating innovative technology is the way to go, especially if you're already considering electrical remodeling.
Keep in mind that smart features can be challenging to install. Depending on your skill level, you may want to hire professionals to correctly install these unique changes rather than taking the DIY route.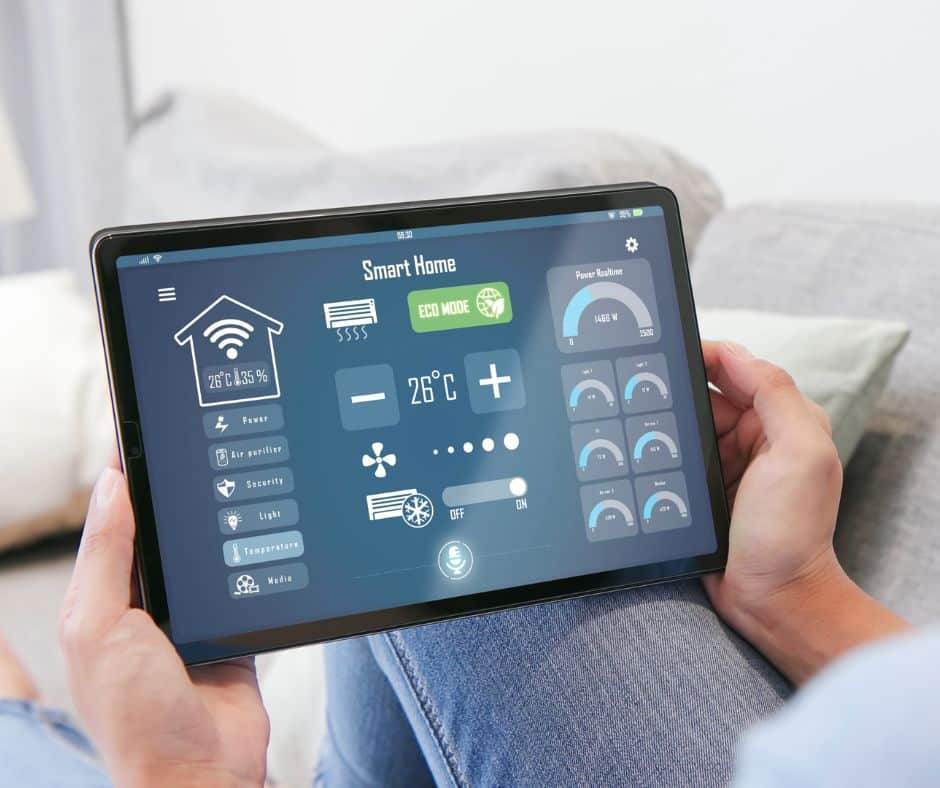 2 | Switching the Light Switches
When remodeling the outdated electrical work in your home, at the top of your list should be the light switches. Not only will it boost your home's value by upgrading light switches to more modern styles, but it will allow you to have more control over the atmosphere of the rooms. For example, with dimmer switches, you can choose the light level in a room, which is much different than a switch that only turns the light on or off. That way, the light can match the mood, activity, or time of day you want to cater to.
3 | Increasing the Amperage
Suppose part of your remodeling vision includes expanding the size or capability of your home. In that case, consider increasing the amperage to avoid safety issues and other inconveniences. Outdated homes will require additional amperage if you intend to include smart technology or more standard electrical features.
4 | Adding Outlets
There's almost nothing more frustrating than a lack of well-placed outlets in a room. With today's way of living, having plenty of outlets is more of a necessity than a luxury. So, when working on an electrical remodeling project, do some work on the outlets, too.
There are a few things you should know before adding more or upgrading the outlets in your home. First, you can access the electrical wiring inside the walls from either side. Therefore, if you're choosing where to add outlets in a room that is lacking, remember to look on the other side of the wall to see if you can tap into a nearby circuit. That said, you must also be aware of the limitations of the circuit and never exceed them. It can be hazardous to push it past the maximum.
Another way to improve the outlets in your home is to update the old ones with outlets capable of supporting high-power-consuming appliances. And finally, one of the most convenient outlet styles is those with a built-in USB adapter. These are perfect for placing near the beds, seating, and sofas where you more often charge your phone and similar devices.
5 | Moving Ceiling Lights
Moving the ceiling lights around doesn't always mean you must rewire or run a new circuit. When the lighting in your ceiling isn't where you want it to be, you can often use the same cables to move it to a nearby spot. These electrical cables almost always have plenty of room for movement. Before investing in new circuits, see if moving the wires around is possible.
6 | Become a Licensed Electrician
Becoming a licensed electrician may sound a little drastic. But, if you want to do the major electrical remodeling projects yourself, this may be the only way to get it done. You won't need a permit for minor upgrades, like adding outlets or swapping out the light switches. However, several jobs will require a permit which means you need to work with a licensed electrician.
If you are confident and experienced in electrical remodeling, consider becoming a licensed electrician so you can do the work yourself. For homeowners who know little about electrical work, you'll want to hire a professional. In some states, homeowners can take an electrical exam to save big on costs and have complete control over the electrical systems of their homes. When passed, the homeowner is legally allowed to do the more advanced electrical upgrades and fixes that would otherwise be limited to the professionals.
7 | Don't Forget Your Budget!
It's easy to get carried away with any home improvement project. Before starting your electrical remodeling, spend plenty of time determining your personal budget and estimating the costs of the changes you want to make.
Setting a budget prior to exploring your options will help you make practical decisions when it comes to upgrades and fixes of your home's electrical systems. With a smaller budget, you'll realize you need to prioritize what needs to be done first and most importantly. However, if your budget is a little larger, you'll notice you have room to install smart features or upgrade to the latest technology and modern fixtures.
Georgia Home Remodeling Does It All!
Georgia Home Remodeling isn't merely capable of throwing a fresh coat of paint on the walls or installing new kitchen countertops. Our multifaceted team includes professionals in various fields, including top-of-the-line electricians. Whether you need your new smart kitchen appliances perfectly installed or your home requires an entire electrical remodeling makeover, the friendly staff at Georgia Home Remodeling have you covered!
We will even come out for an inspection to help you determine the jobs you can take care of yourself and which ones require a certified electrician so you save money in every way you can.
So, what are you waiting for? Call Georgia Home Remodeling today to make your home's electrical system safe and up-to-date!