Smart Home Solutions
There are many reasons why a modern homeowner may consider smart home solutions as their next upgrade in life. Perhaps you are looking for every possible method to save big bucks on your energy bills. Or maybe you want to do your part for the planet and reduce your at-home energy consumption.
It could even be that you are fascinated by cutting-edge technology making its way to the market each year. Whatever the case, using smart devices to your advantage is more than a smart decision.
Smart home solutions are the future of our world. At Georgia Home Remodeling, we've heard every complaint about the mundane home lifestyle. And we've seen every frustration of the limitations we once knew. Smart technology has the answers, from complete home security to enjoy the leisure of life like never before.
Read on to discover how your home and family can benefit from smart technology.
The Basics of Building a Smart Home
In the world of smart technology, the possibilities are truly endless. Here are just a few of the incredible devices homeowners are raving about as they gradually integrate smart home solutions into their daily lives.
Smart Doorbells
In the United States, 16% of homes are equipped with a smart doorbell, and not for no reason. Sure, it's a nice convenience not to walk up to the door to check who rang the bell. However, smart doorbells are so much more than that.
Inexpensive and easy to install, smart doorbells offer the security, and peace-of-mind homeowners have been searching for. You can monitor your front door while away from home. And you can even talk directly to the person at your door, whether it be a neighbor or the package delivery you've been patiently awaiting.
Smart Locks
Let's face it- We've all misplaced our house keys at some point in our life. Or perhaps you have forgotten to give your house sitter a spare set of keys before heading out on your summer vacation.
With smart locks, these all-too-common mistakes are a thing of the past. One of the most basic features smart locks offer is automatic locking. So, you never need to question whether you locked the door at night or before leaving for work. And the convenience is extended with the chance to unlock your door through a smartphone app when you arrive back home.
Plus, most smart locks allow you to create temporary passcodes for people entering your home, like AC services or the dog walker.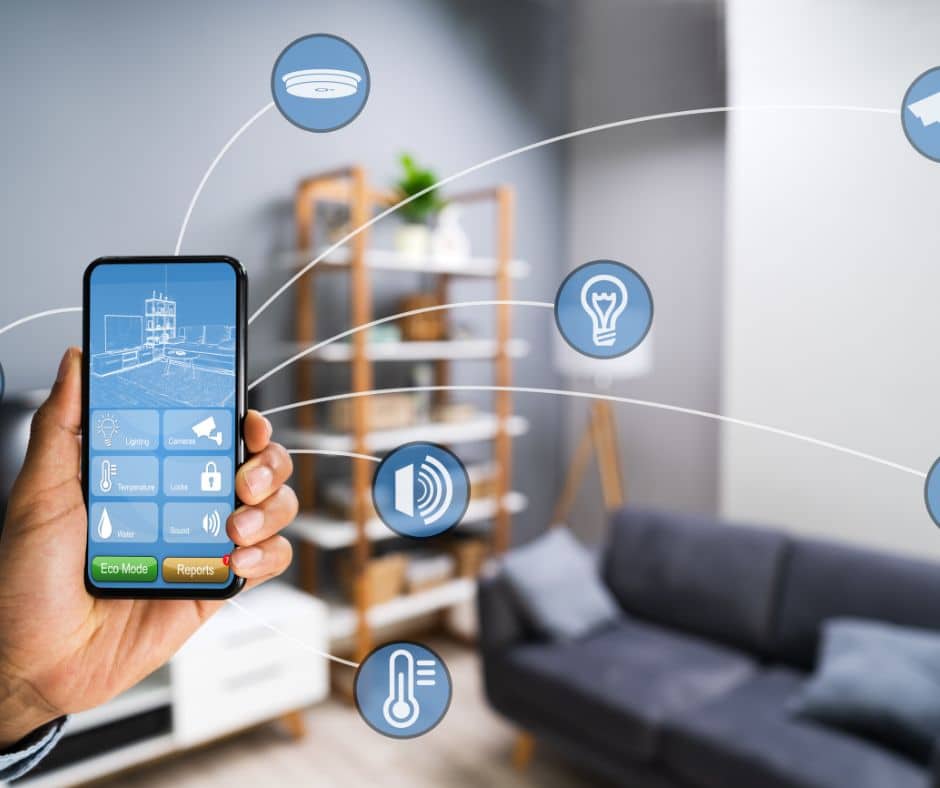 Smart Outlets
Conserve energy like never before with innovative smart outlets. Have you ever heard of standby power? When your appliances and devices are plugged in but not in use, they continue to use unnecessary energy and waste money.
Reduce energy bills and have a home that aligns with your lifestyle by using smart outlets. With this technology, you can stop the waste of energy by controlling when your outlets consume it.
Smart Lighting
Install a smart lighting system to experience setting your home's lighting on a schedule to fit your day. Or perhaps you are looking for an easy way to dim your lights with a single tap on your phone.
Either way, smart lights are an excellent way to integrate smart technology into your home. Not only is it easy to program a schedule and dim the lights to your liking, but many smart bulbs change in color, too.
Suppose you experience headaches often. In that case, you can alter the color of the lights in your home to pretty much any color of the rainbow. Research has proven that specific colors of light, such as warmer colors, can reduce the strain on your eyes and ease the common headache.
What's more, some smart lighting programs will connect to your smartphone and sync to your music. Imagine that- at your next party, you can have your lights dancing along, too. What an immersive and exciting experience!
Smart Thermostats
Like smart outlets, smart thermostats are the perfect way to achieve maximum energy efficiency in the home. Easily replace your traditional current thermostat with a brand-new smart one. These devices monitor the energy use of your heating and cooling systems. That way, you have complete control over the consumption of energy.
Make little adjustments here and there, and save big!
Smart Kitchen Appliances
Kitchen appliances have come a long way since the groundbreaking introduction of the microwave in the 1970s. Today, our kitchen appliances don't entirely cook our meals for us, but they are coming close!
Have you ever wished you could look inside your fridge while shopping at the grocery store to determine if you truly need more milk or shredded cheese? Well, now you can. Not to mention, there are slow cookers and other smaller appliances that will make little adjustments to cooking as you are away from home.
Robot Vacuums
How much time do you think you spend cleaning each day? It's estimated that we spend around two hours a day cleaning up after a day of work, cooking, and playing. Gain a decent portion of this time back with a robot vacuum.
With no installation required, all you need to do is set up the convenient charging station, and you're on your way to never needing to vacuum again. This smart device roams around your home, avoiding walls and furniture with sensitive sensors. It sucks in the dirt, dust, sand, and other debris without you having to lift a finger.
It's especially handy for homes with pets who shed often. If you have a dog who sheds tons of hair each day, you know the struggle of attempting to keep your floors clear of unsightly dog fur. With a robot vacuum, your floors will be clearer than ever before.
Personal Assistants
If you thought your smartphone personal assistant was the greatest thing since sliced bread, you'd be amazed by the virtual helpers you can integrate into your lifestyle today. Set the device on the nightstand by your bed, kitchen counter, or home office, and take multitasking to the next level.
You won't have to get up from your chair or even stop what you're doing to create a grocery list or play your favorite song with today's personal assistants. Use incredible devices like Amazon's Alexa or Google Home to simply speak and increase productivity effortlessly.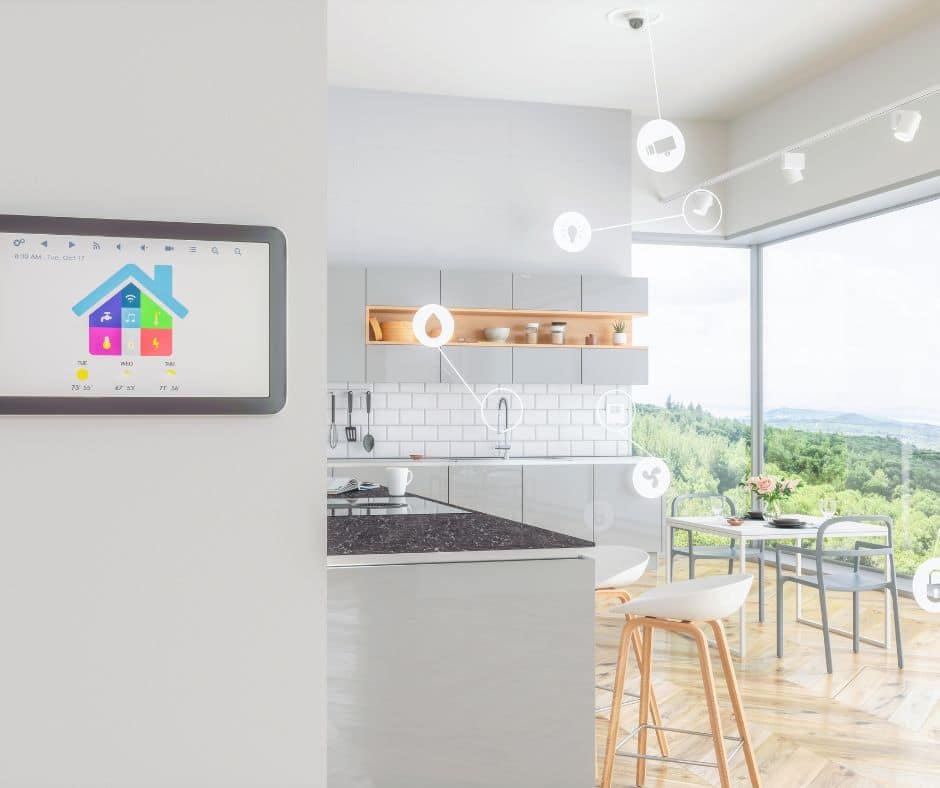 Are Smart Hole Solutions Worth it?
Absolutely. Just ask the many homes and families who have switched to relying on these state-of-the-art technologies. If you aren't yet convinced, read through the following points to discover the enormous benefits of integrating smart home solutions:
Protection and Security: One of the biggest reasons homeowners have invested in smart home solutions is for added security and safety in your very own home. It's the one spot where you should feel the safest and at ease. And smart technology is making that all the more possible.
Furthermore, if you have children at home or aging parents, devices like a smart doorbell or personal assistant can give you the confidence that your precious family is protected and well taken care of.
Cut Your Energy Costs: The second leading benefit of smart home solutions is the significant reduction in energy waste. Not only do you shave dollars off your monthly bills, but you are doing the planet an enormous favor. Whether the savings or the environmental impact motivates you, you can't go wrong with choosing to integrate smart technology into your home.
Save on Insurance: Several insurance companies will essentially pay you to use smart devices at home. They know the value of added protection, and it makes their job that much easier.
At-home Convenience: You can't beat the convenience of being able to remote control everything in your home. Get more out of your day- and out of your life– with the latest smart home solutions.
Allow Us to Help You Design Your Smart Home
Georgia Home Remodeling can handle any home project, from total-home renovations to flooring installation and so much more. Designing a reliable and easy-to-use smart home system is no challenge for our experienced team.
If you are looking for assistance in creating a top-notch smart home, we've got your back. Reach out to Georgia Home Remodeling today and be on your way to an energy-efficient, convenient, and protected home with the latest smart home solutions.