Home improvement projects offer a fantastic opportunity to transform your living space, boost property value, and unleash your inner creativity. 
While many people hire professionals for these tasks, there are plenty of projects you can tackle yourself, even if you're not a seasoned DIY enthusiast. Not only does this save you money, but it also gives you a sense of accomplishment and personalization for your home. 
In this article, we'll explore ten home improvement projects that are well-suited for DIY enthusiasts of various skill levels. Whether you're a novice or a seasoned pro, these projects can enhance your home's aesthetics, functionality, and comfort.
DIY Home Improvement Projects 
1. Painting Interior Walls (and More)
One of the most accessible and impactful DIY projects is painting your home's interior walls. A fresh coat of paint can instantly rejuvenate a room. 
To get started, gather essential supplies like paint, brushes, rollers, painter's tape, drop cloths, and a paint tray. Prep the walls by cleaning and patching any imperfections. Use painter's tape to protect baseboards, ceilings, and trim. Then, start painting following a systematic approach. Don't forget to select colors that complement your existing décor.
2. Installing a New Backsplash in the Kitchen
Revitalize your kitchen's appearance by installing a new backsplash. This DIY project can add a splash of color and personality to your cooking space. You'll need tiles, adhesive, grout, tile spacers, and tools like a tile cutter. Measure the area accurately, apply adhesive, and lay the tiles with spacers in between. Once they're set, apply grout and wipe off excess for a polished finish.
3. Refinishing Hardwood Floors
If your hardwood floors have seen better days, refinishing them can bring back their luster. You'll need a drum sander, an edge sander, sandpaper, wood filler, stain, and finish. Start by sanding the old finish off, filling any gaps or cracks, and applying a stain and finish coat. Follow the manufacturer's instructions carefully for a professional-looking result.
4. Installing Crown Molding
Crown molding adds an elegant touch to any room. While it may seem intimidating, it's a manageable DIY project with the right tools like a miter saw, coping saw, and nail gun. Measure and cut the molding carefully, making precise corner joints. Paint or stain the molding to match your room's décor before installing it near the ceiling.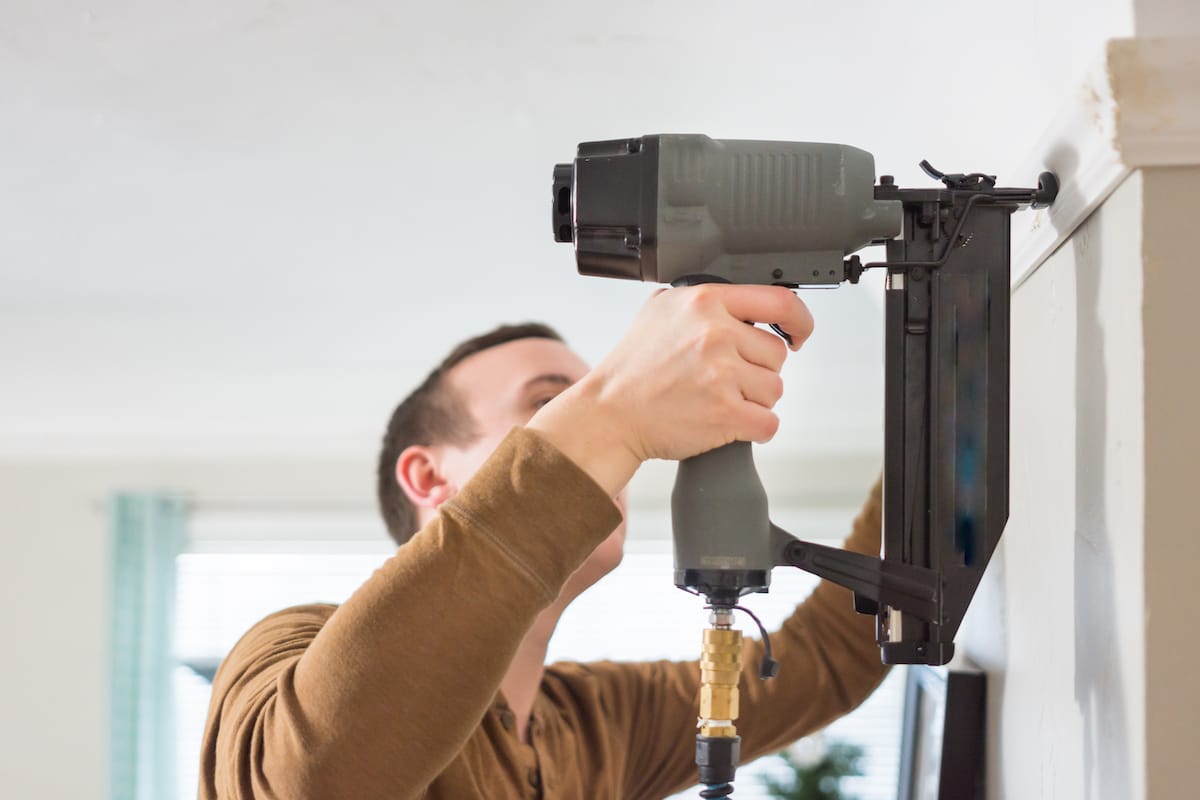 5. Updating Cabinet Hardware
Give your kitchen or bathroom cabinets a quick facelift by updating the hardware. Swapping out old knobs and handles for modern or decorative options can change the entire look of the room. Ensure that you measure the existing holes to purchase hardware that fits perfectly.
6. Installing a Ceiling Fan
Installing a ceiling fan can improve comfort and energy efficiency. Ensure you have the necessary tools and follow the manufacturer's instructions closely. Make sure the electrical circuit is off before starting, and if you're uncertain about electrical work, consult a professional.
7. Building Custom Shelving
Custom shelves not only provide functional storage but also serve as decorative elements. Determine the location, size, and style of your shelves, then gather the materials: lumber, brackets, screws, and a level. Install them securely, ensuring they can bear the weight of your items.
8. Creating a Home Office or Study Space
The shift towards remote work and online learning has made dedicated home office spaces increasingly important. Find an underutilized corner or room in your home and transform it into a productive workspace. Customize it with a desk, comfortable seating, storage solutions, and adequate lighting.
9. Replacing Light Fixtures
Updating light fixtures can modernize your home's appearance. Turn off the power, remove the old fixture, and follow the manufacturer's instructions to install the new one. Choose fixtures that complement your home's overall style.
10. Creating a Gallery Wall
Add a personal touch to your home's décor by creating a gallery wall. Gather your favorite photos, artwork, and frames. Arrange them on a large wall space, creating an appealing visual display. You can experiment with different layouts, frame styles, and artwork sizes to achieve the desired look.
11. Installing a Programmable Thermostat
Improve your home's energy efficiency by installing a programmable thermostat. It allows you to set heating and cooling schedules, optimizing temperature control and reducing energy bills. Make sure to turn off the power to your HVAC system before installation, and follow the instructions provided with the thermostat.
12. Refurbishing Furniture
Give new life to old furniture pieces by refurbishing them. Sand down surfaces, apply a fresh coat of paint or stain, and replace or update hardware if necessary. This DIY project allows you to customize your furniture to match your interior design and save money compared to buying new pieces.
13. Sealing and Insulating Windows and Doors
Improving the insulation of your home can enhance energy efficiency and comfort. Seal gaps and cracks around windows and doors using weatherstripping and caulk. Additionally, consider installing window film or thermal curtains to reduce heat loss during the winter and keep your home cooler in the summer.
14. Installing a Tile Backsplash in the Bathroom
Upgrade your bathroom by adding a decorative tile backsplash behind the sink or bathtub. Choose tiles that complement your bathroom's style and color scheme. You'll need tile adhesive, grout, spacers, and tile-cutting tools to complete the project.
15. Designing a Custom Closet Organizer
Maximize storage space and organization in your closets by designing and building a custom closet organizer. Measure the available space and create a plan with shelves, drawers, and hanging rods. You can use pre-cut boards or even build your own wooden organizer system.
16. Installing a New Faucet or Showerhead
Replacing outdated faucets and showerheads can give your kitchen or bathroom a modern look. Choose fixtures that match your style and are compatible with your existing plumbing. Follow manufacturer instructions for installation, and don't forget to turn off the water supply before starting.
17. Creating an Accent Wall with Wallpaper or Stencils
Add visual interest to a room by creating an accent wall using wallpaper or stencils. Wallpaper comes in various patterns and colors, while stencils allow for personalized designs. Measure and prepare the wall, apply adhesive or paint, and carefully follow the application instructions for a stunning focal point.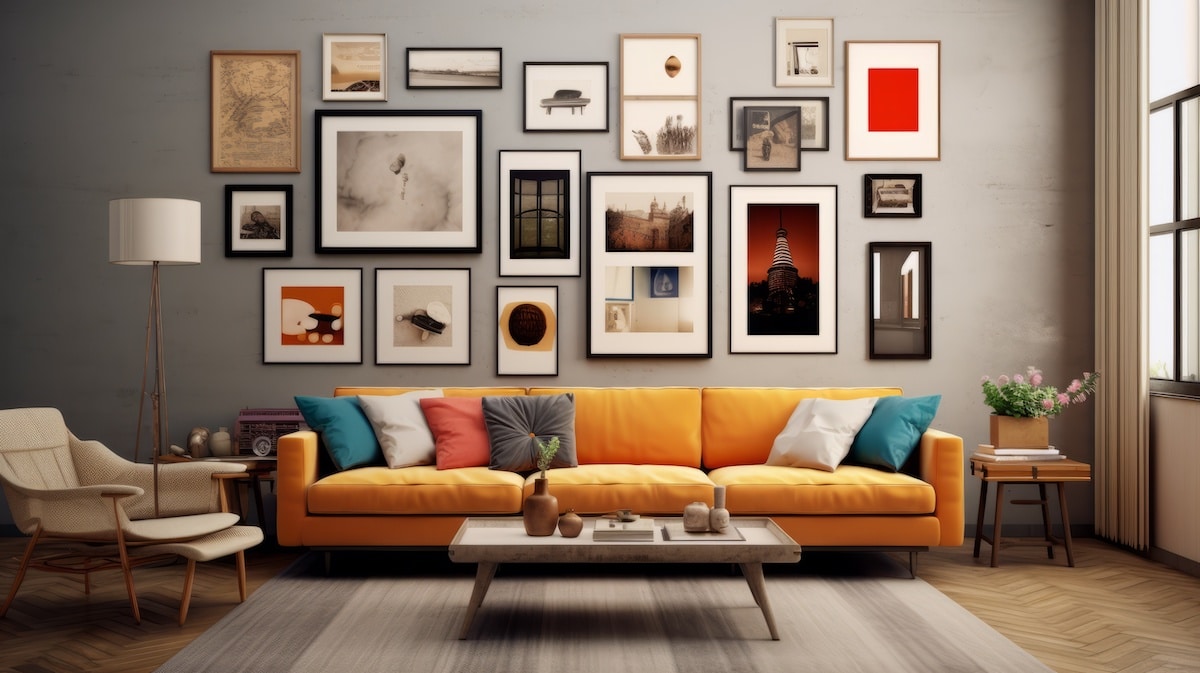 Not a Fan of DIY Home Improvement Projects?
If you're not a fan of DIY home improvement projects, a home remodeling service, like Georgia Home Remodeling, can be a valuable resource. We'll help bring the charm to your home while you sit back and relax. 
Here are a few more reasons why a home remodeling service can help:  
Professional Guidance and Advice
Home remodeling professionals have extensive experience and expertise in various aspects of home improvement. They can provide you with valuable guidance and advice on project planning, design considerations, material selection, and best practices. Their insights can help you avoid common mistakes and ensure your project is executed efficiently.
Project Planning and Design
Remodeling experts can assist you in creating a comprehensive project plan and design, ensuring that your DIY project aligns with your vision for your home. They can help you identify the most suitable materials, layouts, and color schemes that will enhance your space and increase its value.
Skillful Installation and Construction
For DIY projects that involve complex construction or installation tasks, a remodeling service can step in to handle the more technical aspects. They can ensure that critical elements, such as electrical or plumbing work, are done correctly and in compliance with local building codes.
Access to Professional Tools and Equipment
Some home improvement projects may require specialized tools and equipment that you may not have readily available. Home remodeling services typically have access to a wide range of tools, ensuring that the project is completed efficiently and to a high standard.
Quality Assurance
Home remodeling professionals prioritize quality craftsmanship and attention to detail. By hiring a remodeling service, you can have peace of mind that your DIY project will be executed to the highest standards, resulting in a finished product that meets or exceeds your expectations.
Time and Energy Savings
Many DIY projects can be time-consuming and physically demanding. Hiring a remodeling service can save you a significant amount of time and energy, allowing you to focus on other responsibilities or enjoy the benefits of your improved home sooner.
Troubleshooting and Problem Solving
If unexpected challenges or complications arise during your DIY project, remodeling professionals can offer effective solutions. Their experience allows them to troubleshoot issues efficiently, minimizing project delays and additional costs.
Safety Assurance
Certain home improvement projects, such as electrical or structural work, can pose safety risks if not handled properly. Home remodeling services prioritize safety protocols and can execute these projects in a way that minimizes hazards.
Legal Compliance
Remodeling professionals are well-versed in local building codes and regulations. They can ensure that your DIY project adheres to all applicable codes and obtains any necessary permits, preventing potential legal issues down the road.
Project Completion
When you hire a remodeling service, you can be confident that your project will be completed in a timely manner. This allows you to start enjoying the benefits of your improved home sooner rather than dealing with extended DIY timelines.
Ready to Get Started on Your Home Improvement Projects?
Embarking on DIY home improvement projects can be a rewarding experience, allowing you to personalize your living space while saving on labor costs. From painting walls to refinishing floors, there are projects suitable for every skill level. Remember to plan carefully, gather the necessary tools and materials, and follow instructions closely.
However, if you're not ready to roll up your sleeves, put on your DIY hat, and let your creativity shine in every corner of your home, reach out to our team at Georgia Home Remodeling! We'll help you create a space you love without all of the hassle!