If you're looking for a way to create fresh experiences at home, look no further than an outdoor kitchen. Expanding your outdoor space in such a way will add value to your home and bring you and your family culinary adventures and memories to cherish for years to come.
Imagine preparing a delicious and nutritious summer brunch for your loved ones under the sun without having to step inside and miss out on all the excitement. Does it really get any better?
If an outdoor kitchen sounds like a dream, do not hesitate. Putting time, energy, and money into designing a space that fits your lifestyle won't be a move you regret. Especially because of the endless payoffs an outdoor kitchen has to offer.
Georgia Home Remodeling shares how an outdoor kitchen will add value to your home. Plus, this blog wouldn't be complete without diving into the other benefits of this home addition beyond monetary value.
Continue reading to help determine if an outdoor kitchen is the right addition to your backyard.
Increasing Home Value with an Outdoor Kitchen
Picture preparing a meal for your family surrounded by the cool evening breeze.
Sounds lovely, doesn't it?
With an outdoor kitchen, this dream becomes a reality. And what's even better is an outdoor kitchen will add value to your home in more ways than one.
According to most sources, the return on investment for the average outdoor kitchen is about 55%. However, the percentage will change depending on a couple of factors. First, the home's location will impact whether you get your money back. For instance, a kitchen off the back porch wouldn't be as successful in a snowy climate as in a warmer one.
The other determining factor is how "luxurious" your home already is without the outdoor kitchen. In other words, if your home has many other impressive features, like a roomy walk-in closet and a stunning master bedroom, buyers are likely seeking an upscale addition. In comparison, a home with more standard elements will attract buyers looking for the basics.
Nevertheless, outdoor kitchens seem to have many perks beyond ROI.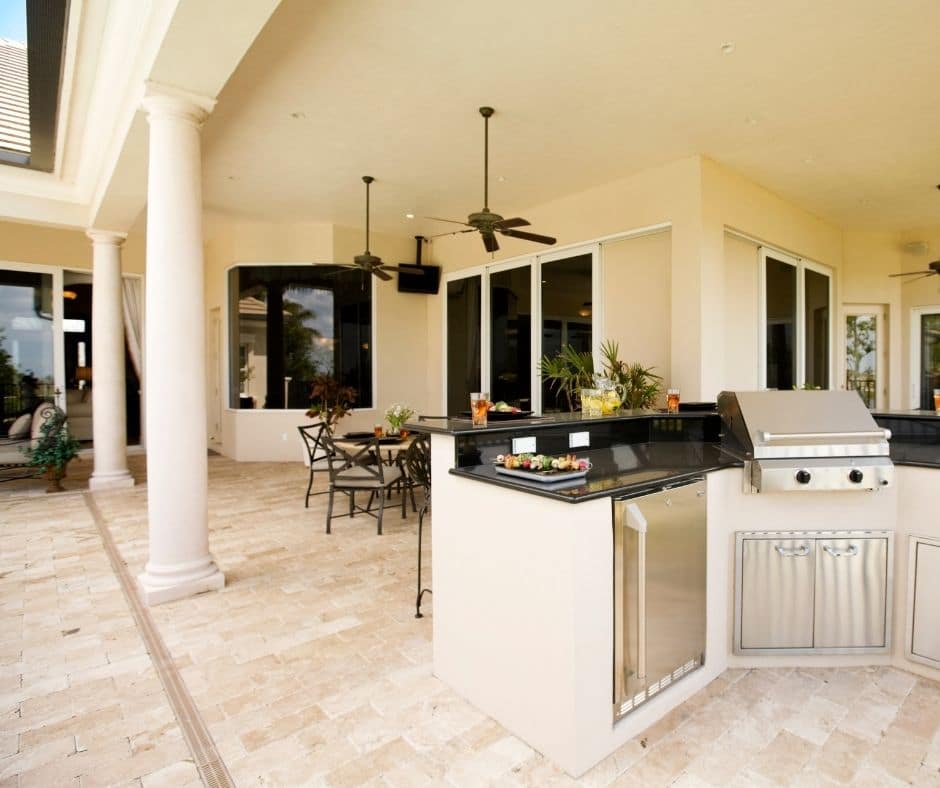 All the Benefits of an Outdoor Kitchen
Though the ROI cannot be 100% guaranteed, an outdoor kitchen has much more to offer than monetary value. This outdoor addition brings new possibilities and is the perfect way to create cherished memories from the comfort of your backyard.
Below, we share the five major benefits of investing in an outdoor kitchen for your home. But, keep in mind that the rewards don't stop here.
Adding a kitchen to your outdoor space can open up a world of new adventures.
1 | Unique Entertaining Space
Inviting your friends and family over for an evening meal is taken to the next level when that meal can be enjoyed outside the home and in your very own backyard. And what's even better is you get to savor the fresh air just as your guests will by using your brand-new outdoor kitchen.
It's a unique space that everyone can enjoy. While the adults sip on summer cocktails on the porch, the kids play exciting games in the yard. All the while, you get to laugh along as you create a delightful dinner for the ones you love.
2 | Making the Most of Summer Days
Don't miss a moment. You no longer need to run inside to make a quick lunch while your kids are in the middle of an intense backyard soccer match. With an outdoor kitchen, you remain right by their side to witness each memory in the making.
If you are tired of missing out on the summer fun, an outdoor kitchen will make a significant difference. Except for the occasional trip to the bathroom, you and your family can spend the entire day outdoors without interruption.
3 | Expand your Culinary Adventures
An outdoor kitchen will expand your culinary skills. Many homeowners will opt for alternative cooking methods and appliances in their outdoor kitchen. That way, they are making the most of their new space by choosing things that they may not have in their indoor kitchen.
For example, pizza ovens are popular in outdoor kitchens. The heat a pizza oven creates is not always practical inside the home. Therefore, an outdoor area to cook in is a splendid opportunity to finally build the state-of-the-art pizza oven you've always wanted.
Other excellent examples of the unique culinary experiences an outdoor kitchen offers include fryers and grills. But honestly, the possibilities are endless.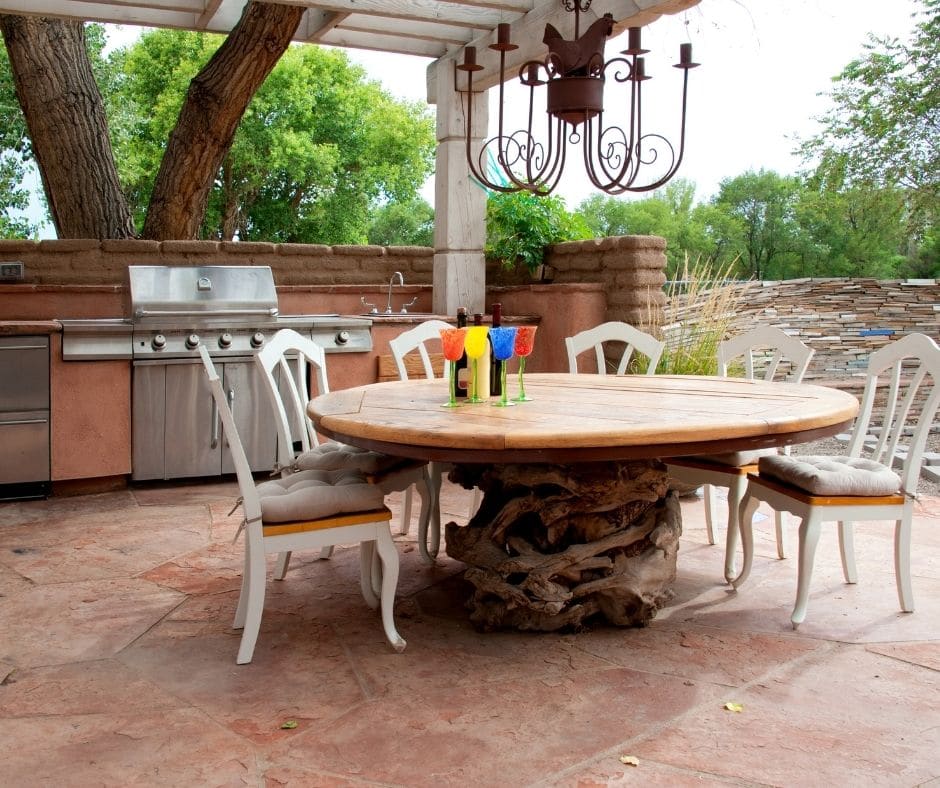 4 | Host More Guests
Especially during a global pandemic, an outdoor kitchen is a game-changer. Worrying about how many people you can comfortably (and safely) fit inside will be a thing of the past. Your new limit will be how many people can fit in your backyard. And what a difference that will make!
Imagine hosting your daughter's birthday party in the comfort of your own yard. Invite all her friends and their families and cook up her favorite meal. The kids play the night away as the adults take in the evening ambiance.
It's almost guaranteed that your home will be the next place to be on the weekends. So, be ready for a summer of hosting!
5 | Extend Your Living Space
Staying inside can get old. After adding the outdoor kitchen, you may find yourself adding a table, then more comfortable seating. And once you have a relaxing spot to kick your feet up, you may consider adding a T.V. to the space.
Make the backyard a place you can fully enjoy and be as comfortable as you would be indoors. You'll be surprised at how fresh air can make the experience entirely new. Even if you are watching the same Netflix series you always watch.
Outdoor Kitchen Ideas
After realizing all the wonderful benefits of an outdoor kitchen, you're likely dreaming up what your space will look like. But, if you're having trouble picturing exactly what your new kitchen out back will look like, there's no need to worry. Below, we have provided you with some inspiration for your planning. The following are some exciting additions to consider including in your new outside culinary space:
Install a

minifridge

to hold refreshing beverages and beat the heat of summer.

Include an outdoor bar cart to personally enjoy and serve guests with ease.

Setting up an outside dining area will keep you and your family from having to move inside once the meal is ready to enjoy.

Expand counter space and provide your family and guests with a spot right by the kitchen by including a breakfast car or island with a couple of comfy bar stools.

Create some shade with a large umbrella, pergola, or awning.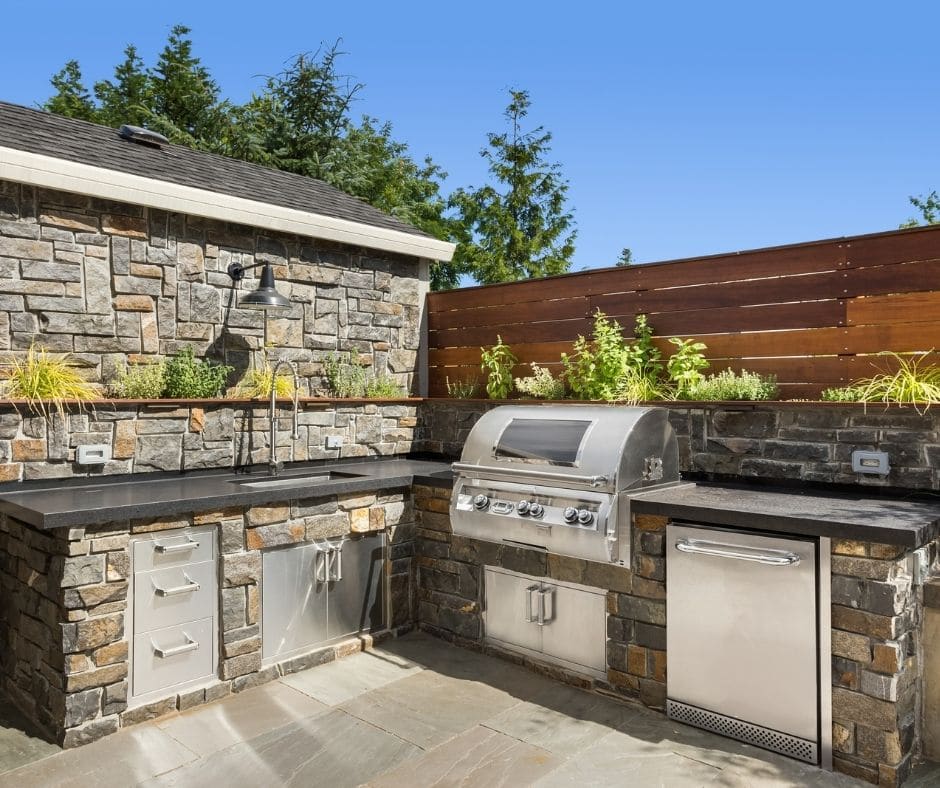 Count on Georgia Home Remodeling to Create the Perfect Outdoor Kitchen 
Dreaming of all the possibilities that an outdoor kitchen brings is only the start of this exciting journey. Enjoy an increase in home value and make lasting memories with this unique home addition.
However, anyone can become quickly overwhelmed by the costs, technicalities, and overall process of building the perfect outdoor cooking experience for their family and loved ones. And that's why the knowledgeable staff at Georgia Home Remodeling is here to help.
We have serviced thousands of happy customers in Northeast Georgia for over 25 years. An outdoor kitchen project is no match for our experienced experts.
When you're ready to increase your home value and embark on this new journey, we'll be right by your side. So, give Georgia Home Remodeling a call, and make your dreams a reality today.