For several years now, it has been the trend to open up the home and create wide-open spaces. And while some sought to add walls in the pandemic in order to create more rooms in the house, the feeling is still there. Open plans are here to stay. If you want to create that open plan in your home, Georgia Home Remodeling can help you achieve that look. However, you may be asking yourself this very question. Which walls can be removed in a house?
Open Plan Design
Blurring the boundaries between inside and out, room to room and usable space to usable space is the goal of an open floor plan in a home. 2020 made us all too aware of how essential the function of the house is in our day-to-day lives. The living space in those homes became their entire world for some. Carving out those spaces for personal time and those for family congregating became more of a goal than finding the next thing to do outside the home.
So, with the importance of home design taking a steep rise to the top, people all over are taking down walls and loving the openness it creates. Not only is the living/family room a big focus for open concept, but the kitchen as well. Let's face it, no matter how big the main room of the home is, when folks gather, they usually end up around the kitchen. That is why integrating the kitchen into the main space is integral in designing an open plan.
Older traditional homes had a living room, a dining room, a family room, and a kitchen, all separated by walls and entries. But today, folks want all those rooms together.
Can You Remove Any Wall?
The answer here is yes. BUT, if the wall you intend to move is a load-bearing wall, it may not be as simple as grabbing a sledgehammer and a trash bag. Tearing out a load-bearing wall can be the collapse of the home. No one wants that.
The goal here would be to determine if the wall is, in fact, load-bearing and then to decide the best action to remove the wall. And that is precisely why contractors need to be in on the plans when tearing down any portion of the house.
Making sure the wall support remains or is adjusted is critical. A support beam can be placed to connect two rooms and maintain a structurally sound home. Again, your Georgia Home Remodeling contractor will know how best to accomplish this task.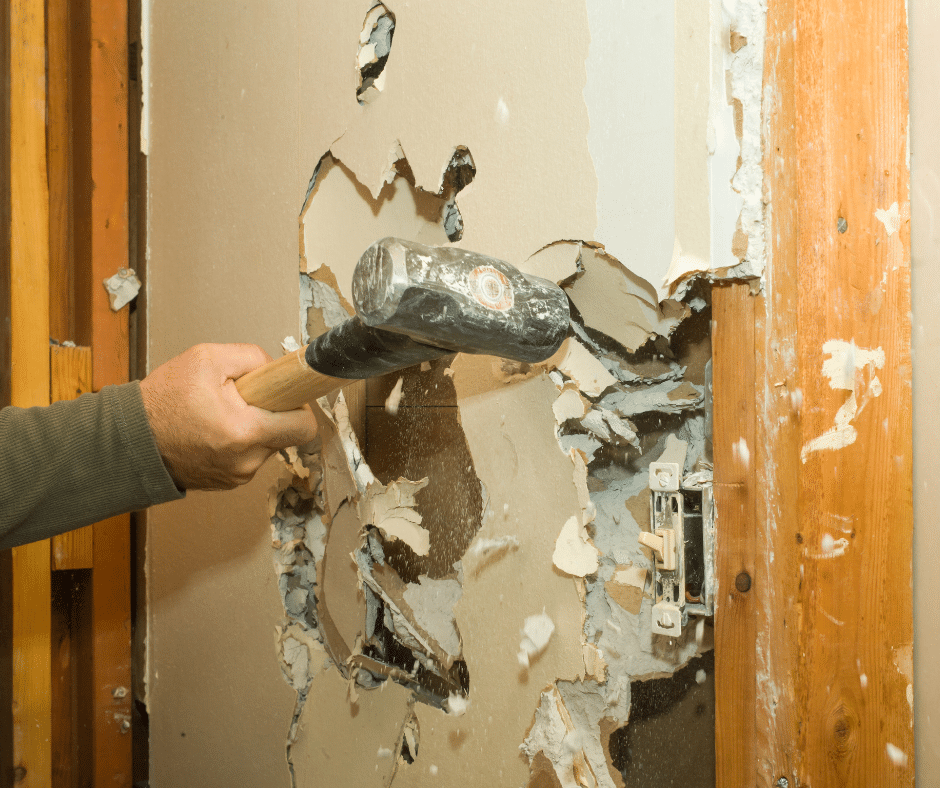 Do I Need Permission to Move Walls?
Most of the time, a homeowner does not need permission to move an interior wall of the home. That said, if you live in a building with other owners, you could be subject to HOA approval. That all depends on the community in which you live.
Nevertheless, it is worth your time to have a contractor look at the plan you have in place to move or eliminate an existing wall. That will ensure your safety and the integrity of your home.
And with all construction, making sure you have the right person to do the work is critical to the success of the remodel. Ensure their qualifications, experience, and communication are up to par. If you choose based on the lowest price available, you may end up with the lowest quality of work.
Now let's get into the definition of a load-bearing wall.
Is My Wall Is Load Bearing?
Well, let's figure that out. According to CivilToday.com, here is the definition and the main features of a load-bearing wall.
"Definition: A wall which is constructed to support the above slab or other building elements in a structure is called a load-bearing wall."
"Main Features: Followings are the main features of load-bearing walls:
It is a structural element.
It carries the weight of a house from the roof and upper floors.
Load-bearing walls transfer loads all the way to the foundation or other suitable frame members. 
It can support structural members like beams (sturdy pieces of wood or metal), slab, and walls on above floors above. 
A wall directly above the beam is called a load-bearing wall if it is designed to carry the vertical load. 
Load-bearing walls also carry their own weight. 
This wall is typically over one another on each floor. 
Load-bearing walls can be used as an interior or exterior wall. 
This kind of wall will often be perpendicular to floor joists or ridge. 
Concrete is an ideal material to support these loads."
These walls may be of stone, concrete, brick, masonry, or a wall made with metal studs or a retaining wall. No matter how the structure is constructed, it bears significant form for the integrity of your home.
Getting Started With Wall Removal
Before beginning to tear out a wall, you should consult with a carpenter, architect, or structural engineer, to confirm that a wall is load-bearing or a non-load bearing. There are several clues you can check for to get a preliminary answer. And you can do this without removing drywall or other invasive measures. Check the main features that we listed above and call Georgia Home Remodeling to come out and "approve" the structural design of your plan.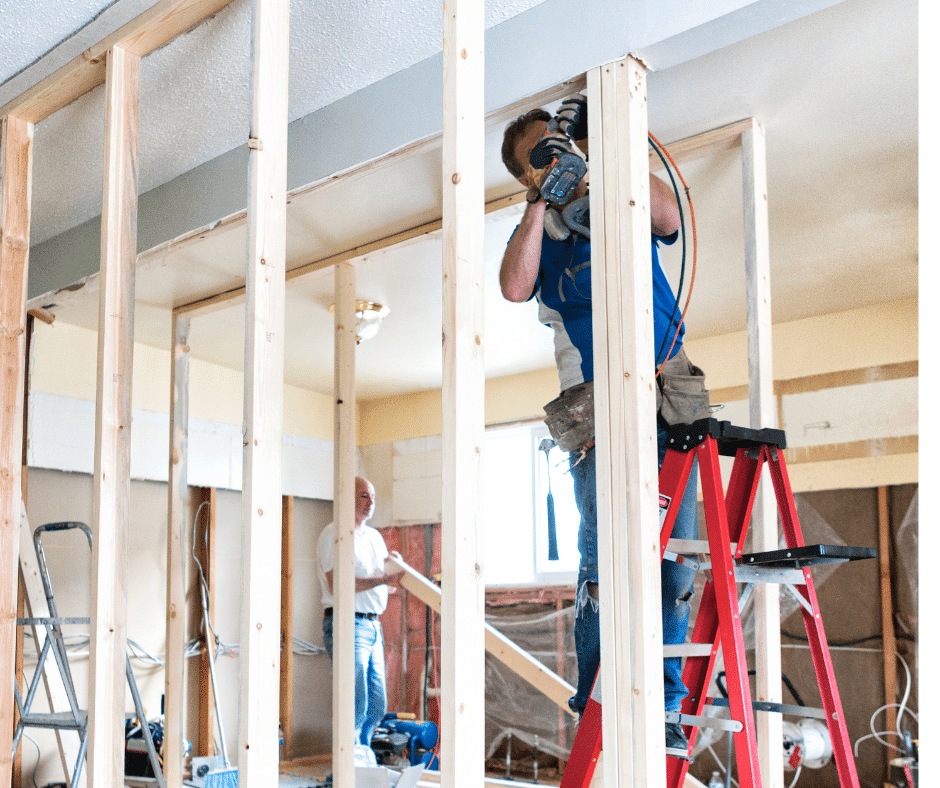 You'll Find the Best Plan is to Remove Walls During a Whole Home Remodel.
We get it. Doing smaller remodeling projects over time can sometimes seem more manageable, and it spreads out the cost of the projects, so you are not hit all at one time. You might consider remodeling the kitchen one time, the master bath another, and your family living space after that.
Well, there are some significant positive reasons to do everything at one time. Most homeowners will choose this route if they have the available cash and time to do it. In the end, it saves both time and money and a fair amount of headache.
When remodeling everything at once, there will be less time spent with the noise of machinery, saws, and nail guns in your home. That is always a plus. Not to mention, doing the work at once will have your home back to normal in a shorter amount of time. And then, if you have an HOA, the plans can be passed by them together, and the permit pulled as one. This will save on significant and unnecessary delays.
When placing larger orders for materials, the contractor will most likely get a better deal. That will save your bottom-line price. Plus, the contractor will save time by working from one area to the next with ease.
For instance, framing day can be all on one day, requiring one set of tools, and grout day, on another. All the rooms can be painted at one time with the right crew available to get it done right. And the contractor will be able to move from one task to another while the first is setting or drying, wasting no time.
Georgia Home Remodeling Can Move Those Wall
Want a wall moved, removed, or added into your home's floor plan? That is no problem when you contact the friendly professionals at Georgia Home Remodeling. We are a Gwinnett-based remodeling and renovation contractor company that has been serving Metro Atlanta and North Georgia since 1991.
Georgia Home Remodeling is dedicated to providing outstanding service and quality work at a fair price. From the initial contact until the job's completion, we will be prompt, courteous, and communicative.
We are a fully licensed and insured home renovation contractor. Our diverse and experienced crews include carpenters, painters, electricians, plumbers, flooring specialists, and HVAC professionals. Company president Chris Allen, who oversees and manages each GHR job, is also a Certified Graduate Builder, Certified Lead Carpenter, and Certified Remodeler.
Contact us to request a quote, and let us help you take that wall down!