The birds sing, flowers bloom, and the weather warms. Why? Because springtime is here! The arrival of spring means longer days, more time spent outdoors, and, you guessed it, spring cleaning!
This annual deep cleaning project can be exhausting and sometimes overwhelming. But the results are so relieving, satisfying, and absolutely rewarding! The good news is that there are several tips and tricks to make spring cleaning more manageable and even enjoyable.
Join Georgia Home Remodeling as we take you through the ultimate guide to stress-free and successful spring cleaning. Learn how to set realistic and attainable goals, have the right supplies, and get everything done, from the specs of dust settled under the sofa to reorganizing the overflowing storage closet!
It's tough work, but it's all worth it in the end.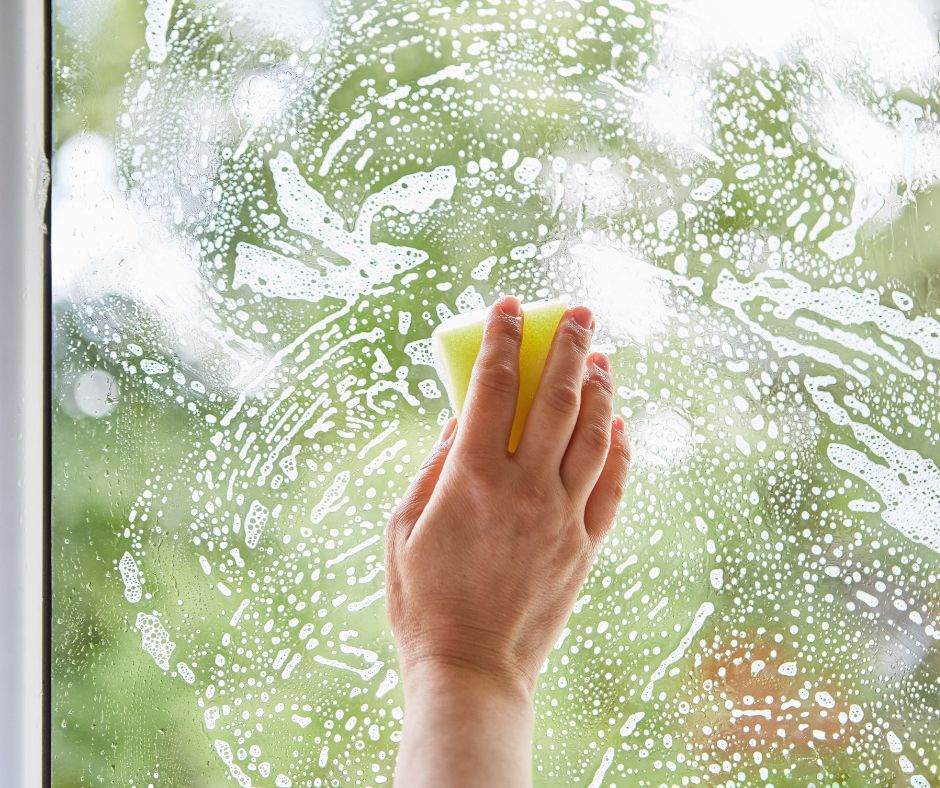 Step One: Get Organized
The first step is to get organized and create a realistic plan to make it to the finish line! Between our busy schedules, it can be challenging to find the extra time to do some spring cleaning. But, when you set daily goals, you'd be surprised that even if you can't find the time, you can absolutely make it! After you plan the time to get some cleaning out of the way, determine what tasks you will start with and the order you will follow. 
Work Spring Cleaning into your Schedule
If you want to do some real spring cleaning, more than one weekend will be required! Whether it's on your phone, hung on the wall, or a scrap piece of paper, sit down with your calendar and block out the days and hours you will commit to spring cleaning. For instance, around work meetings, kid's soccer practice, and family dinners, you may notice the best time for you to dedicate to refreshing your home are Mondays, Thursdays, and Sundays in the late afternoon when the day is winding down. 
It doesn't matter how much or how little time you have to get things done– As long as you plan it out and stick to your goals, your spring cleaning will get done in time! 
Establish a Logical Order
Next, establish a flow of tasks to keep you on track and, for lack of a better word, sane!
Create a practical order to help you concentrate on one task at a time and avoid getting overwhelmed. Deep cleaning the entire home is tough work! You need to be strategic if you want to complete this challenge with the least stress and more enjoyment.
Some prefer to work from the back room to the front door. For example, begin with sprucing up the backyard, then move inside to the children's bedrooms in the very back of the house, followed by the kitchen and living room in the middle, and ending with the foyer and front yard.
On the other hand, others thrive by accomplishing the rooms of priority first, moving towards those of less concern. In this case, you would start with the spaces in which your family spends the most time, like the family room, kitchen, and bathrooms. Then, follow with the home office, bedrooms, laundry room, and other spaces with less importance.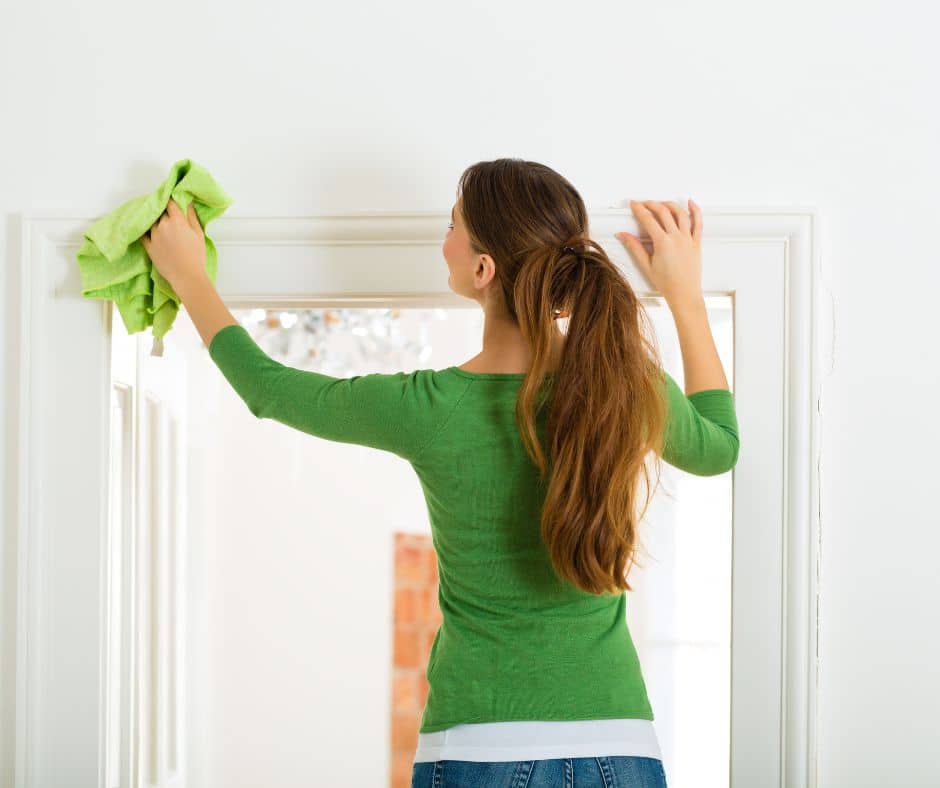 Set Your Goals
Now, it's time to put the two above steps together, keeping in mind the time it takes to tackle each room spending on its cleaning needs. Beginning with the first spot on your calendar that you established as a spring cleaning day, jot down your goal based on where you want to start. For instance, if Monday morning was the first time slot you chose to kick off your spring project, write that you will tidy up the backyard. 
The key to making your schedule work for you is considering the time each space or task needs to be done correctly. You may need several days for more elaborate chores, like shampooing carpets and reorganizing storage spaces. Feel free to make daily, weekly, or even monthly goals– Think about what will work for you!
Below are examples of chores that take a few minutes or several hours for your reference.
Quicker Cleaning Tasks-
Dusting the office

Washing out all the garbage cans

Sweeping the floors

Bleach the bathroom surfaces

Cleaning windows

Wiping down kitchen appliances

Mopping a room

Vacuuming the rugs
Cleaning Projects that Take More Time-
Cleaning the oven

Washing all the blankets and linens

Going through old paperwork

Wiping down the baseboards

Reorganizing storage closets

Rearranging rooms

Mowing the Lawn

Scrubbing the tile grout
Step Two: Collect the Necessary Cleaning Supplies
Before getting to work, ensure you're stocked with the essential cleaning supplies. The following lists will help you collect all the tools and cleaners needed to complete your spring cleaning.
Basic Cleaners and Soaps
Baking soda

White vinegar

Glass cleaner

All-purpose cleaner

Bleach

Stainless steel cleaner

Laundry detergent

Dish detergent

Toilet bowl cleaner

Disinfectant spray

Stain remover
Basic Tools and Supplies
Microfiber cloths

Old cleaning rags

Paper towels

Vacuum

Mop

Broom and dustpan

Sponges

Cleaning brush

Old toothbrush

Bucket

Gloves

Toilet brush

Lint roller
Advanced Cleaners and Supplies
Wet vacuum

Wood polish

Squeegee

Specialized tile cleaner

Carpet shampoo

Oven cleaning solution

Extendable duster

Small portable vacuum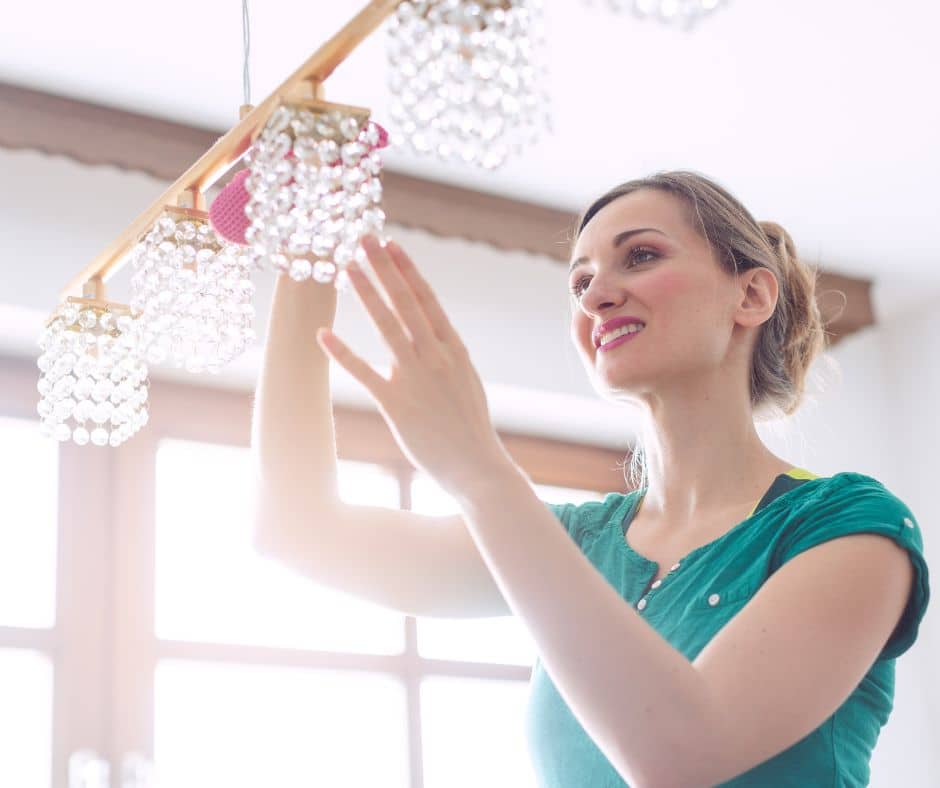 Step Three: Get to Cleaning!
The tips below outline fundamental methods that will assist you in cleaning practically every surface, object, and hidden corner of any room, leaving your home refreshed from top to bottom!
Spruce Up the Outdoors
If you've decided to include the backyard, porches, and front yard in this year's spring cleaning, here are the basics you'll want to know. Of course, you'll want to begin with the essentials, like raking the leaves and mowing the lawn. But also consider weeding the flower beds or even adding some new plants to the landscape. 
Another excellent outdoor spring cleaning task is pressure washing the driveway and walkways. This makes a significant difference in the appearance of your home and improves curb appeal. Similarly, think about washing the dirt and dust off the front door and any railings or columns in the front yard.
Refresh the Floors
What you do with your floors entirely depends on the material you're working with. Whether you have durable and low-maintenance flooring like vinyl or care-intensive hardwood floors, there are plenty of ways to make them look as good as new.
Carpet-

Start with thoroughly vacuuming your carpet floors, getting in the often-missed corners and underneath furniture. Then, think about shampooing the carpets yourself or hiring professionals.

Tile-

After sweeping and mopping, work on the neglected grout!

Vinyl and Linoleum-

These floorings may have lost their shine and should be waxed with a polish designed for the material.

Hard Wood-

Mop the hardwood floors, paying particular attention to the narrow corners and hidden spots. Then, consider having them professionally treated to bring back that fresh shine.
Wipe Down Hard Surfaces
For all surfaces and objects made from wood, plastic, metal, glass, ceramic, or another solid material, ensure they are free from any unsightly spots. These surfaces can become ridden with smudges, dust, dirt, minor scratches, or some mysterious gunk. Refresh the hard materials of your home, including:
While some of these materials may need a specialized cleaner, a quality all-purpose cleaner should work beautifully for most! Paper towels and soft microfiber clothes will also come in handy. Remember to clear the surface of dust and debris before wiping it down with the appropriate cleaning solution.
Wash Soft Surfaces and Linens
When it comes to fabrics, a specific approach may be necessary. So be sure to read the label of any soft material you wash or treat, like couch cushions, upholstered chairs, curtains, and bed linens. If you're unsure how to clean a particular material, dry cleaning is a safe and smart option. 
Dusting Everything!
Pay attention to hard-to-reach locations, such as the tops of ceiling fans and window housings. It's best to work from the top of a room to the bottom, clearing the dust that makes its way to the floor. Move furniture and objects on shelves around to get all the hidden areas.
Reorganizing Cluttered Spaces
Reorganizing the areas that have become cluttered and chaotic may be some of the spring cleaning tasks that will take the most time. So, be sure to dedicate plenty of time to each space.
Below are the areas you should consider reorganizing:
Storage closet

Entertainment stand

Kids bedrooms

Clothes closets

Refrigerator

Kitchen pantry

Dish cabinets

Backyard shed

Garage
Finally, don't forget about that one overflowing junk drawer! 
About Georgia Home Remodeling
The thought of deep cleaning your whole home can be overwhelming, but spring cleaning is super satisfying when taken a chunk at a time. A clean house makes a happy home, for sure.
So, take the time to refresh your home. And if you're ready to take your home to the next level with a new remodel, you know who to call. Georgia Home Remodeling is ready and excited to make your home vision a reality!