Whether you live in a cozy apartment, a compact house, or simply have limited rooms to work with, this article will provide you with Georgia Home Remodeling's best tips for maximizing small spaces with interior design.
Let's get started!
Our Best Interior Design Tips
1. Selecting the Right Furniture for a Small Space
When it comes to designing small spaces, selecting the right furniture is paramount. The furniture you choose should not only fit within the limited square footage but also serve multiple purposes to maximize functionality.
Here are some key considerations and furniture options to help you make optimal choices for your small space:
Choose Furniture with a Small Footprint and Multi-functionality
Opt for sofas and chairs with a compact design and slim profiles. Consider options like loveseats, apartment-sized sofas, or modular sectional sofas that can be rearranged to fit different layouts. 

Additionally, choose furniture with hidden storage compartments, so you can store extra blankets, pillows, or other essentials without sacrificing precious space.
Expandable and Folding Tables
Invest in expandable dining tables or foldable tables that can be easily stored away when not in use. Drop-leaf tables or extendable dining sets provide flexibility, allowing you to accommodate more guests when needed.

For home offices or study areas, consider wall-mounted folding desks or compact desks that can be tucked away when not in use.
Utilizing Built-in or Customized Furniture for Space Optimization
Built-in Shelves and Cabinets
Built-in storage solutions are perfect for small spaces as they maximize storage without taking up valuable floor area. Consider incorporating built-in shelves and cabinets along walls, under stairs, or above doorways. These customized storage options can house books, display decor, or even act as a compact home office. 

Built-in wardrobes or closet systems with clever organization features help maximize storage space in bedrooms.
Customized Modular Furniture
Opt for modular pieces that can be reconfigured or expanded as required. For example, modular shelving systems can be adjusted to fit different wall dimensions, providing ample storage for books, decorative items, and personal belongings. 

Modular seating options, such as sectional sofas with interchangeable modules, offer flexibility and can be adapted to various room layouts.
Look for ottomans or coffee tables with hidden storage compartments. These can be used to store blankets, magazines, or toys, while also providing additional seating or serving as a footrest. 

Another example is a desk that doubles as a vanity with a flip-up mirror. Such dual-purpose furniture helps maximize space while offering practicality and convenience.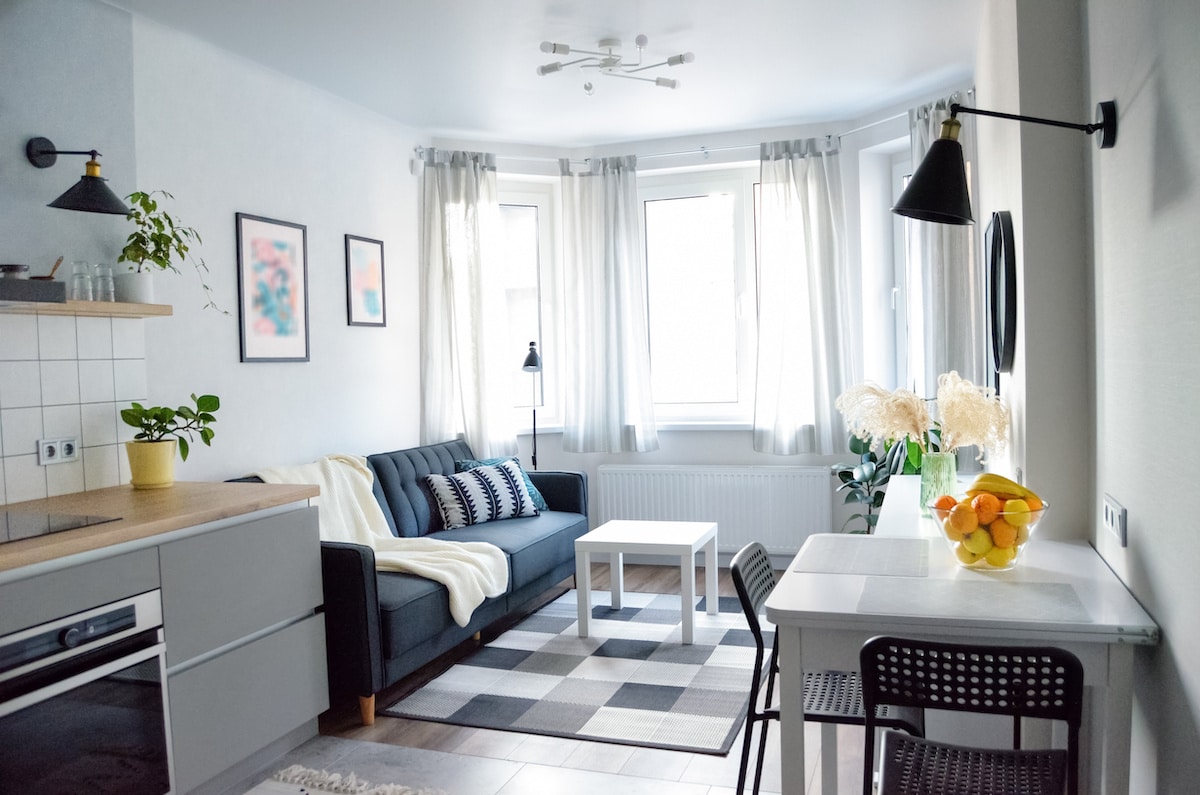 2. Clever Storage Solutions for a Small Space
In small spaces, effective storage solutions are key to maintaining an organized and clutter-free environment. By utilizing clever storage techniques, you can maximize every inch of your space and create a more functional and visually appealing interior. 
Consider the following storage ideas to make the most of your small space:
Maximizing Vertical Space with Shelves and Wall-Mounted Storage Units
One of the best ways to optimize storage in a small space is to think vertically. Install wall-mounted shelves or floating shelves to take advantage of the vertical wall space.
Additionally, consider utilizing wall-mounted storage units with cubbies or compartments for keeping smaller items organized. These units can be placed in entryways, living rooms, or bedrooms, providing stylish storage solutions without taking up valuable floor space.
Utilizing Hidden Storage Options
In small spaces, it's crucial to utilize every available nook and cranny for storage. Look for furniture pieces that offer hidden storage compartments. 
Consider utilizing under-bed storage drawers to keep off-season clothing or bedding neatly tucked away. 
In the kitchen, invest in cabinets with pull-out shelves or drawers, making it easier to access items stored at the back without having to reach and rummage.
Creative Use of Hooks, Pegboards, and Magnetic Strips for Organization
Install hooks on walls or the back of doors to hang:
Pegboards are versatile and can be customized to hold various items such as kitchen utensils, crafting tools, or office supplies. 
Magnetic strips can be mounted in the kitchen to hold:
Metal tools

Knives

Spice jars
3. Make Smart Color and Lighting Choices 
Color and lighting play a crucial role in the design of small spaces. By making strategic choices in color palettes and lighting solutions, you can:
Create an illusion of space

Enhance the ambiance

Make your small room feel more open and inviting 
Consider the following tips for smart color and lighting choices in small spaces:
Opting for Light, Neutral Colors to Create an Illusion of Space
When it comes to color selection, light and neutral tones are your best friends in small spaces. Shades such as whites, creams, pastels, and soft grays reflect light, making the room appear brighter and more spacious. Light-colored walls, furniture, and flooring create a seamless and airy atmosphere, visually expanding the boundaries of the room. Consider painting walls in light hues and choosing furniture and textiles in lighter shades to create a harmonious and open feel.
Utilizing Mirrors to Reflect Light and Visually Expand the Room
Mirrors are magical tools in small space design. They have the ability to reflect light, making a room feel brighter and more expansive. Strategically place mirrors on walls opposite windows or near light sources to bounce light around the room. A large mirror can create the illusion of a larger space, while a mirrored backsplash in the kitchen can add depth and brightness. Incorporating mirrored furniture or decor accents can also contribute to the overall effect of spaciousness.
Implementing Effective Lighting Strategies
Proper lighting is essential in small spaces as it can significantly impact the overall atmosphere and functionality. Consider the following lighting strategies:
Task Lighting

Ambient Lighting

Natural Light

Accent Lighting
4. Create the Illusions of Space
In small spaces, it's essential to employ design techniques that visually expand the room and create a sense of openness. By utilizing specific design elements and tricks, you can create illusions of space that make your small interior feel larger and more inviting. 
Consider the following strategies for creating illusions of space in your small space:
Incorporating Mirrors Strategically to Create Depth and Openness
Consider placing a large mirror opposite a window to bring in more natural light and give the impression of an expanded view

You can also hang mirrors on adjacent walls to create a sense of continuity and make the room appear more expansive.
Utilizing Vertical Lines and Patterns to Draw the Eye Upward
Vertical lines and patterns have the ability to draw the eye upward, creating an illusion of height and spaciousness. Incorporate vertical elements in your small space, such as floor-to-ceiling curtains or vertical stripes on walls or furniture. 
Opening Up Space with Glass Elements
Glass elements are excellent for opening up small spaces. Consider using transparent or translucent materials for partitions, room dividers, or doors. 
Utilizing Light Colors and Minimalist Design
Light colors and a

minimalist design approach

can help create an airy and spacious feel in small spaces. Opt for light-colored walls, furniture, and flooring to maximize brightness and create a sense of openness. Keep the design simple and uncluttered, with clean lines and minimal ornamentation.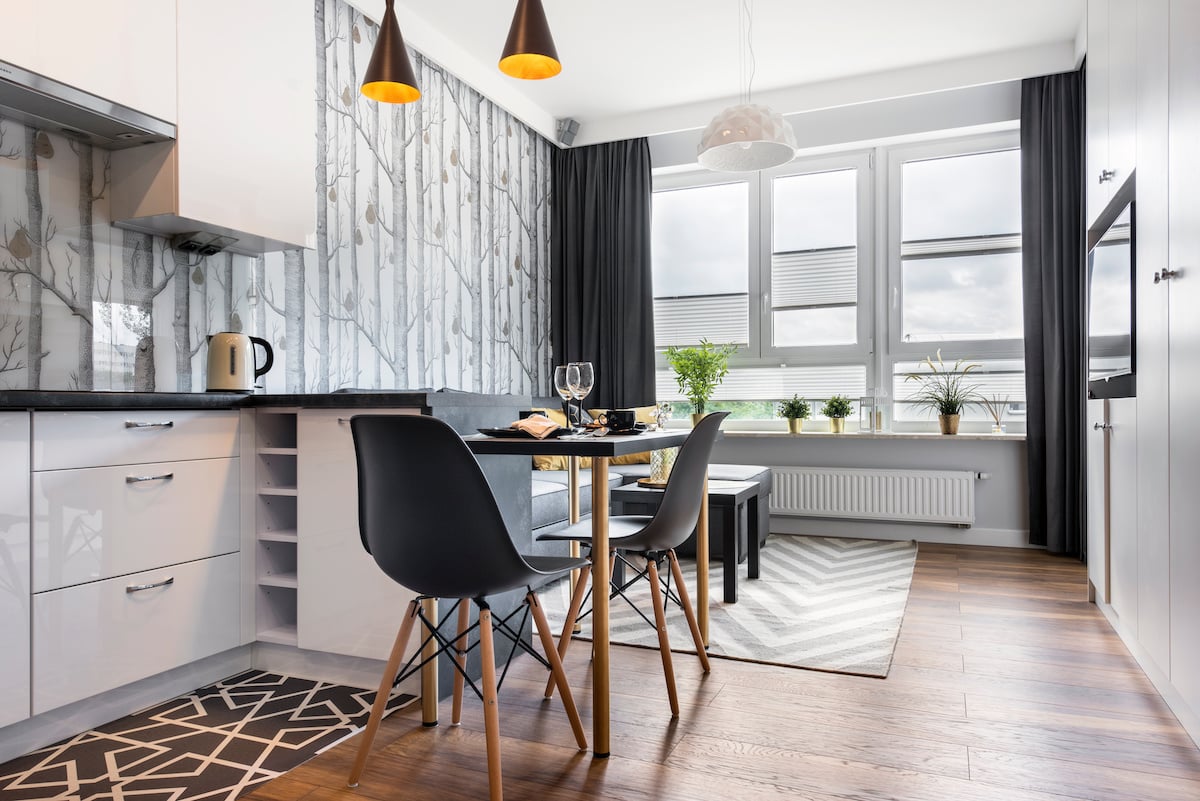 5. Utilize Natural Light
In small spaces, maximizing natural light is essential for creating an open and airy atmosphere. Natural light not only enhances the aesthetic appeal of a room but also makes it feel more spacious and inviting.
Consider the following tips for harnessing the power of natural light in your small space:
Removing or Minimizing Obstructions to Maximize Natural Light
Start by identifying any obstructions that may block the flow of natural light into your space. Trim back any overgrown trees or bushes outside windows that may be casting shadows. 
Consider adjusting window coverings to allow maximum light penetration. Remove heavy drapes or curtains and opt for sheer or light-filtering materials that let in ample sunlight while maintaining privacy.
Using Sheer Curtains or Blinds to Allow Light While Maintaining Privacy
Sheer curtains or blinds are excellent choices for small spaces, as they allow natural light to filter through while preserving privacy. Install sheer curtains that can be drawn aside during the day to maximize light intake. 
Alternatively, consider installing blinds that can be adjusted to control the amount of light entering the room while still maintaining a sense of openness.
Incorporating Light-Filtering Materials to Create a Soft, Airy Ambiance
To create a soft and airy ambiance, consider using light-filtering materials in your window treatments. Fabrics such as voile, gauze, or lightweight linen can diffuse harsh sunlight, creating a gentle and inviting atmosphere. These materials soften the natural light, reducing glare and creating a more comfortable environment.
Making the Most of Windows and Skylights
Windows and skylights are the primary sources of natural light in a room. Ensure that your windows are clean and free of obstructions, such as heavy blinds or furniture, to allow maximum light entry. 
Consider adding or enlarging windows, if feasible, to bring in more natural light. If you have a two-story space, skylights can be an excellent addition to introduce light from above and make the room feel more spacious.
Need Help with Your Interior Design? 
We hope these interior design tips were helpful! 
If you have questions or would like help making your small space feel bigger, contact our team at Georgia Home Remodeling today! We'd love to help you make your home feel more like a home!