Know your countertop options before you remodel your kitchen or bathroom.
If you are in the market for countertops due to an exciting new home or a design-forward remodel, you are in the right place. You may be feeling a bit overwhelmed by all the choices in materials that will be suitable for a bathroom or kitchen countertop. We don't blame you. There are several choices, and each has its pros and cons.
This article will attempt to break it down for you, making a choice one step easier. We have also divided the options into three categories, called High-End, Middle-Tier, and Budget-Friendly. The choice is yours.
High-End Countertop Choices
These options are more expensive as well as being considered "luxury" countertops. You will get the most return on investment for these types when it is time to sell your home. However, each has its issues depending on the use for your home and family.
Marble
Marble is the highest end for stylish in-home kitchens and bathrooms. The bright white, shiny look is unparalleled. And, it is great for the baker, as it holds a cold temperature. However, it is not without its faults. Wiping up spills as soon as they happen will help you avoid staining the surface. Also, marble is soft and will scratch easily.
Granite
One of the most elegant and durable, granite is the most utilized type of countertop. It is easy to care for and comes in a great variety of colors and edge styles. Granite is heat resistant, but it is not suitable for a cutting board. Also, cutting on the stone directly will dull your knives.
Stainless Steel
Professional kitchens choose stainless steel counters because they are durable and non-porous. Today these counters are making their way into residential kitchens as well. Remember that it will scratch, and dent and fingerprints and watermarks will show. So, if you cannot be on top of keeping it exceptionally clean, it may not be the option for your kitchen.
Soapstone
An all-natural soft stone surface, this option has many advantages. It is stain, bacteria, and heat resistant. It comes in blues and grays and has a natural vein pattern in each piece. Besides, the natural patina that develops over time is the charm of the piece.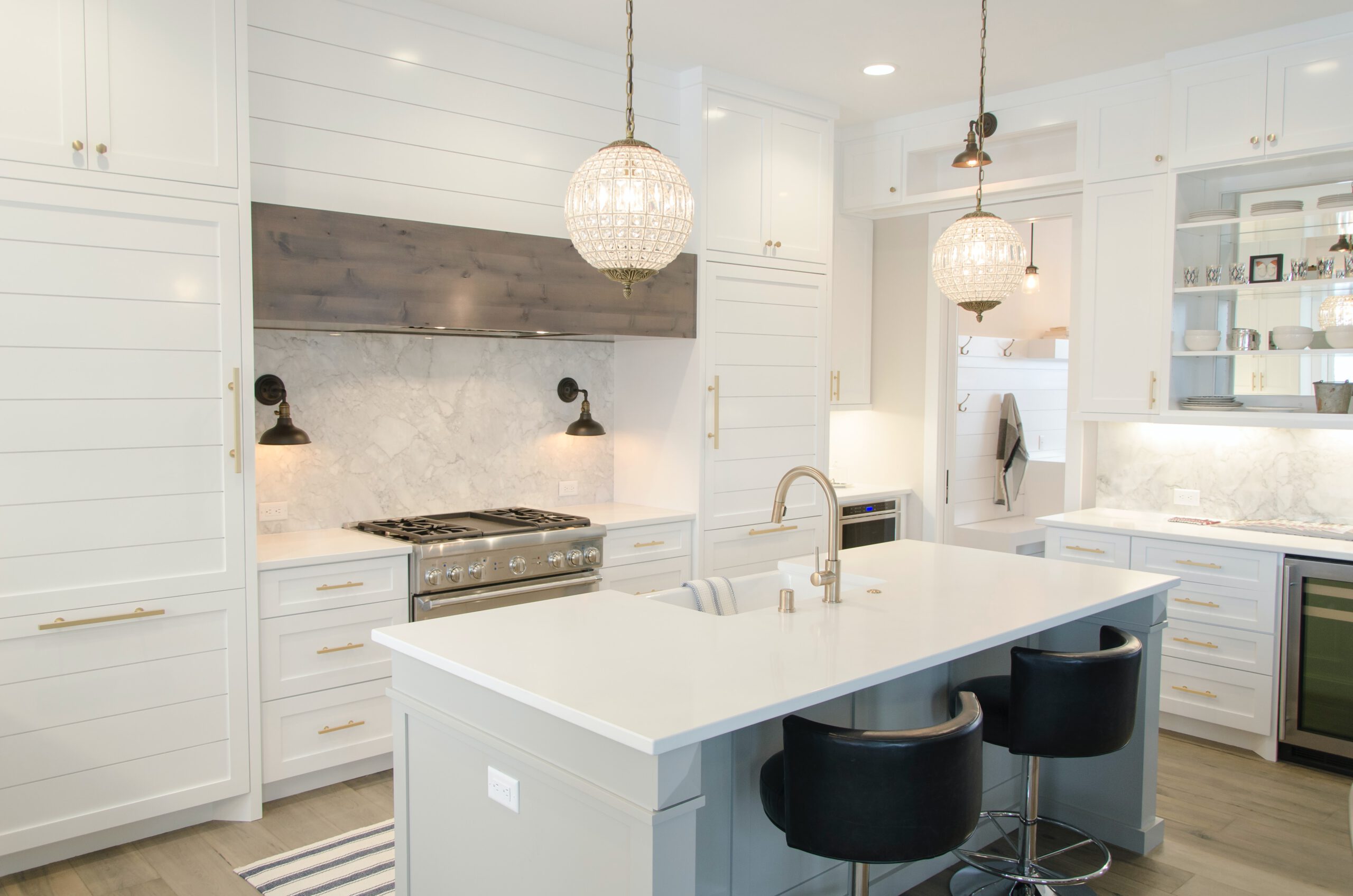 Middle-Tier Counters
Middle -tier countertop choices are often more durable and a bit less costly. Again, it is up to how you will be using the counter.
Quartz
This durable countertop is a composite stone made of resin and quartz. It is a non-porous surface that needs truly little maintenance. For large families, whose kitchen gets a lot of wear and tear, this may be the choice you need.
Concrete
If you are into industrial or farmhouse chic, this is the way to go. It is virtually indestructible… unless it cracks. There are fixes for the cracks, but you will see the repair. So, if that is part of the character for you, it is a good option. Also, concrete can be stained to almost any color you want.
Butcher Block
Loved by bakers and chefs, butcher block counters are a more affordable method of designing counters. Un-sealed, the counter makes a giant cutting board. On the other hand, sealed, it will maintain its look longer. Usually, butcher block counters are placed as an accent because they do take some care. You will need to oil the counter twice a year, and it will stain easily.
Solid Surface
The Combination of acrylic and resin makes the brands Corian or Avonite solid surfaces. As one of the more affordable options, there are many colors and styles available from which to choose. However resilient they are, you should remember they are not resistant to heat.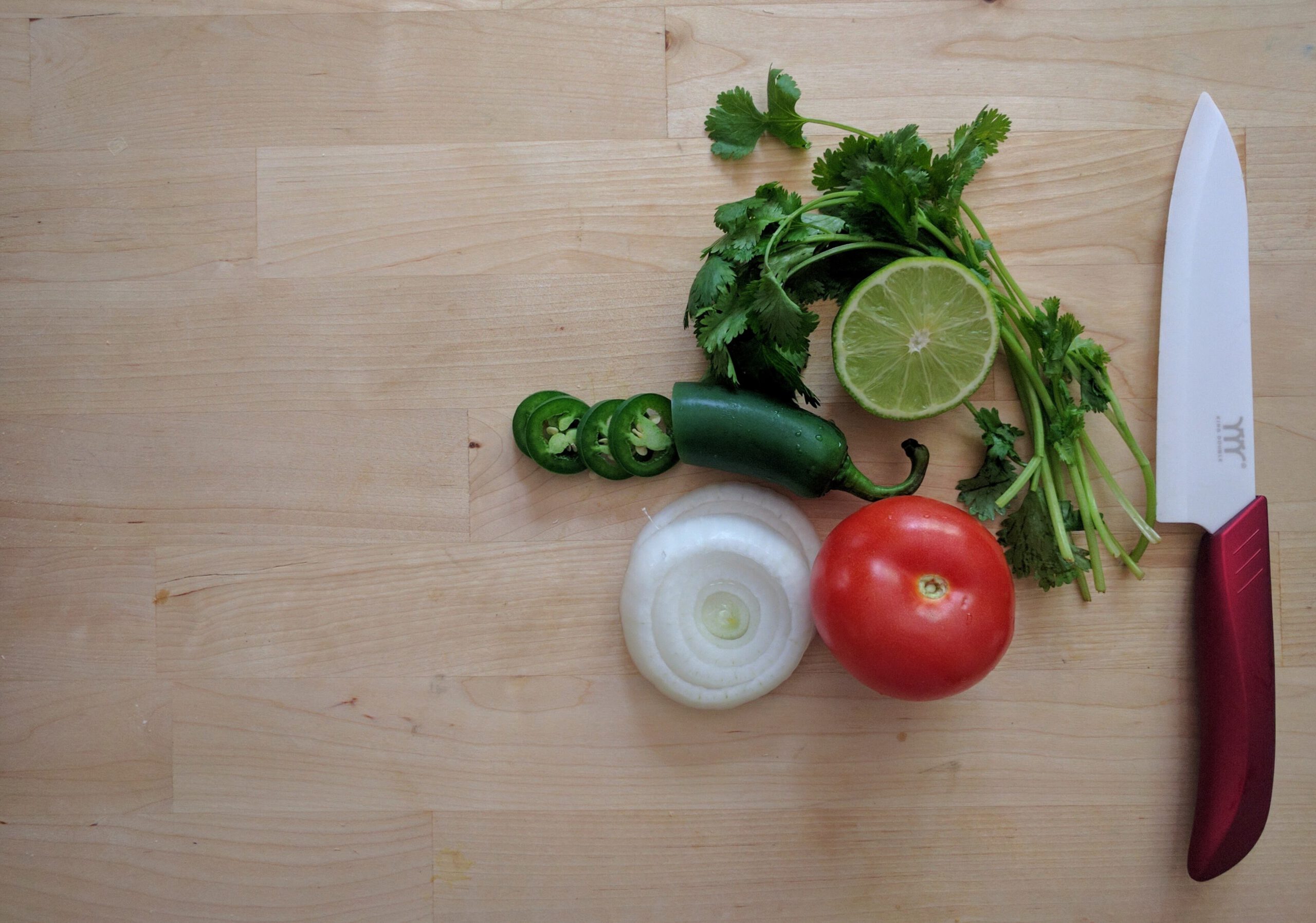 Budget-Friendly Types
These are the options that will save you in the initial cost. However, they are not lesser in many ways. Today's manufacturing of countertops is not what it used to be. They are sturdier and more durable than the tile and laminates of the past.
Tile
A fantastic idea for DIY types is the budget-friendly tile countertop. There are all shapes and sizes with customizable patterns as far as the imagination can take you. Of Course, if you choose tile, you will be choosing grout lines as well. They can be challenging to keep clean. Be sure to choose a darker color than you think you want, so the grime does not show as well.
Laminate
Laminate or Formica can appear as a sign of age if you find it in a home. However, today's laminate can fool the pickier designers at first glance. Furthermore, they can mimic wood and granite as well. Also, you should note that the laminate is non-porous so that it won't harbor bacteria. Most importantly, it is one of the least expensive options, but it will not add value to your home. And don't forget, it is not heat resistant.
Countertop Installation with Georgia Home Remodeling
Finally, no matter your project, kitchen, or bath, the friendly professionals at Georgia Home Remodeling will be happy to install or replace your countertops. Need the counters too? You can count on us.
Contact Georgia Home Remodeling to help you decide on the countertop type you need.