Kitchen remodeling is one of the most popular home improvement projects homeowners undertake, and for a good reason. 
Not only does it increase your home's value, but it also enhances the overall look and feel of your space. 
We'll cover more of the benefits and, if you're thinking about giving your kitchen a good ole fashion makeover, keep reading for five kitchen remodeling ideas that will transform your space.
Before we get started, remember, if you need help remodeling your kitchen, give our team at Georgia Home Remodeling a call! Our home renovation and restoration projects range from painting a room to building a home and everything in between.
5 Benefits of Kitchen Remodeling
Aside from having a new kitchen you love, remodeling comes with plenty of benefits. 
1. Increased Functionality
A kitchen remodel greatly improves the functionality of your space. Most remodels will optimize your kitchen's layout, add storage solutions, and bring in new, state-of-the-art appliances. 
Who doesn't love more storage and room to cook? 
2. Enhanced Aesthetics
One of the most common reasons to remodel your kitchen is to transform the look and feel of your space to make it more stylish and visually appealing. This is your chance to bring your dream kitchen to life! 
Changing a few simple elements can have a big impact on the overall aesthetics of your kitchen. You'll notice improvements by upgrading your: 
Cabinets

Countertops

Lighting
3. Improved Home Value
Not only will a kitchen remodel increase functionality and enhance aesthetics, but it will also improve your home's value.
Remodeling and upgrading any space in your home increases the value of your home by making it more attractive to potential buyers. 
4. Energy Efficiency
In most cases, during a kitchen remodel people will switch to energy-efficient appliances. In the long run, these will help reduce your energy bills and carbon footprint.
5. Health and Safety
In older houses, some of the materials used were toxic and unsafe. This means a well-designed and updated kitchen can improve the health and safety of your space considering you'll be using safer and more sanitary materials, such as non-toxic paint and flooring, and adding proper ventilation to remove harmful pollutants.
As you can see, there are plenty of benefits to remodeling your kitchen. If we've piqued your interest and you're ready to dive into your kitchen remodel, here are five ideas to transform your space!  
5 Ideas for Kitchen Remodeling
Here are our best ideas for remodeling your kitchen: 
1. Upgrade Your Cabinets
One of the quickest and most significant changes you can make to your kitchen is to upgrade your cabinets. Cabinets are the focal point of your kitchen, so changing their color, style, or finish can make a huge impact. 
Outdated or Damaged Cabinets
If your cabinets are outdated or damaged, consider refacing or replacing them. Refacing involves covering your existing cabinet boxes with a new veneer, while replacement involves removing your old cabinets and installing new ones. 
If you want to go the extra mile, consider installing open shelving or glass-front cabinets to display your dishes and kitchen accessories. This can add more visual appeal and elevate the look of your space. 
Cabinet Designs
When considering the design of your cabinets, it's important to think about the overall style and feel you want to achieve.
For example, if you prefer a more traditional style, consider raised panel doors with ornate detailing. If you prefer a modern look, opt for flat-panel doors with sleek hardware. When it comes to cabinet finishes, white and gray are popular choices that offer a timeless and sophisticated look. 
However, if you want to add some warmth and depth to your kitchen, consider darker wood finishes like espresso or cherry.
2. Install a Kitchen Island
A kitchen island not only adds counter space and storage, but it can also serve as a gathering place for family and friends. If you have enough space, consider installing a kitchen island. These are very versatile and can be customized to fit your needs, whether you need more storage, a sink, or a stovetop. You can also add seating to the island, making it a multi-functional space for cooking and entertaining.
As you design your kitchen island, think about how you plan to use it. 
Do you need extra counter space for meal prep? 

Would you like a sink or cooktop installed? 

Do you want more seating for guests? 
These questions will help you determine what size and layout you will need. Additionally, when you add a kitchen island to your space, make sure you incorporate design elements that complement your existing (or future) kitchen decor. 
For example, if you have a farmhouse-style kitchen, consider using a rustic wood or stone finish on your island.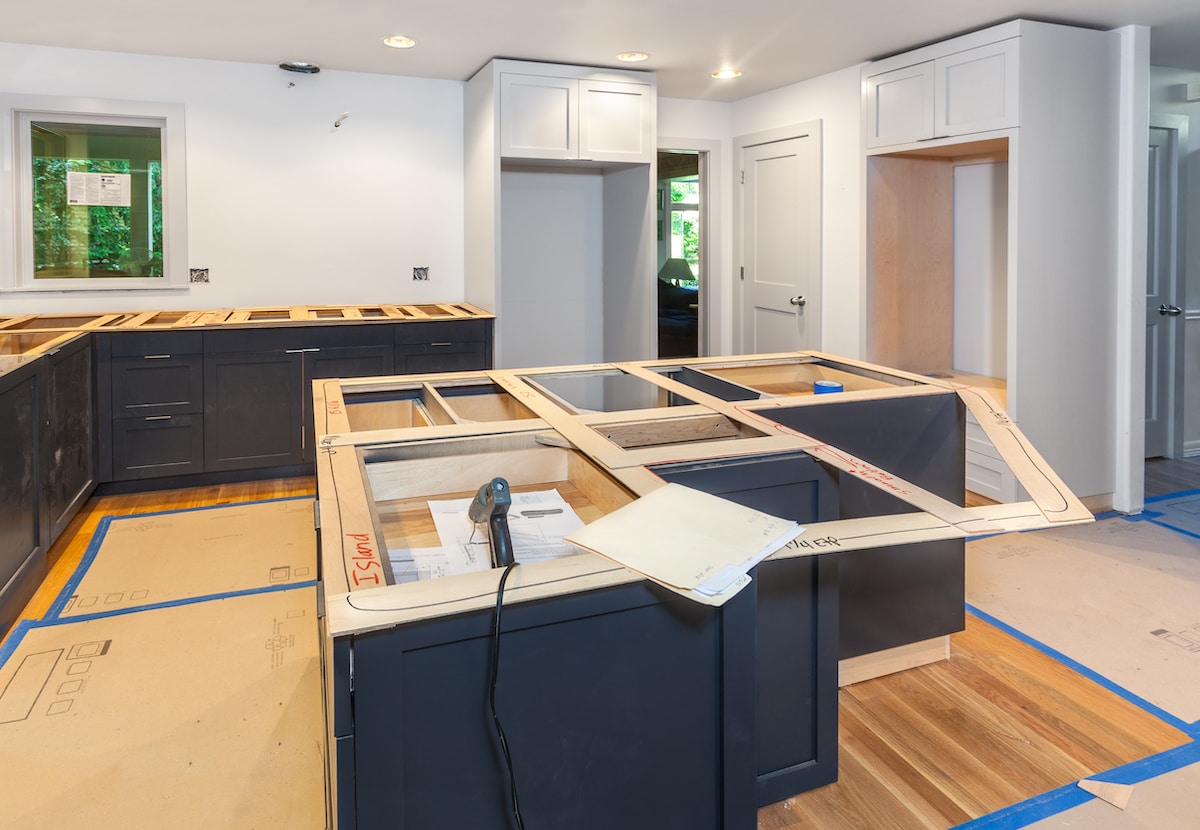 3. Upgrade Your Kitchen Appliances
As we mentioned previously, a kitchen remodel is the opportune time to upgrade your appliances if they are outdated, not working correctly, or no longer match the aesthetic of your kitchen.
New appliances not only look sleek and modern, but they can also help lower your energy bill. Look for appliances that are Energy Star certified, which means they use less energy than traditional appliances. Stainless steel appliances are still trendy, but black stainless steel or matte finishes are becoming popular as well, so keep that in mind as you shop. 
When selecting appliances, think about your cooking and entertaining habits. 
Do you need a large refrigerator to store food for your family? 

Would you like a double oven for baking? 

Do you prefer a gas or electric cooktop?
These questions will help you determine the style and size of appliances you need. 
Additionally, appliances have begun incorporating smart technology. For example, refrigerators now can come with a built-in camera or a dishwasher that connects to your smartphone. This is a great way to modernize your kitchen. 
4. Improve Your Kitchen Lighting
Adding lighting to your kitchen enhances its ambiance and functionality. Consider adding pendant lights over your kitchen island or sink for task lighting. You can also install under-cabinet lighting, which provides additional task lighting and creates a warm glow in the space. If you want to make a bold statement or add more visual appeal, consider installing a chandelier or statement lighting fixture above your dining table or kitchen island.
As you plan out your kitchen lighting, think about the different types of lighting you need, including:
Ambient

Task

Accent lighting
Try to incorporate all three types of lighting. This creates a layered lighting scheme and enhances your kitchen's functionality and aesthetics.
5. Update Your Kitchen Countertops
Your countertops are one of the most used and visible features in your kitchen, so upgrading them makes a big impact on your kitchen's overall look and feel. 
There are a variety of countertop materials to choose from, including: 
Granite

Quartz

Marble

Laminate
Granite and quartz are durable and low-maintenance, while marble offers a luxurious and timeless look. Laminate countertops are an affordable option that comes in a variety of colors and patterns.
When choosing your countertop material, consider your lifestyle and design preferences. 
Do you need a surface that can withstand heavy use and spills? 

Do you prefer a bold or neutral color palette? 
Don't forget to think about the edge profile of your countertops.
The edge profile is a small detail that can make a big difference in your kitchen.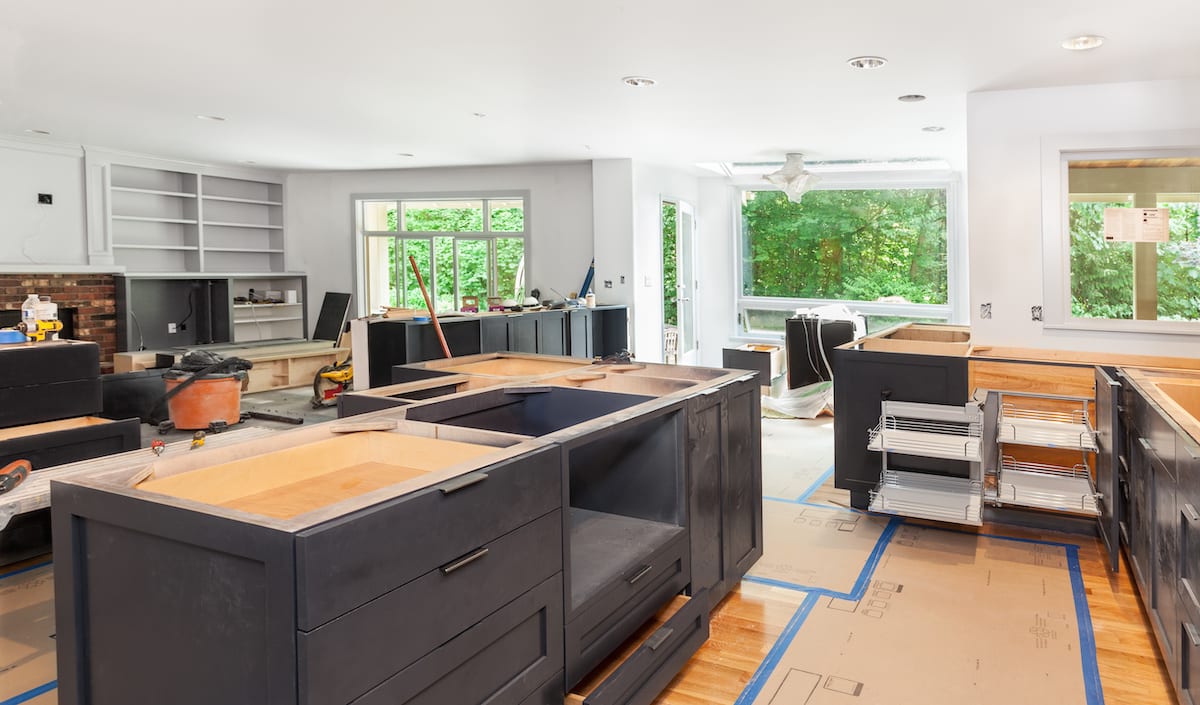 Transform Your Space with a Kitchen Remodel
Remodeling your kitchen can feel like a huge undertaking, but once it's done, it provides plenty of benefits, like: 
Increased functionality

Enhanced aesthetics

Improved home value 

Energy efficiency

Health and safety
If you're getting started on a kitchen remodel but aren't sure where to start, we suggest you begin by: 
Upgrading your cabinets

Installing a kitchen island

Upgrading your appliances

Improving your lighting

Updating your countertops
By focusing on these five areas, you can transform your space into a functional and beautiful gathering place for your family and friends. 
Need help getting started? Give our team at Georgia Home Remodeling a call! We are dedicated to providing great service and quality work at a fair price. From the initial contact until the job's completion, we will be prompt, courteous and communicative, and will always do exactly what we promise to do at the price we quoted.
We are fully licensed and insured home renovation contractors, and our diverse and experienced crews include carpenters, painters, electricians, plumbers, flooring specialists, and HVAC professionals. So matter what you plan to do in your kitchen, we can help! 
With a little planning and creativity, you'll soon be cooking and spending time in the kitchen of your dreams!