Georgia Home Remodeling Comes to the Rescue When Your Home is Damaged.
What Should I Do After My Home Is Damaged by Fire, Water, or Disaster?
It is the kind of thing no one likes to have happened. Natural disaster strikes most areas of the country with tornadoes, hurricanes, earthquakes, fire, flood, and more. It can be too chaotic, confusing, and scary if you have experienced a home fire, water, wind, or other damage. So, what do you do first when your home is damaged? Who do you call to get your home fixed quickly and with as little interruption to your routine as possible?
Georgia Home Remodeling provides quick service and quality work when disaster strikes. From the initial contact until the job's completion, we will be prompt, courteous, communicative. We will always do precisely what we promise at the price we quote. We know you don't need any additional surprises when your home is damaged. That is why we aim to make the remediation as painless as possible at Georgia Home Remodeling.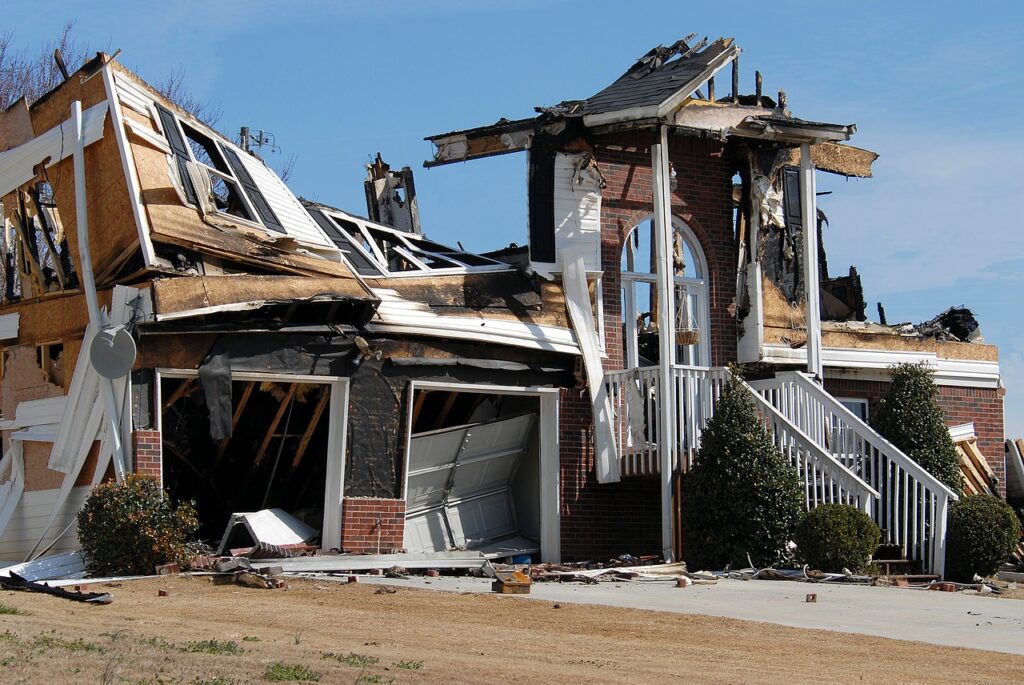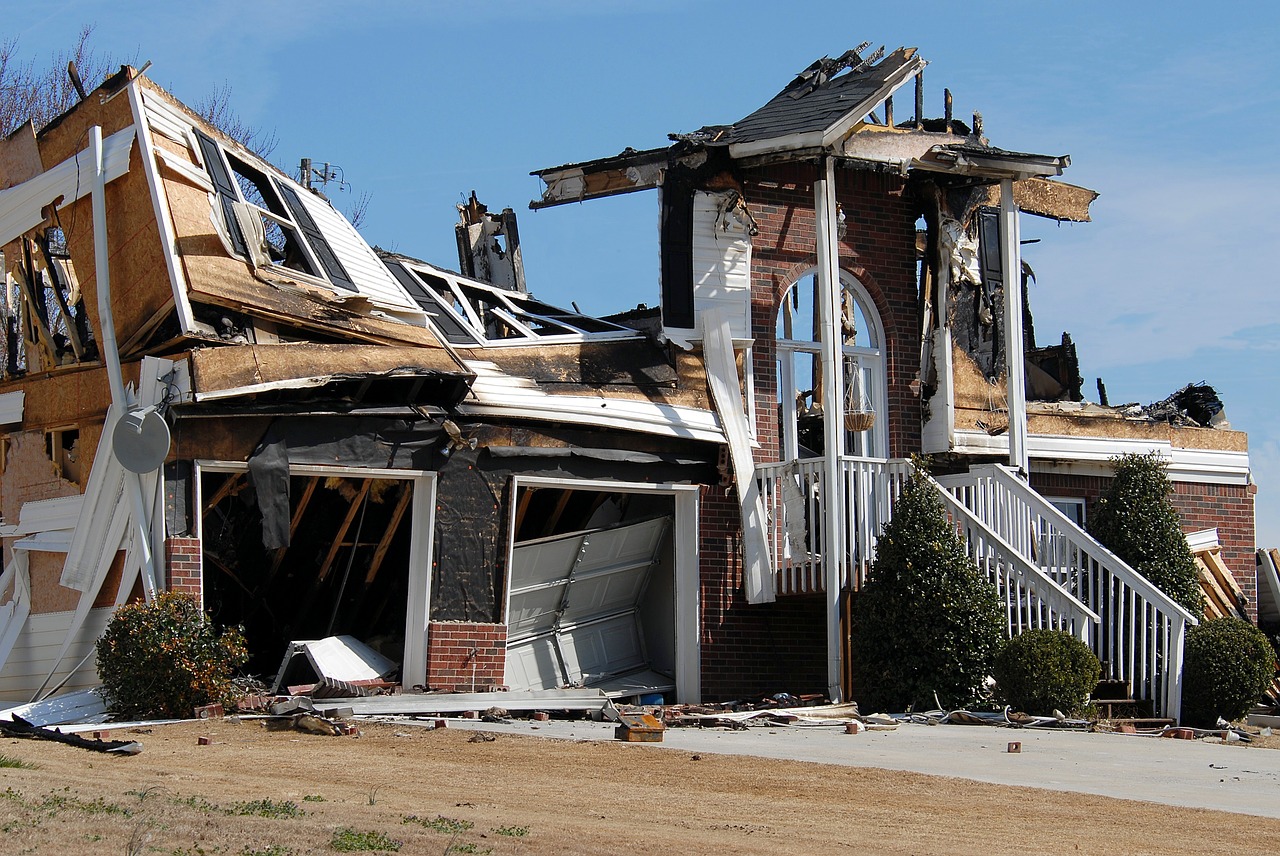 Here is What We Suggest When Your Home is Damaged by Disaster
Contacting a local contractor that you can trust is so essential in this phase of the process. But first, there are some things you need to do on your own before the renovation can even begin. Here is what the Georgia Home Remodeling experts suggest to get started and get back to your new normal.
Sustained Medical Injuries
If you or any family members or pets have sustained an injury during the damage, immediately contact your doctor or vet. If the situation warrants it, make a trip to the nearest emergency room to get stable and start your healing. After all, you are the most critical and vital part of your home.
Also, be sure to document all injuries with pictures, a clear description, and a note from the treating physician.
Secure Your Home and Get Clearance to Re-Enter
Obviously, you will want to secure your home. There may be significant safety issues present. So do not enter until you get clearance from the fire department or other professional that your home is safe enough to re-enter.
Prevent Further Loss
In the chaos, often folks will forget this critical step. Homeowners need to make sure that the water has been turned off, electricity is not an issue, or the fire is entirely out. From there, you can salvage any items you can. Finally, photograph and video the damage to provide proof to your insurance agent.

Assess the Damage
Unfortunately, you will need to take a look around the home and assess the damage that has been done. This can be quite an emotional time. You can wait for your insurance agent or remodeling company if need be. But having an idea of what you know will need to be done prepares you for the inevitable surprise repairs that will occur. Check for the following damage:
Roof Damage:

 are there holes in the roof, shingles torn off, or leaks created by the damage?

Window Damage:

 Are all of the windows still intact? Are there any cracks or broken seals?

Exterior Wall Damage:

 Be careful walking around the home as you look for broken bricks, wall cracks, damaged siding, paint, and outdoor appliances.
Contact Your Insurance Agent When Your Home is Damaged
Your insurance agent can point you in the right direction to begin filing a claim, checking your coverage, and what steps to take next. Here are some essential questions to have answered by your insurance company.
Does your insurance pay for relocation or a place to stay during the renovation?

What is your deductible, and which items apply to it?

Who is responsible for debris removal?

Where can you store the things you were able to salvage?

When will payments begin?

Are there payout limits?
Then you will need to gather photographs and video images to make a loss profile for the insurance company to review.
Contact A Home Remodeling Company
After your home has been impacted by water, fire, or other disasters, contact a company that can rebuild your home and property back to surpass pre-loss condition. You will want a company that can quickly respond to your call and immediately follow up with an inspection, estimates, and specifications to get you back on your feet – fast.
Do the research you need to feel comfortable with the decisions they will be making on your behalf. 
This is not the time to rush through. Ask neighbors, friends, relatives, and consult internet ratings to find the right company for you.
Additionally, don't forget to ensure they are a licensed and insured company. The last thing you need is a company that will end up causing you even more headaches in the end.
Contact Your Mortgage Company
Your lender can educate you on what remedies you may have available to you depending on the amount of damage to your home. You see, your loan may have provisions to consider during times of personal tragedy. At a minimum, you could discuss your situation, and they may work with you to lower your payments or defer them until you get your home back to good shape.
Replace Vital Documents
While you are waiting for everyone to get in gear and fix your home, you will want to get your affairs back into order. Suppose the fire or flood damage destroyed any of your vital documents like your driver's license, passport, birth, marriage or death certificates, etc. In that case, you could start making calls to get them replaced.
Cancel or Postpone Utility Companies
If the fire or flood damage destroyed your home to the point that you can't live in it, you can contact the utilities to stop paying for the electricity, water, cable, etc. Communication is critical here.

Preventing Natural Disaster Damage
Is there a way to prevent damage from happening to your home? Well, the simple answer is no. But you can do a few things to help secure the home for minimal damage. Her is what we suggest:
Make sure all trees in the yard are well-rooted or staked down.

Prune trees and bushes to ensure minimal downed branches.

During inclement weather, move any objects that could fly and do damage.

Get regular plumbing inspections to ensure there are no damaged pipes in the home.

Make sure to check all fire alarms and security systems on a regular routine.
When these things have been done and a disaster strikes, you will feel you did all you could to prevent additional damage to your home. That knowledge can be very comforting in a great time of need.
When Your Home is Damaged, Know Who to Turn to.
Knowing who to turn to when your home is damaged is a big help. There is so much confusion, frustration, and tension in these moments that any minor issue can turn into a big problem if you let it. But that is why Georgia Home Remodeling is here. We take the worry and frustration out of the process for you.
To recap, here are the most important steps:

Safety First

Call Insurance Company

Locate a Remodeling Company, like Georgia Home Remodeling.
Georgia Home Remodeling is your Gwinnett-based remodeling and renovation contractor company. We have been serving Metro Atlanta and North Georgia since 1991. We are a fully licensed and insured home renovation contractor. Our diverse and experienced crews include carpenters, painters, electricians, plumbers, flooring specialists, and HVAC professionals. What's more, company president Chris Allen oversees and manages each GHR job. Mr. Allen is also a Certified Graduate Builder, Certified Lead Carpenter, and Certified Remodeler.
Contact us to request a quote and let us help you get that renovation or remodel started.