As the crisp air of fall ushers in a season of change, there's no better time to refresh and transform your living spaces. Just as fashion trends evolve with each passing year, interior design and paint trends also experience their own shifts. The colors you choose to paint your walls can profoundly impact the ambiance and mood of your home. 
In this article, we delve into the captivating world of paint trends for fall 2023, guiding you through an array of palettes and styles that will elevate your living spaces and embrace the essence of the season.
Keeping Up with Paint Trends
The world of interior design constantly evolves, driven by shifts in culture, technology, and personal preferences. 
Paint, as a foundational element of design, plays a pivotal role in creating the backdrop for your home's aesthetic. It holds the power to:
Embracing the latest paint trends not only keeps your spaces up to date but also allows you to infuse the changing seasons' vibes into your home.
Below are some of the best paint trends for fall 2023. 
Embracing Nature-Inspired Hues
As the leaves turn and nature undergoes its transformation, you too can bring the beauty of the outdoors into your home with nature-inspired hues. Deep, earthy tones like terracotta, moss green, and warm browns mimic the rich palette of fall foliage, creating a sense of grounding and warmth. 
These colors seamlessly blend with rustic and organic decor elements, enhancing the cozy ambiance that defines fall.

To incorporate these hues, consider painting an accent wall in your living room with terracotta for an instant touch of autumnal charm. Pair it with earthy textiles, such as cozy throws and cushions, to create a harmonious atmosphere that welcomes both family and friends.
Moody Elegance with Jewel Tones
When fall arrives, it brings with it a certain opulence and drama that can be seamlessly integrated into your interiors. 
Rich jewel-toned colors like deep sapphire, emerald, and amethyst evoke a sense of luxury and elegance that resonates with the fall season's penchant for richness. These colors can create a lavish atmosphere when introduced through:
Accent walls

Upholstery

Artwork
To achieve a balance between grandeur and comfort, consider pairing jewel tones with metallic accents and plush fabrics. Strategic lighting choices can further illuminate your space, highlighting the jewel tones' depth and luster.
Nostalgic Neutrals for a Timeless Appeal
Nostalgia often sweeps in with the fall breeze, invoking memories of cozy gatherings and cherished moments. 
Soft neutral shades, such as warm grays, soft beige, and muted blush, provide a timeless appeal that resonates with the sentimentality of the season. These hues serve as versatile backdrops, allowing you to experiment with various decor elements while maintaining an air of classic charm.
To embrace this trend, consider creating a monochromatic palette for your bedroom, layering different textures and shades of neutral colors. This creates a serene and inviting environment that captures the essence of fall's tranquility.
Playful Contrasts with Bold Color Blocking
Fall is a time of change and vibrancy, making it the perfect opportunity to experiment with bold and vibrant color combinations. 
Color blocking, the art of combining contrasting colors in distinct sections, injects energy and creativity into your interiors. This technique can be applied to both large and small spaces, offering a visually striking aesthetic.
For a daring yet well-balanced effect, choose two contrasting colors that resonate with the fall season. Consider pairing deep orange with cool teal to create a dynamic contrast that represents the changing leaves and clear skies of autumn.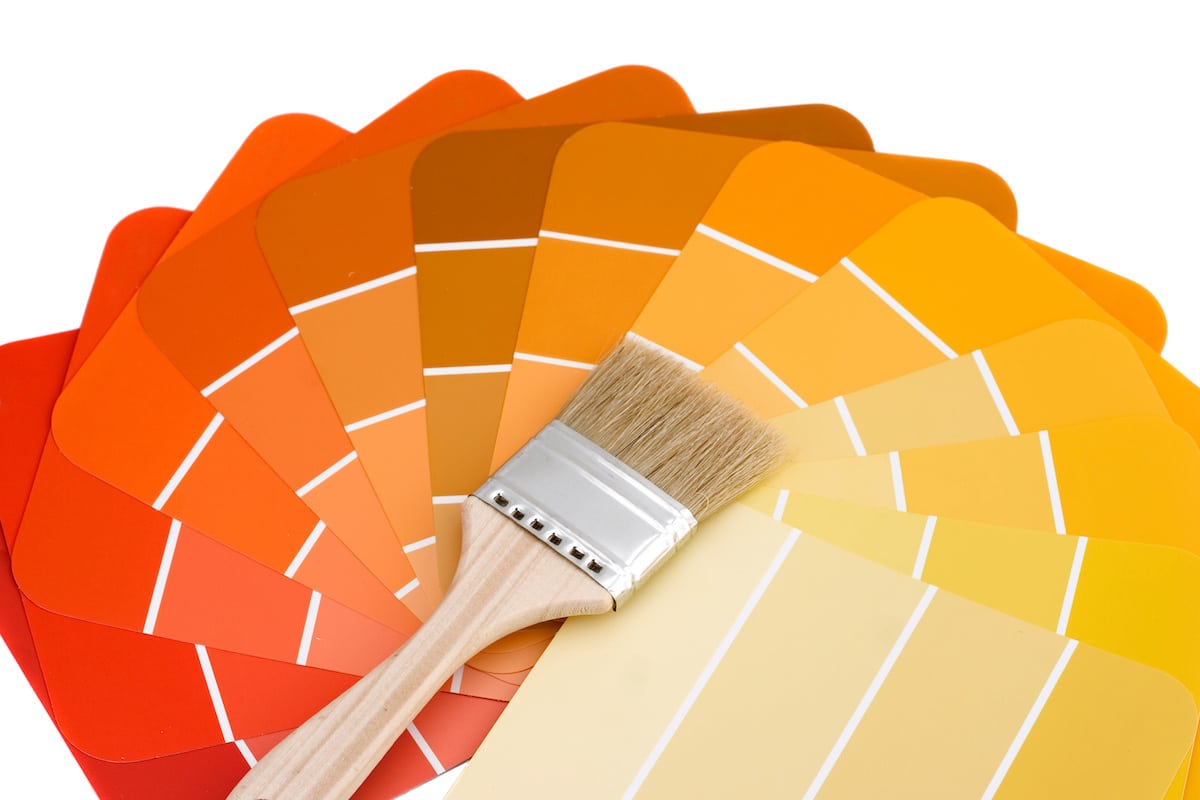 Serene Escape through Cool Blues and Greens
While fall is known for its warm hues, cool colors like blues and greens offer a serene escape from the busyness of the season. Calming shades like soft aqua and muted sage can be integrated into your spaces to create an oasis of tranquility. These colors align with the desire for relaxation during fall, inviting mindfulness and rejuvenation.
To infuse your space with serenity, consider painting your bathroom in soft blue tones or creating a reading nook in shades of green. Complement these colors with natural materials like wood and stone to enhance the connection to the great outdoors.
Textured Statements: Faux Finishes and Material Effects
Texture is an often-overlooked aspect of interior design that can significantly elevate your space. 
Faux finishes and textured paint techniques allow you to add depth and interest to otherwise flat surfaces. Through carefully crafted paint effects that bring an organic touch to your interiors, you can embrace the beauty of materials like:
Consider experimenting with a faux stone accent wall in your dining area or a faux wood beam in your living room. These elements not only add character but also provide a tangible connection to nature, enhancing the fall aesthetic.
Go Bold or Go Home: High-Impact Accent Walls
For those seeking a bold transformation, high-impact accent walls provide a canvas for creativity. Whether through vibrant contrasting colors or intricate patterns, these walls demand attention and become the focal point of your space. Careful consideration of the wall's location and surrounding elements ensures a harmonious and impactful outcome.
To strike the perfect balance, opt for a rich burgundy accent wall in your home office, framed by complementary furnishings and decor. This creates a focused and invigorating environment that inspires productivity.
Minimalism and Monochrome: Modern Elegance Redefined
Minimalism continues to thrive as a design philosophy, and fall offers the opportunity to redefine modern elegance. Monochromatic color schemes provide a minimalist yet sophisticated look, allowing other design elements to shine. This aligns perfectly with fall's desire for simplicity and clarity.
For a touch of monochrome elegance, paint your bedroom in varying shades of gray, from light to charcoal. Incorporate textures through bedding, rugs, and curtains to add depth and prevent the space from feeling sterile.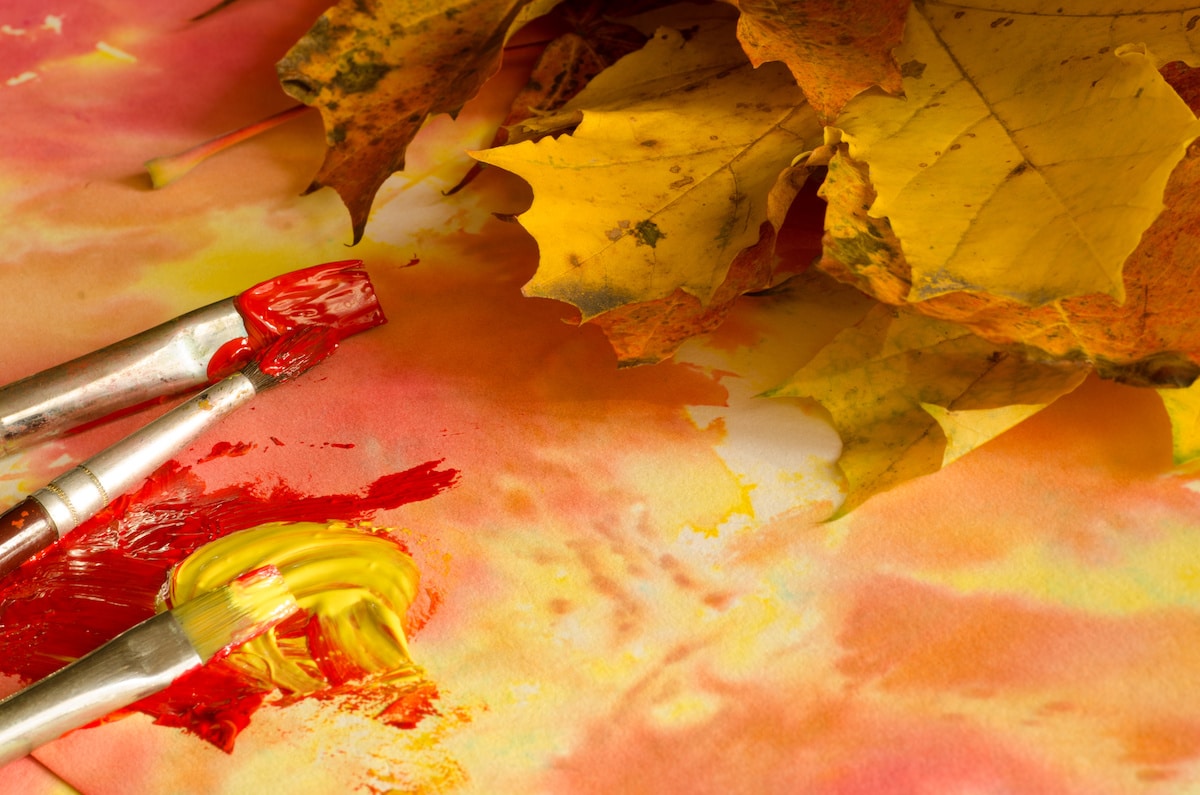 10 DIY Projects to Embrace the Fall Paint Trends
1. Autumn Leaf Stenciled Table Runner
Transform a plain table runner into a stunning fall centerpiece by stenciling delicate autumn leaves onto it. 
Choose a color palette of warm oranges, reds, and yellows, and use a sponge or brush to apply the paint over leaf-shaped stencils. 
The result is a beautiful table runner that captures the essence of the season and adds a touch of elegance to your dining table.
2. Cozy Fireplace Mantel Makeover
Give your fireplace mantel a cozy fall makeover by painting it in a rich, deep color like charcoal gray or dark brown. For added charm, consider distressing the edges slightly to achieve a rustic look. 
Then, arrange a mix of pumpkins, candles, and fall foliage on the mantel to complete the inviting atmosphere.
3. Harvest-inspired Front Door Wreath
Upgrade your front door's appearance with a harvest-inspired wreath. Start with a plain wreath base and paint it in warm fall colors such as:
Burnt orange

Golden yellow

Deep red
Add faux pumpkins, pinecones, and leaves for a festive touch that welcomes guests and sets the tone for the season.
4. Terracotta Plant Pots
Spruce up your indoor and outdoor plants by painting terracotta plant pots in trendy fall shades. Experiment with color-blocking or create a gradient effect by blending different tones. 
These pots will not only add a pop of color to your space but also complement the natural hues of fall foliage.
5. Ombre Acorn Artwork
Collect acorns during your outdoor adventures and turn them into a unique ombre artwork. Paint each acorn in a different shade, ranging from light to dark within a chosen color family. Arrange them on a canvas or frame, creating a stunning gradient effect that captures the transition from summer to fall.
6. Pumpkin Spice-Inspired Kitchen Accents
Revitalize your kitchen by painting wooden utensils, cutting boards, or even cupboard doors in pumpkin spice-inspired shades. Think warm tones like: 
These accents will infuse your cooking space with the comforting aromas and colors of autumn.
7. Falling Leaves Wall Mural
Create an eye-catching feature wall by painting a falling leaves mural in a hallway or living room. Choose a neutral background color and then use various shades of red, orange, and yellow to paint the leaves as if they're gently cascading down. 
This mural will bring the beauty of the outdoors inside and add a touch of seasonal magic to your home.
8. Rustic Wooden Coasters
Transform plain wooden coasters into charming fall accessories by painting them with intricate leaf designs. Experiment with metallic paints for a touch of elegance or opt for muted earthy tones for a rustic vibe. 
These coasters will protect your surfaces while adding a dose of autumnal flair to your living spaces.
9. Grateful Wall Art
Craft a heartwarming piece of wall art that celebrates gratitude. Paint a canvas in a warm background color and then use stencils or freehand brushwork to write the word "grateful" in an elegant font. Add painted leaves or acorns around the lettering to enhance the fall theme. 
Hang this artwork in your living room or dining area as a daily reminder of the season's blessings.
10. Autumn-inspired Rock Painting
Collect smooth rocks and pebbles from your outdoor surroundings and turn them into charming fall decorations. Paint them with whimsical designs like pumpkins, apples, or woodland creatures, using a mix of fall colors. 
Scatter these painted rocks on your mantel, windowsill, or garden to add a touch of playfulness to your fall decor.
Embrace Paint Trends for Fall 2023
As fall unfolds and the world around us transitions, our living spaces can serve as a canvas for self-expression and seasonal embrace. 
Paint trends for fall 2023 invite you to explore a spectrum of hues, styles, and techniques that resonate with the changing environment. Whether you're drawn to the rustic allure of nature-inspired tones or the elegance of jewel hues, there's a paint trend to suit every preference. 
Embrace the transformative power of paint, and let your home become a reflection of the beauty and ambiance of fall. If you need help painting your space, reach out to our team at Georgia Home Remodeling! We offer painting services for every home!