Could Industrial Design Be Just the Style for Your Home?
In recent years, Industrial Design has become all the rage. This style gets its inspiration from the workshops, factories, and warehouses of the old industrial world. Designers describe the concept as authentic, fearless, raw, and organic. If this design trend is just what you are looking for, then go for it! But suppose you are unsure how to execute the industrial design without going too far. In that case, this is the article you need.
As the next in our Design Series, Georgia Home Remodeling is here to help in any way we can with your home remodel. So, keep reading for more details on Industrial Design.
Feeling the Industrial Design
The art of industrial design incorporates a space that feels as if it was once an industrial space; it is that easy.
However, at first glance, one might think the look a bit harsh or cold. But when the comfort elements and sleek design elements are added in, the look is utterly high-end and fabulous.
One good thing about industrial style is that you can easily blend other designs within each room.
Want a touch of modern? It works.
Need a bit of glam? Toss it in there to heighten the entire look.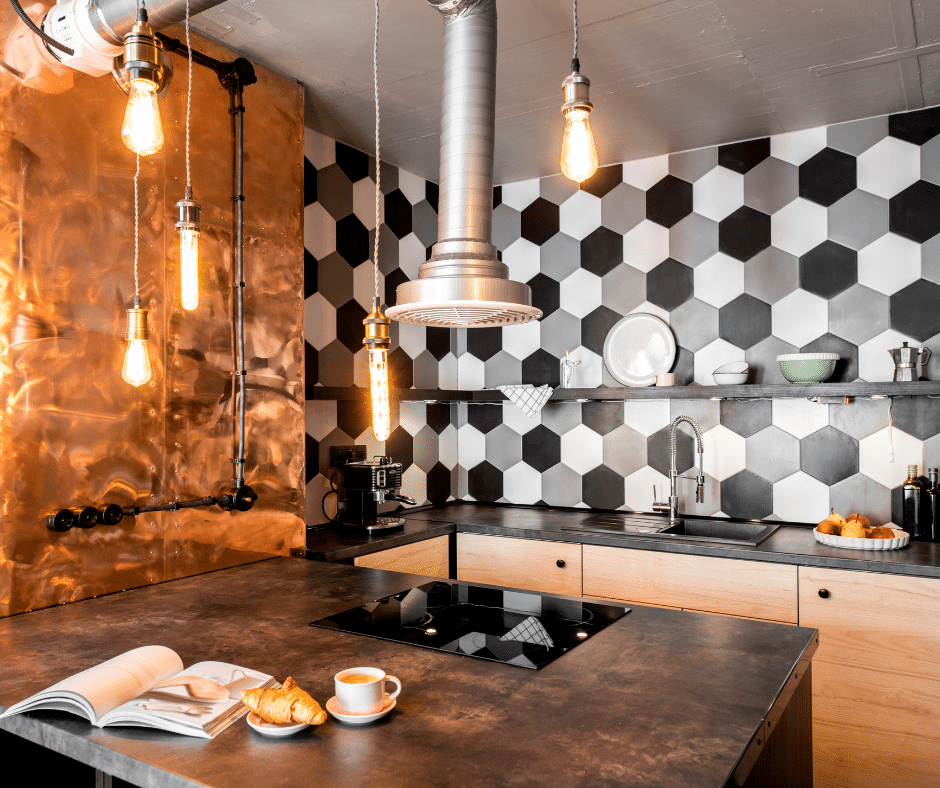 The Elements of Industrial Design
If you are unsure how to put together an industrial design look without looking like you're living in a barn… or a warehouse, you are in the right spot. Here are some of the key elements to include.
Exposed Pipes are A Must: The first and most essential part of this concept is the exposed vents, pipes, and beams. Galvanized steel electrical conduit, copper water pipes, tarnished beams, AC ductwork, and more should be on full display on walls and ceilings. No coverings or false walls are needed here.
Open Floor Plans: Of course, a converted warehouse is going to have an open plan. So, why alter it? Thoughtfully arrange furniture to highlight different areas. And the lighting in each area sets the tone for the space. Just remember, the idea is to have a room that looks wide open, so allow furniture and rugs to define spaces rather than walls.
High Ceilings: If you have high ceilings reminiscent of old factories, bonus! They are a perfect way to capture the exposed vents and pipes without feeling crowded.
Wood with Metal: Metal elements combined with wood are another critical part of this concept. They blend well and give the rustic, warm, and earthy elements needed to complete the look.
Bold Brick Walls: Raw and fully exposed brick walls are a gem if you have them in your home. If not, you can always add brick where appropriate.
Concrete Floors: The perfect flooring for any industrial style is concrete. They are durable, waterproof, and resistant to scratches. And they are unique and beautiful on their own. So, you need remarkably few throw rugs, just enough to soften certain areas.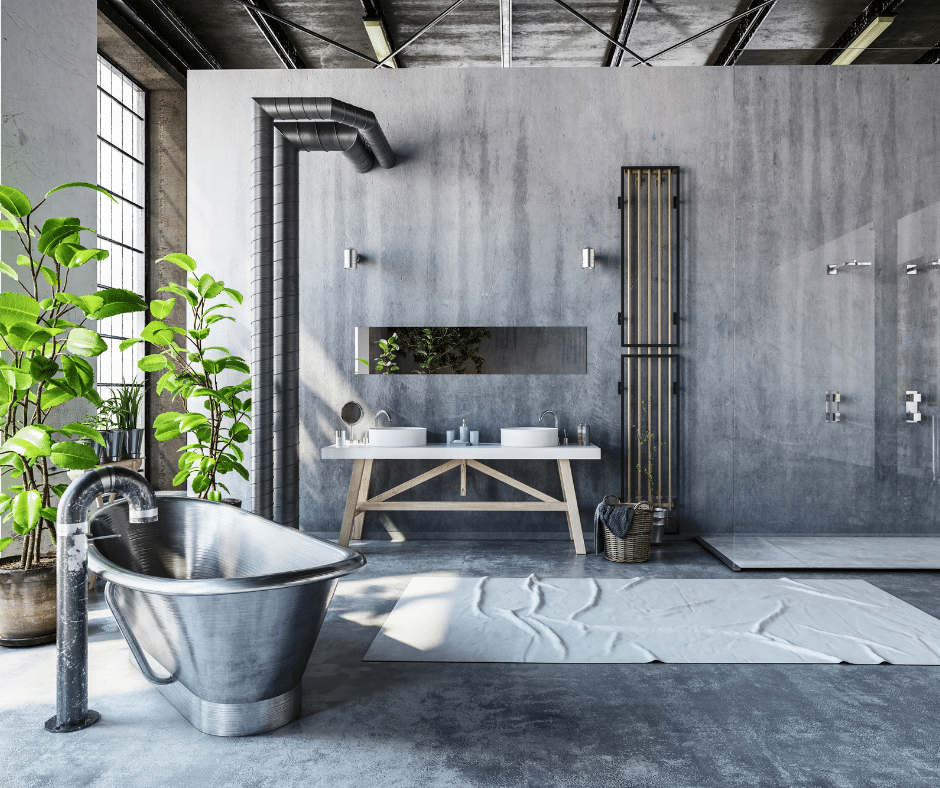 Merge the Old with the New: Simple furniture with a sleek design and vintage flair adds to the look of old and cared for. Try antiques that have straight lines and vintage modern style to complete the décor for the rooms. Perhaps there is a misplaced window in a repurposed building — display it. Then, if there is an old steel door, keep it. Make use of the old to tell the story of the place.
Lights Galore: Pendant light, track lighting, chandeliers, and floor lamps; these are the light sources that are perfect in industrial style. In fact, the more, the better, which makes it a way to divide the open rooms into sections. Try choosing lamps with a steel, copper, or iron base for an added touch.
Soothing Earth Tones: When you already have brick, lumber, metals, and more in the room, the other colors should soothe and not compete with the natural elements. So neutral tones in gray, cream, white, black, and the like.
If you want a cabinet to stand out, try black. Then if you need a clean look, try white. Need soothing tones? Go for the muted variations, like gray, cream, and taupe.
A Few Plants: So much of the natural is already a part of the design. Why not add color with some greenery. Remember, the look is open and clean, so do not overcomplicate with too many plants. Keep it simple.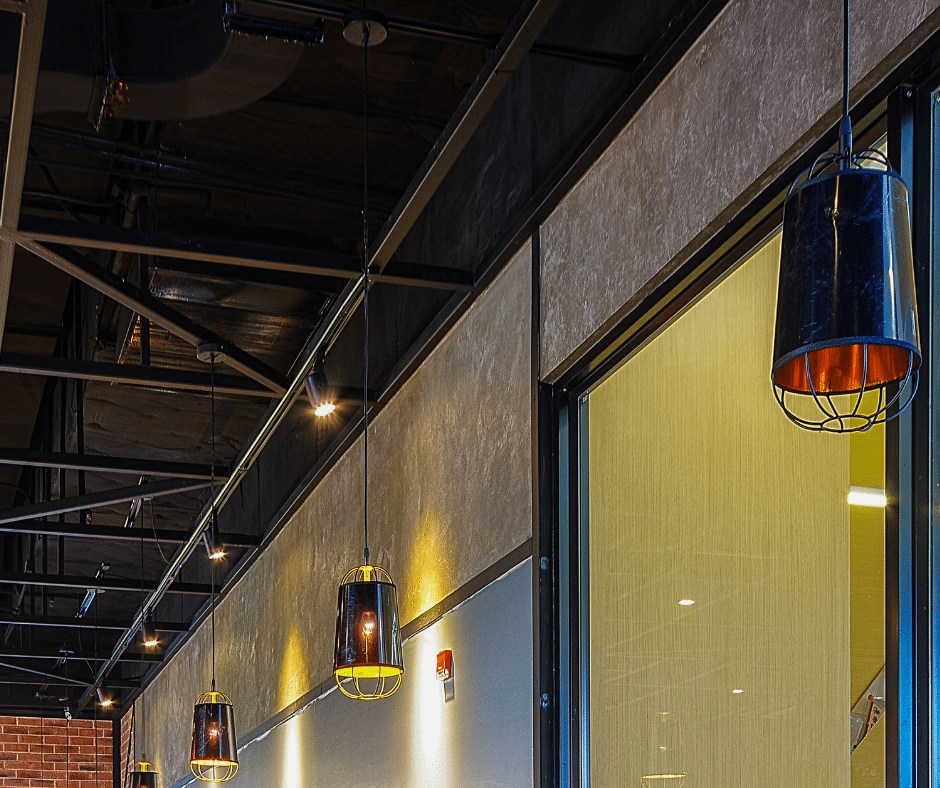 How Georgia Home Remodeling Can Help You Design Your Home
Remodeling comes in all shapes and sizes and even colors. Industrial design is an easy remodel for professionals and can easily be incorporated into any home. It is not just for the urban areas anymore.
Industrial Bathrooms: These bathrooms utilized steel or copper pipes with crisp white tiles and concrete or natural element counters. Make sure the lighting and fixtures capture the industrial vibe, and you are well on your way. And Georgia Home Remodeling can remodel your bathroom to fit the concept.
Industrial Kitchens: Hardware, clean lines, exposed pipes, beams, and lighting all help to make an industrial kitchen come to life. Our team at Georgia Home Remodeling reinvents kitchens each day with intentional design and flair.
Open Concept Industrial Living Spaces: Want that immense open industrial feeling? Perhaps we can open the ceiling, expose the ducts, and more. We can even knock down some walls and upgrade to concrete floors. Then you will have an industrial start Georgia Home Remodeling would be proud to feature.
There are many scenarios we could mention here. But now that you understand the industrial design concept, why not go for it?
Intentional design for the things you enjoy is a worthwhile goal to reach for. And remodeling your home in the Industrial Design style concepts can maximize your joy in the space in which you live each day.
Georgia Home Remodeling is here for all your home remodeling projects. Our team provides all the service you need to make that home look just as you have always dreamed it could. So, give your Georgia Remodeling team a call to see how we can help you live the Industrial life to the fullest with a custom design and remodel.