How to Achieve the Bohemian Style Without Looking Cluttered
Bohemian style is everywhere these days. And many of us think the design concept looks fun but challenging to achieve. This article will let you know just how to get that Bohemian style without making your home feel cluttered.
As with any style, there is a right way and a wrong way to achieve the look. Identifying the design series is the first step. Now you can learn all about the feelings the style creates and the elements that go into the design.
At Georgia Home Remodeling, we embrace all design series feelings and elements. Our goal is to help you get that look in a remodel or renovation of your current home. And there are plenty of ways we can help you do just that.
Come along on this Bohemian style journey with us and feel the layers of art and beauty together we can create.
The Feeling of Bohemian Style
Go ahead and break the rules! This Bohemian style is a personal, unconventional, artistic expression for the carefree spirit. Breaking the design into a group of feelings would include these:
Relaxation
Warmth
Comfort
Eclectic
Lived in
And Colorful
All those feelings awaken the spirit on a Bohemian journey. Here the artist expresses themselves from the walls to the floor. However, it is not cluttered and unintentional. It is clearly a curated design rather than a piling of things. In order to achieve this look, you should start with the essential elements of the concept. Then you can really run with the things you love surrounding you from day today.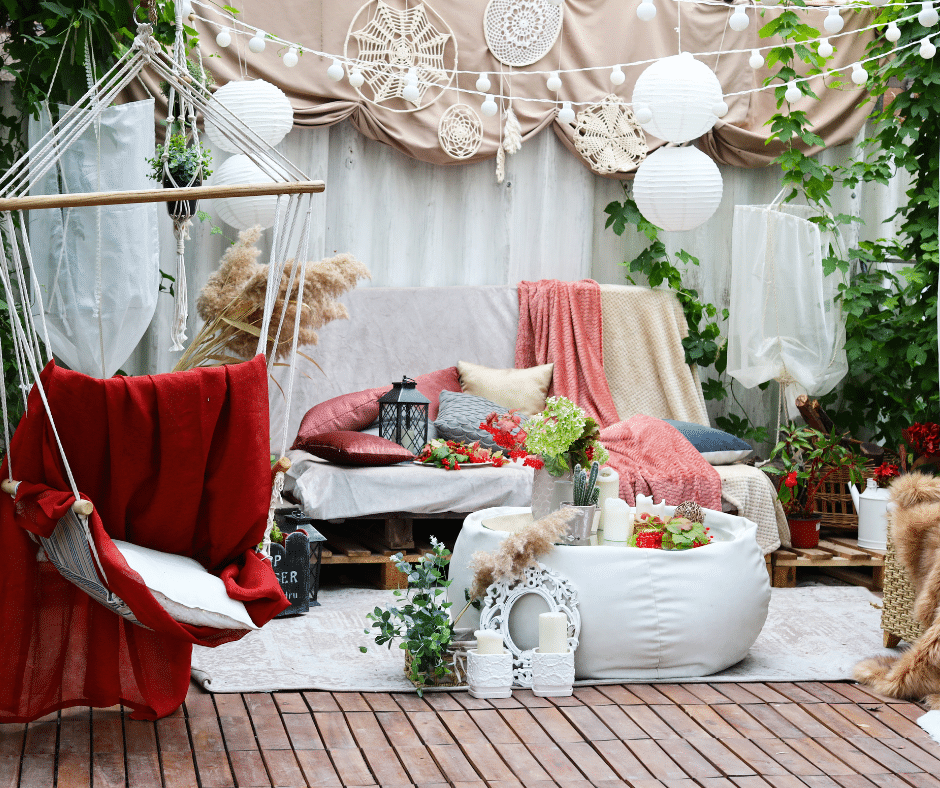 The Elements of Bohemian Style
The approachable and cozy elements of the Boho design are clearly on-trend at the moment. The rooms of a Bohemian style home tend to share similarities even though they are not all just alike. Most often, you will see this concept in the homes of artists, travelers, actors, and writers. Those who love creativity and need abundant inspiration surrounding them express themselves through design. And it is utterly personal with the owner's touches felt from top to bottom.
To pull off this look, here is where Georgia Home Remodeling suggests you begin.
A Neutral Base
No matter the room you are designing, you will want a neutral base tone to ground the space and allow expression in later stages. Choose paint in warm earthy tones to create that perfect canvas for your artistic elements.
GHR suggests you hire a professional painter like one from our remodeling team. They have tricks and tips that will make the paint job look polished, calming, and crisp. Not to mention, the sooner the painting is done, the quicker you can begin decorating. And that is the fun part!
Low-Lying Furnishings
Poufs, low-back couches, ottomans, bean bag chairs, pillows, and throws are all a part of the Bohemian style trend. And it does not have to be brand new. Try thrift and antique stores to find that perfect boho piece of furniture that will anchor the room. Then you can add to your heart's content.
Distressed is Best
Bohemian style is all about loved items, so distressed pieces fit right in. You want these items to look as if they have an exotic tale to tell. Find distressed details in antique stores, flea markets, and thrift stores to add to your personal stash of loved items. This can be anything from a chair to art.
And again, if you love it… try it out.
Bright Colors
Yes! This is the design for bright colors and happiness everywhere. When you have started with a neutral base, your bold colors will really pop. Bohemian colors are usually luxurious jewel tones like red, navy, deep greens, and purples. Choose one to highlight throughout the room and then add others to create the feeling you desire for the room.
Lighting Everywhere
Lanterns, string lights, chandeliers, candles, and table lamps are all good light sources. They allow the person in the room to create a mood in whatever area they want.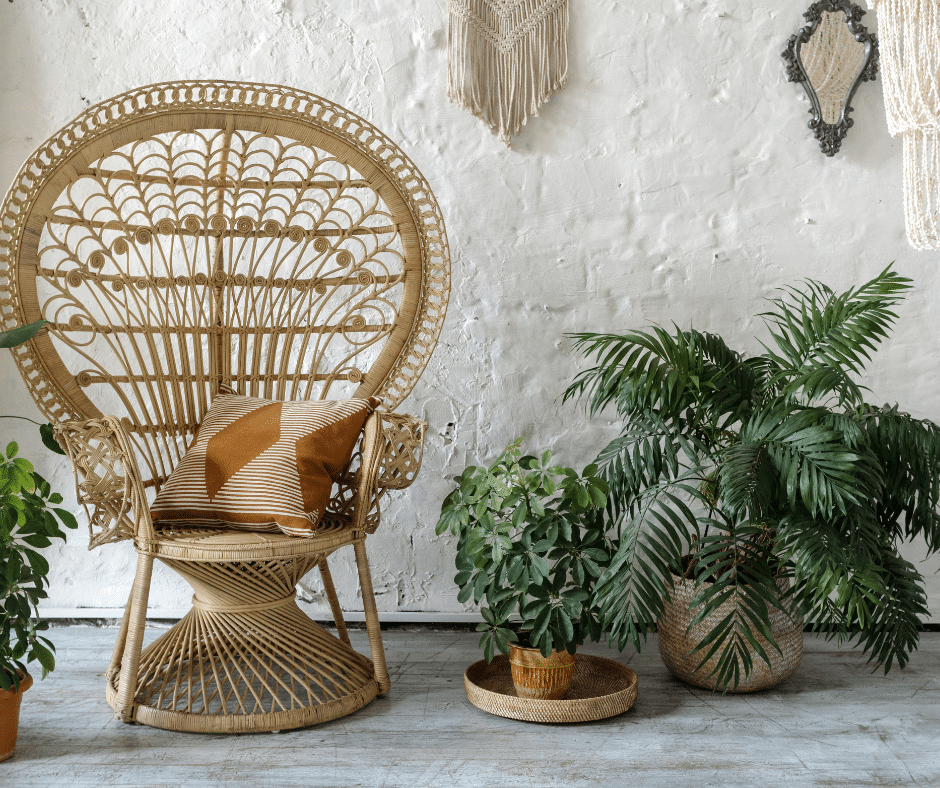 Botanicals Galore
Plants and more plants enlighten and refresh the Bohemian rooms. They add texture and natural beauty while cleaning the air. What could be better? Get creative with planters, standings, hanging baskets, and more.
Pattern and Texture
Pattern and texture are significant components of the boho style. Bring in a variety of styles and textures and play around until they create the feeling you are looking for. Try some of the following, and then eliminate those that do not feel like YOU. Try baskets and macrame, natural fiber rugs, wood furniture and accessories, stacks of books, tapestry, and pillows of different textures and weaves.
The number one thing to remember when adding pattern and texture is to keep one consistent color throughout. If you have a neutral base but want to add red… go for it. Make sure there is a drop of red somewhere in most patterns and in some textured pieces. This tip helps to create cohesiveness in an eclectic design.
Mirrors and Metallics
Want to make your room feel larger, brighter, and more glamorous? Add mirrors and metallics. These elements will add to the feeling of luxury while playing off all of the colorful tones in the room. And they give the eye a place to focus in a busy room filled with good things to look at.
Layers Upon Layers
Layer rugs, layer pillow, layer throws, and layer some more. Layering adds texture, color, and more to a room. You can choose a solid or natural fiber, then go with a funky print, bold splash of color, or a unique texture. The cool thing here is you do not have to have two of the same to create balance like in some styles. If you love it, try it out in your space.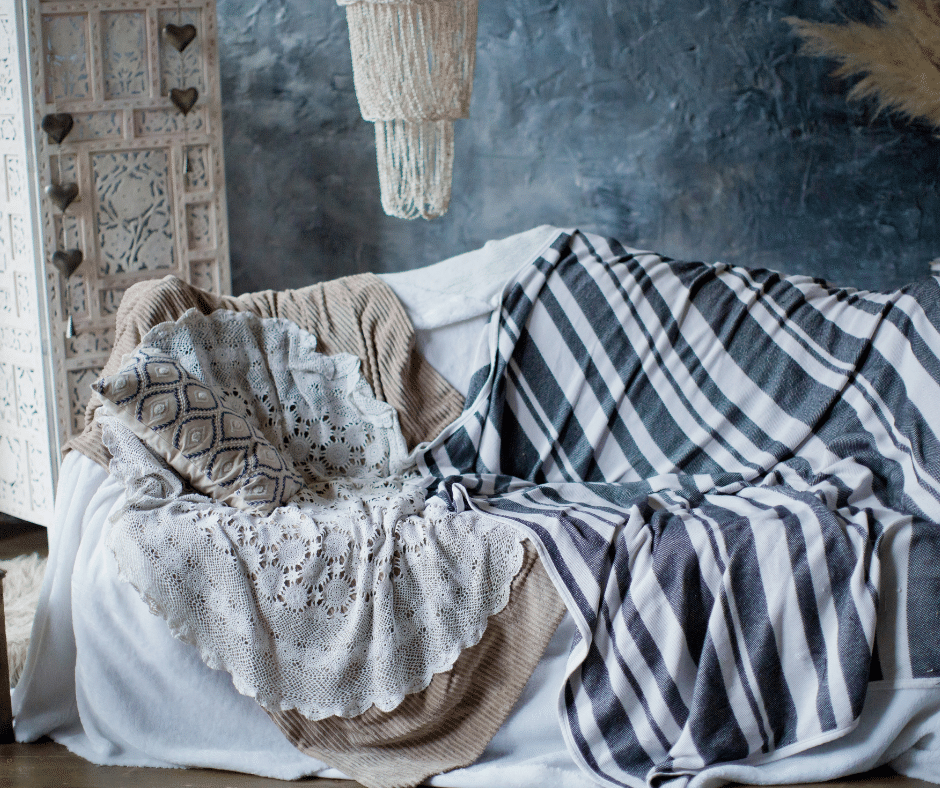 Artistic and Personal Expression
The things you love are a must in Bohemian style. These things should tell the story of you, the ones you love, and the inspirations of your life. It is kind of like your walls are a scrapbook of your life, whatever chapter you choose to share. Another fun part of the style is it can be ever-changing. If you are in a particular art movement, you may have old vinyl records that inspire you on the wall. Then you may switch those with newer art pieces or some needlepoint projects. The sky is the limit, and the limit can change according to your current expression.
Consider Fragrance Too
A big part of the boho life is fragrance. Incorporate certain scents by season or preference to help enhance the feeling you want to create. Are you feeling luxurious today? Look for that scent. Want to promote wellness and healing? Maybe lavender or eucalyptus would do. And when the mother-in-law is stopping by, try a clean citrus scent! Again, Bohemian is expression and feeling, so enhance that vibe with a fragrance to match.
How Can Georgia Home Remodeling Help You Create Bohemian Style?
Remodeling comes in all shapes and sizes and even colors.
You may want to remove years of wear and tear on your walls revealed by a clean-out of the clutter. Then you can create that new Bohemian design.
Perhaps you now have an empty room that could be better used. Maybe you'll create an in-home meditation room; who knows!
There are many scenarios we could mention here. But you get the drift.
Intentional design for the things you love to be surrounded with is a worthwhile goal to reach for. And remodeling your home in the new colors and Bohemian style concepts can maximize your joy in the space in which you live each day.
Georgia Home Remodeling is here for all your home remodeling projects. Our team provides all the service you need to make that home look just as you have always dreamed it could. So, give your Georgia Remodeling team a call to see how we can help you live the Bohemian life to the fullest with a custom design and remodel.