What Are The Elements of Coastal Design?
If you live near the crystal blue waters of the ocean, you may be inspired to decorate in that vein. Or perhaps you are decorating a vacation home and would love the fresh coastal design elements for your other house. Inviting a breezy, beachy feeling to the home makes you feel like you are on 24/7 vacation time.
However, when it comes to coastal design, you are not talking about grandma's crochet and seashell creations. Although it has been around for centuries, today's coastal is an all-new breath of fresh air in design.
Georgia Home Remodeling can help you take your coastal design elements to all-new levels. Keep reading to find out what coastal design is all about and how our team can help you achieve that feeling in your home.
What is Coastal Design Style?
Coastal design is most notably the pure reflection of natural seaside elements. The surf, sand, and sky are used in the home through color and texture. However, it should not be confused with nautical design style. The two are not the same.
"Coastal style is all about that feeling of peace and fun that you get from being near the water," according to designer Caroline Kopp.
The overall feeling of coastal living is communicated through the cool blues and greens of sea glass, pastels, sunset colors, and of course, the neutrals of the sands and landscape. In fact, studies have shown that coastal design and living can actually improve mental health. The tranquil breezes and gentle flow add to the relaxed, clean feeling of a room.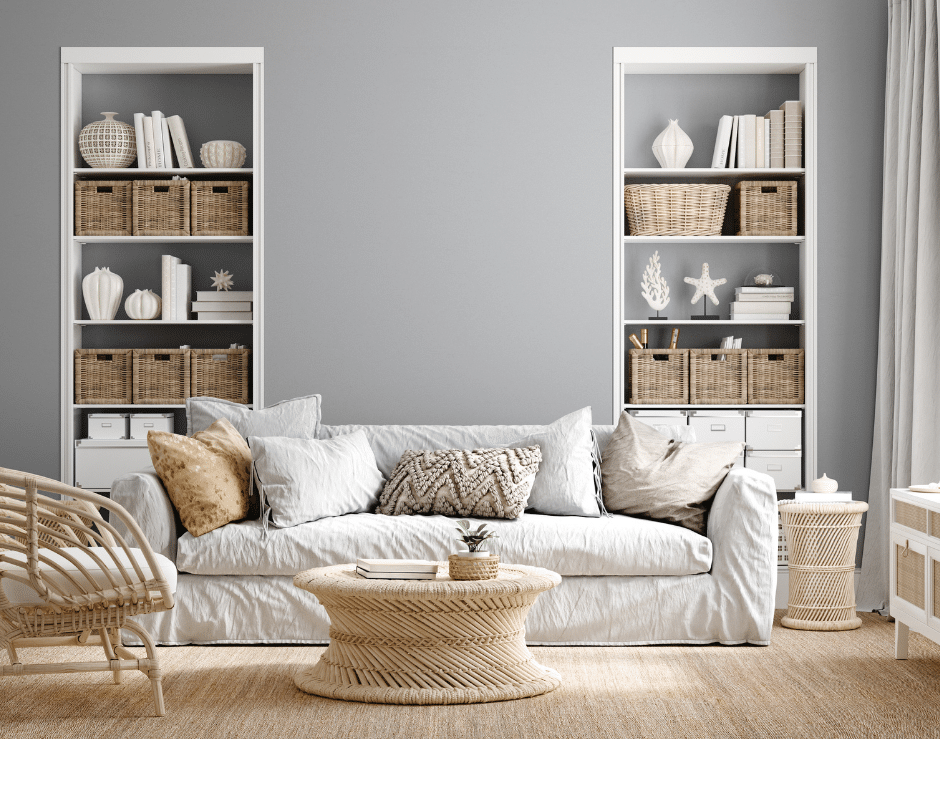 Key Elements
Suppose you imagine the key coastal design elements as that reflection. In that case, you will agree that a starfish should not be hanging on the wall. But the colors of the starfish are absolutely a part of that "reflection" of the glory of the ocean. Here are a few suggestions to get those creative reflection juices flowing.
The florals and botanicals used will be those like palms, snake plants, and succulents.
Accent colors to accompany whites and sand colors may include blues, greens, bright pinks, pops of yellow, or dabs of coral and turquoise.
Textures of coastal design include weathered and worn wood, grass mat wallpapers, and soft cuddling blankets.
And the patterns are stripes, as well as trendy patterns and playful designs.
Décor Tips
When embracing a coastal design, you will want to layer your neutrals. Crisp whites are the beginning, then mix in your sandy elements and accents color palette. And remember, the feeling should be billowy clouds, minimal and relaxing.
Add touches of linen and cotton with slipcovers inside and out. And add a pop col the accent colors you have selected in art and pillows.
An open plan is good for that beachy vacation feeling since everyone in the family can be together. And be sure the colors and textures flow from room to room for a cohesive design.
Wood floors or cool concrete flooring add to the beachy vibe. Then you can add a jute rug with cotton throws for a comfy layered feeling. Those natural fibers will also support the design concept. Top the room off with light and billowy sheer drapes that flow with the wind.
Design around your chosen color palette, not around a "theme." Stick to colors and abstract design rather than an "under the sea" theme. Use the colors to reflect the thought behind your design.
Add coastal elements but do not overdo. A thick braided rope or driftwood can add to the natural and textural design elements. But don't go too far with seashells attached to everything. Keep it minimal and reflective of the beach.
Take advantage of natural light. Windows, open doors, and cool porches will add to the breezy feel. Can you say… windows galore?
Choose minimalist or abstract beach-like art, not the typical seashells and fish. Try a painting with abstract brush strokes in blue, orange, and pink rather than a painting of the actual beach. And you can add one statement large shell or piece of coral, but don't purchase all seashell décor for every corner of the home.
Weathered wood is always welcomed. Whether in the furniture or the flooring, weathered wood gives that soft, sun-bleached feeling of ocean-side living.
Now, Georgia Home Remodeling would like to guide you room by room for your ultimate Coastal Design.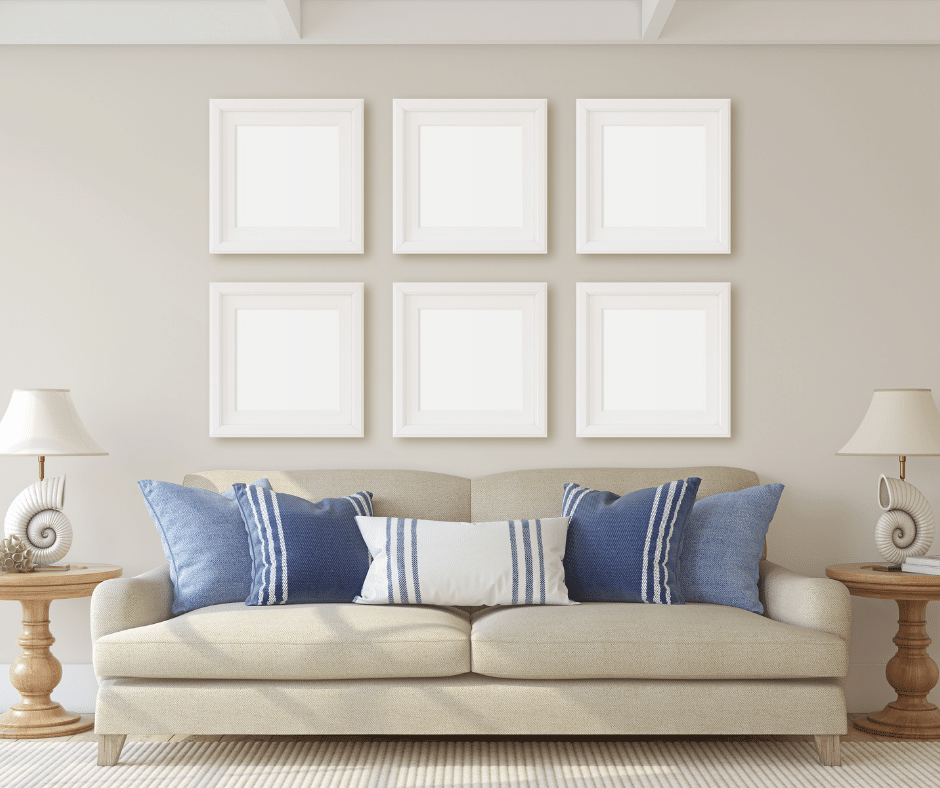 Your Coastal Design Room Ideas
To attain the overall coastal design feel your home deserves, the vibe and tone should be throughout the entire house. From one room to the next, the tones should melt into one another like a long stretch of the beach. So, here is what we suggest for each room of the home. Just keep in mind the key elements and decor tips listed above.
Coastal Design in the Living Room
Begin the room with a fresh white wall feeling to make the room breezy and reflect the other colors you add to the room. Then be sure your windows are exposed and use lightweight curtains or none. Your windows will allow the natural sunlight in and create that sun-kissed feel in the home.
Your furniture may also be white, tan, or light in color to keep it light and breezy. Slipcovers or rattan elements will continue the look. And remember, the décor in the living room should be minimal and clean. Patterned pillows and a piece of coral on the coffee table will do just enough. Add a glass lamp to encourage leisure reading and some abstract art on the walls. Finally, should you have room, add some natural plants to the room to bring the inside out.
Coastal Design in the Kitchen
When a guest enters your kitchen, you want them to automatically know where to focus their eyes. Choose cabinets, bar stools, and chairs with a minimal design and clean feel. One pop of color on the kitchen counter, island, or table can be enough to carry the plan and continue the minimal feel. Natural design additions and light colors add to the relaxation of the busy room. And the lighting source you choose is a great way to add to the coastal feel. Try a pendant or chandelier with bronze or gold accents or maybe a rope or wooden bead element. And don't forget to uncover and natural light source and keep window coverings light and airy.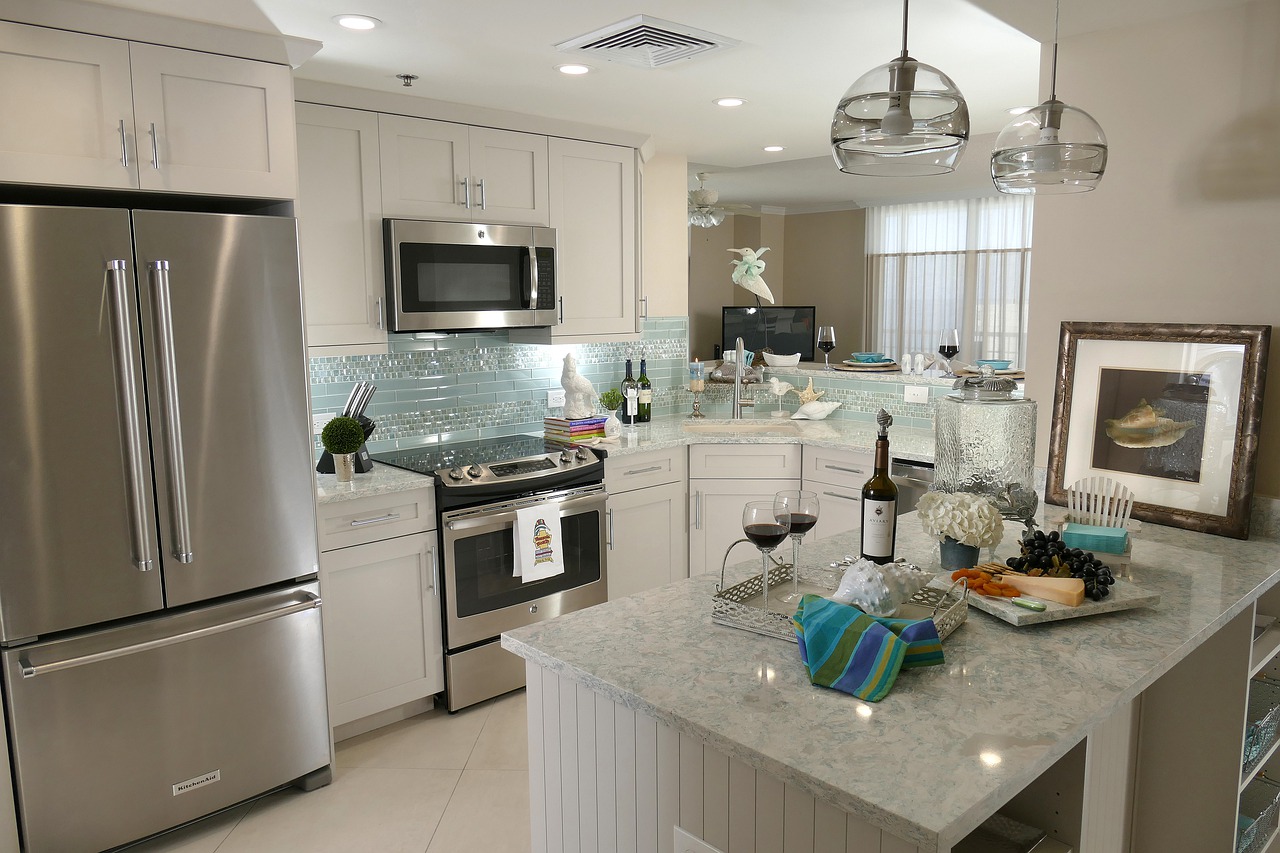 Coastal Design in the Dining Room
The dining room is all about the table and chairs. Start with the color palette you have been working with and check that windows allow the natural light in. Keep paint white and bright, and then you can decorate your table. Add texture and color with your centerpiece and place settings. Use layers to create depth. Your grass mat placemats can be topped with a crisp white dinner plate, a colorful bowl in the center, and a pattered cloth napkin to solidify the design. And your chandelier can be a statement piece as well.
Coastal Design in the Bedroom
Create a calm and relaxing feeling for the bedrooms. If you keep the continuity throughout the home, this is where you can introduce an additional pop in each room. Blues are serene and help with relaxation too. Keep color in your accents and choose one that is personal to your beach experiences.
And in the master, you will surely want a spa-like retreat all your own. Big fluffy romantic pillows with down feathers will capture the cloudy look. The layered fibers in throw rugs provide a luxury and coastal vibe. Add a small stack of reading to the side table with a lamp, and you have your bedroom retreat.
Coastal Design in the Bathroom
This room is easy to keep simple, as often the soaking tub does all the speaking. So, again, keep light colors, add some driftwood and natural soaps, and natural fibers. Plush towels and palm leaves in a vase can go a long way to design your perfect spa bathroom.
Coastal Outdoor Design
Finally, the outdoor space should match the look of the interior of the home and flow seamlessly, both front and back. Create an outdoor living room with comfy seating and coastal lanterns. Or place a dining table with a driftwood centerpiece for your family to enjoy. And here, you can add a bit more of the color to embrace a beachy backyard flair.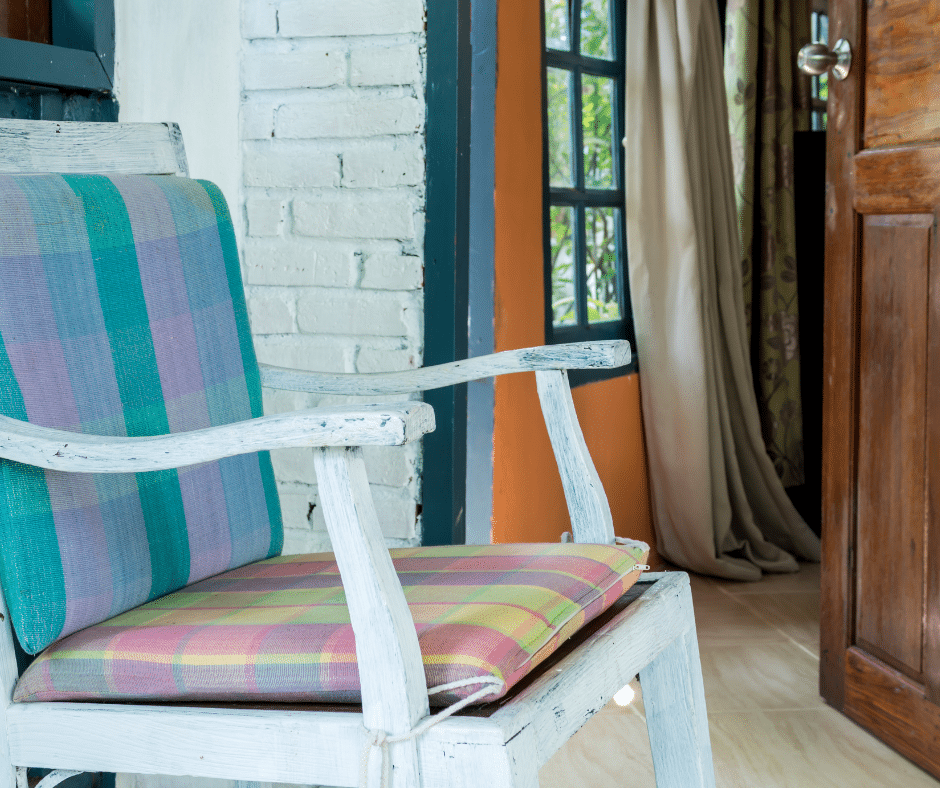 Georgia Home Remodeling and Your Coastal Design
At Georgia Home Remodeling, we pride ourselves in choosing the best quality products and in providing professional and friendly service, no matter the team or the job at hand. We offer free estimates and custom quotes for your coastal design home project.
When you allow us to dream with you, you will be getting the best products, fair pricing, and an honest assessment of the needs you have for your home.
No matter the design concept or remodeling job, Georgia Home Remodeling has you covered. We are a team dedicated to quality work at a fair price. Your family will be glad they chose GHR to make the home feel more current- more you.
At Georgia Home Remodeling, we value our customers and their homes. Contact us anytime, and let us help you make your dreams for your coastal design home remodel a reality!