Bathroom remodeling can breathe new life into your home and enhance your living space. A well-designed and functional bathroom not only adds value to your property but also provides a peaceful sanctuary for relaxation. 
In this article, we will guide you through the essential tips and tricks for a successful bathroom remodeling project. From planning and budgeting to fixture selection and construction, we'll cover everything you need to know for creating your dream bathroom.
Planning Your Bathroom Remodel
Before diving into your bathroom remodeling project, you need to create a plan. This step sets the foundation for a smooth and efficient renovation process.
Assessing Your Needs and Goals
To begin, you need to identify why you are remodeling. Are you looking to improve functionality, update the style, or increase the value of your home? 
Determining your goals will help you pick which tasks to do first and allocate your budget effectively.
Evaluating the Current Space
Measure your bathroom and note the location of:
Fixtures

Plumbing

Electrical connections
This will help you determine what can be changed or repurposed in the new design. 
You should also take the opportunity to evaluate the condition of your plumbing and electrical systems to identify any necessary updates.
Creating a Design Concept
Gather inspiration from magazines, online platforms, and home improvement shows to create a design concept for your new bathroom. Consider things like functionality, aesthetics, and accessibility to ensure a well-rounded design.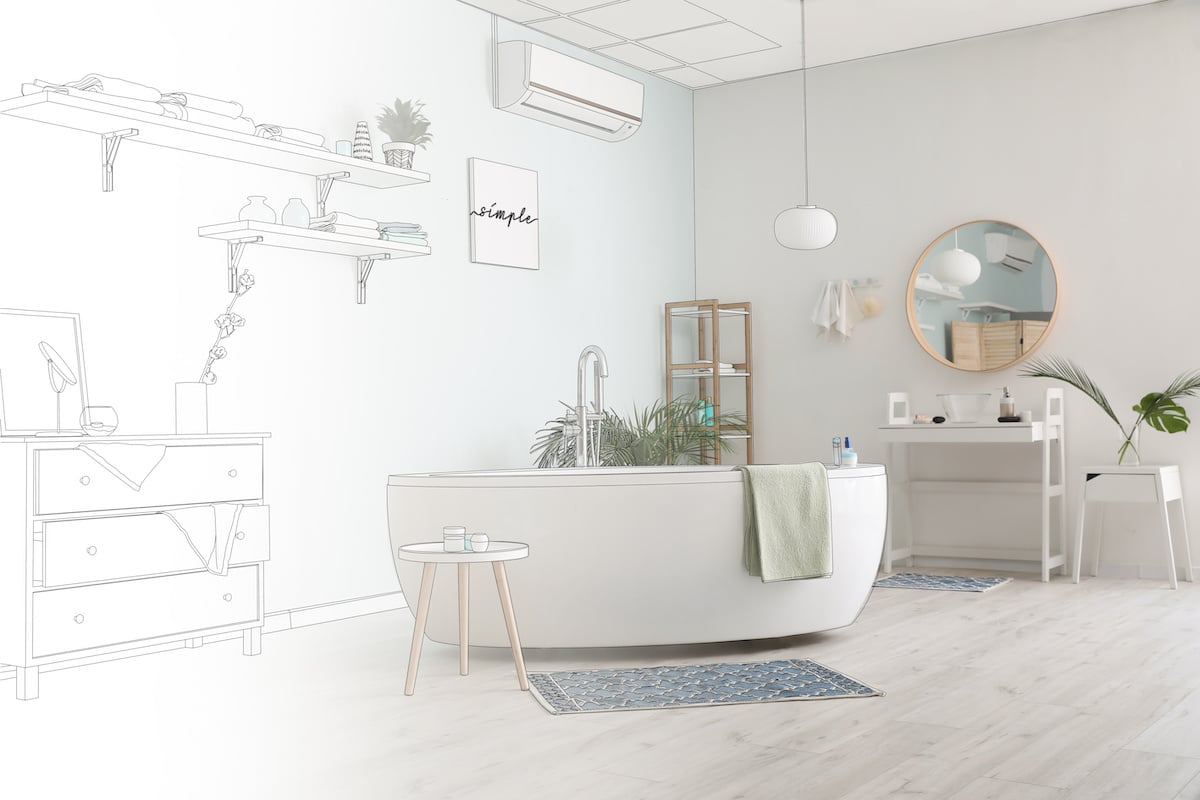 Hiring Professionals or DIY?
Deciding whether to hire professionals or tackle the remodel yourself is an important consideration. Both options have their advantages and drawbacks, so weigh them carefully.
Pros and Cons of Hiring a Professional Contractor
Hiring a professional contractor, like Georgia Home Remodeling, brings expertise and experience to your project. They can:
Handle complex tasks

Ensure quality workmanship

Provide valuable guidance throughout the process
However, professional services come with a cost, and you must consider your budget accordingly.
Do-It-Yourself (DIY) Remodeling Considerations
If you're confident in your skills and have the time and resources, a DIY approach can save money and offer a sense of accomplishment.
However, it's essential to be realistic about your abilities and the complexity of the project. Some tasks, such as plumbing and electrical work, may require professional assistance to ensure safety and compliance with building codes.
Budgeting and Cost Management
Establishing a realistic budget and effectively managing costs are critical aspects of any remodeling project.
Here are some tips to help you stay on track financially.
Determining Your Budget
Before making any financial decisions, determine the overall budget for your bathroom remodel. Consider factors like: 
Labor costs

Materials

Permits

Contingencies
Allocating funds to different aspects of the project will help you prioritize expenses.
Cost-Saving Tips and Strategies
Remodeling on a budget doesn't mean compromising on quality or style. Keep these cost-saving tips in mind:
Reuse and Repurpose:

Consider repurposing existing fixtures or incorporating salvaged items into your design.

Smart Shopping:

Compare prices, look for sales and discounts, and consider purchasing from local suppliers or online retailers.

Prioritize Essential Upgrades:

Focus your budget on critical components such as plumbing, electrical, and structural changes.
Choosing Bathroom Fixtures and Materials
Selecting the right fixtures and materials is one of the key pieces in achieving your vision for your bathroom. 
Consider these factors when making your choices:
Selecting Fixtures
Start with key fixtures such as sinks, faucets, and vanities. Consider the style, size, and functionality that best suits your needs and design preferences. 
For showers and bathtubs, decide between options like:
Don't forget to pay attention to the toilet and its features, such as water-saving capabilities and height options.
Lastly, choose the finishing touches like:
Mirrors

Lighting fixtures

Accessories
Exploring Materials and Finishes
When it comes to materials, consider both durability and visual appeal. 
Popular flooring options include ceramic or porcelain tiles, vinyl, or natural stone. Each material has its advantages in terms of water resistance, maintenance, and cost. 
For countertops and cabinetry, materials like quartz, granite, or solid surface offer durability and a range of design options. 
Finally, consider the finishes for walls, such as paint, wallpaper, or tile, that tie the entire space together.
Maximizing Space and Storage
Efficient use of space and storage are key factors in creating a functional bathroom. Consider the following tips to optimize your bathroom layout.
Space-Saving Design Ideas
Choose a layout that maximizes space, ensuring there's enough room to move comfortably. Consider options like wall-mounted fixtures, such as toilets and vanities, to create an illusion of openness.
 Additionally, explore compact fixtures designed specifically for small bathrooms. For example, you might opt for a corner sink or a narrow-profile bathtub.
Enhancing Storage Capacity
Utilize vertical space by installing shelves, cabinets, or organizers. Consider built-in storage options to maximize space efficiency. Wall-mounted cabinets, floating shelves, and recessed niches are excellent choices for storing toiletries and towels. 
Utilize space under the sink by adding storage solutions like pull-out drawers or baskets. Don't forget about utilizing the space above the toilet, such as installing an over-the-toilet cabinet or floating shelves.
Preparing for Construction
Before construction begins, you need to make sure your bathroom is ready for the remodeling process. 
Securing Necessary Permits and Approvals
Check with your local building department and find out if any permits or approvals are required for your bathroom remodeling project. If you skip this step, it can result in legal issues and complications down the line.
Clearing the Workspace and Protecting Surrounding Areas
Remove all items from the bathroom and clear the space for construction. Protect other areas of your home from dust and debris by covering furniture and sealing off the workspace with plastic sheets. Taking these precautions will help keep your space clean and prevent damage to other parts of your home.
Organizing a Timeline and Coordinating with Contractors
Create a detailed timeline for the remodeling process, accounting for each phase of the project. 
Coordinate with contractors, plumbers, electricians, and any other professionals involved to ensure everyone is on the same page and to avoid any scheduling conflicts.
Regular communication with contractors is essential to keep the project on track and address any concerns or changes that may arise during construction.
Construction and Installation
Once the planning and preparation stages are complete, it's time for construction to begin. Here's how to effectively manage the remodeling process.
Managing the Remodeling Process
Stay involved and communicate regularly with your contractors to ensure that the project is progressing as planned. Regular site visits will allow you to monitor the progress, address any issues promptly, and provide feedback to the contractors. 
Be prepared for some unexpected surprises during construction, and remain flexible in accommodating necessary adjustments.
DIY Construction Tips
If you're taking the DIY approach, it's crucial to prioritize safety and follow proper construction techniques. Take the time to learn about the necessary tools, materials, and techniques needed.
If you encounter complex plumbing or electrical work, consult with professionals to ensure compliance with safety standards.
Adding the Finishing Touches
The final stages of your bathroom remodeling project involve adding the finishing touches that give your space character and personality.
Painting and Decorating
Choose a color scheme that complements your design concept and creates the desired ambiance. Prepare the surfaces properly before painting, and consider using moisture-resistant paint in the bathroom. 
Enhance the decor by adding artwork, plants, or other decorative elements that reflect your style and preferences.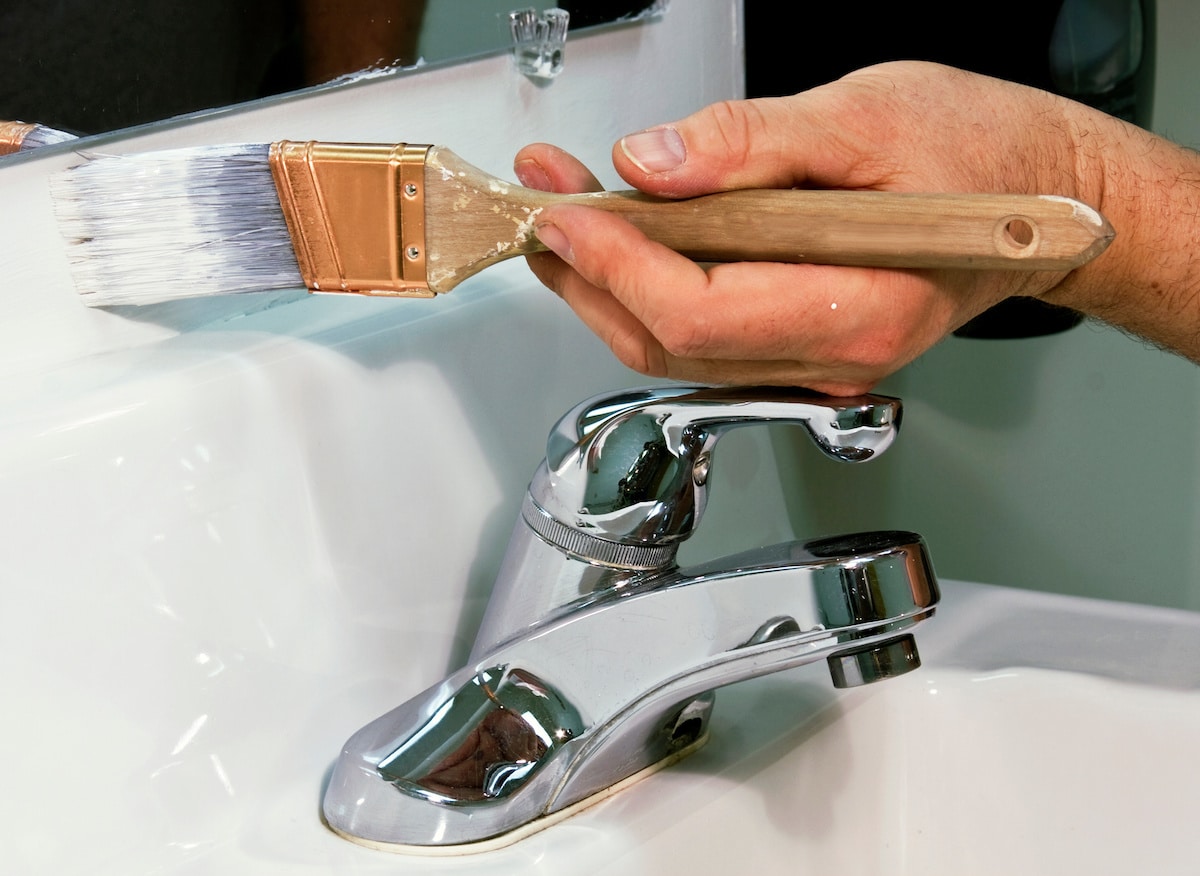 Final Inspections and Clean-Up
Before considering your bathroom remodel complete, conduct a thorough inspection to ensure everything is in working order and meets your expectations. Test all fixtures, check for leaks or water damage, and make any necessary adjustments. 
Finally, clean the space meticulously, removing any construction debris, dust, and grime to reveal the true beauty of your newly remodeled bathroom.
Maintaining Your Newly Remodeled Bathroom
To preserve the longevity and beauty of your newly remodeled bathroom, it's important to establish a regular cleaning and maintenance routine.
Routine Cleaning and Maintenance
Use appropriate cleaning products and techniques for different surfaces in your bathroom. 
Regularly clean fixtures, wipe down countertops, and keep drains clear of debris. Perform routine inspections for leaks, mold, or water damage, and address any issues promptly to prevent further damage.
Tips for Prolonging the Lifespan of Fixtures and Materials
Extend the lifespan of your fixtures and materials by following care instructions provided by manufacturers. Use gentle cleaners, avoid abrasive materials, and regularly seal and maintain grout and caulk. Prevent excessive moisture by using ventilation fans and promptly fixing any plumbing leaks.
Contact Georgia Home Remodeling
A successful bathroom remodeling project requires careful planning, budgeting, and attention to detail. 
By following the tips and tricks outlined in this article, you'll be well-equipped to embark on your journey to a transformed bathroom. 
Remember to consider your specific needs and goals, make informed decisions about fixtures and materials, and maintain open communication with professionals if necessary. 
With proper planning, effective execution, and regular maintenance, you'll create a stunning and functional bathroom that adds value and enjoyment to your home.
Don't forget to give Georgia Home Remodeling a call with any questions about bathroom remodeling!